And to all you doubters out there who think a massive wall built on Mexico's dime to keep out illegal immigrants sounds a bit unrealistic, well ... This'll probably just reinforce that.
According to Trump, this is "not a penetrable wall." It's a "serious" wall complete with a big door that people can only get through if they have their papers.
Colbert also suggested adding a moat with fire and fireproof crocodiles, and, hey, why the heck not? Mexico is paying for it, after all. Maybe they can even throw in some pizzas. Papa John's probably has a deal right now.
"The Late Show with Stephen Colbert" airs weeknights at 11:35 p.m. ET on CBS.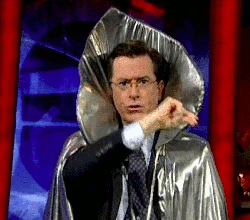 Stephen Colbert GIFs
For a constant stream of entertainment news and discussion, follow HuffPost Entertainment on Viber.
Popular in the Community