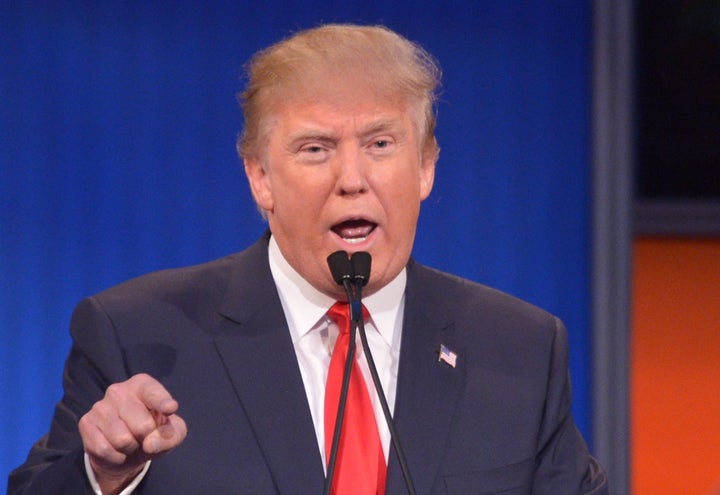 Donald Trump, the real estate tycoon and surprise Republican presidential frontrunner, has been spewing insults (out of his mouth or wherever) for quite some time. In the months since he announced his run for the GOP nomination, Trump has targeted Mexicans, prisoners of war, women and The Huffington Post.
But before he became a TV personality of "The Apprentice" fame, Trump sharpened his teeth with racist attacks against the Mashantucket Pequot Nation, a Native American tribe in Connecticut.
"They don't look like Indians to me," Trump told the House Native American Affairs subcommittee in a 1993 inquiry about organized crime and policing in Indian casinos dug up by the Hartford Courant's Dan Haar. "They don't look like Indians to Indians."
Trump's remarks went on for an hour, and included unsubstantiated allegations that the mafia had infiltrated Indian casinos. Many in Congress were shocked by Trump's irresponsibility.
At the time, Trump had plans to open a casino in Bridgeport, Connecticut, that would compete with the Pequots' nearby Foxwood Casino. Trump also operated the Trump Plaza Hotel and Casino in Atlantic City.
Much like recent Trumpisms, the remarks drew instant indignation and accusations of racism, including a response from Connecticut's governor at the time, Lowell P. Weicker Jr., who opposed Trump's proposed Bridgeport casino.
"My opposition isn't just to casinos in Bridgeport, it's to Donald Trump," said Weicker. "We don't need that dirtbag in Connecticut."
Trump responded in a telephone call from his private jet, suggesting that the Pequots were urinating on the governor. "It's obvious that those so-called Indians have done a major number on his head," Trump told the Hartford Courant. True to form even 22 years ago, Trump added that Weicker should "concentrate on losing 125 pounds" instead of worrying about Trump's business plans.
"I can lose weight a lot faster than a bigot can lose bigotry," countered Weicker in a TV interview later that week.
But after Trump and Weicker concluded their pissing match, it was the Pequots that got the last laugh.
Their Foxwoods Casino had eclipsed the competition in Atlantic City and Las Vegas by 1993, although it had only opened two years earlier. And while Trump's plan to open a casino in Bridgeport ultimately failed, and the Trump Plaza Hotel and Casino in Atlantic City closed permanently in 2014, the Pequots' Foxwoods Casino remains one of the largest gaming operations in the country. Along with the Mohegan Tribe's nearby Mohegan Sun Casino and Resort, the two Indian Nations employed over 20,000 workers until recent retrenchments.
Support HuffPost
The Stakes Have Never Been Higher
Popular in the Community