UPDATE: 3:50 p.m. ― Pages that disappeared from President-elect Donald Trump's campaign website were back up Thursday afternoon after a technical glitch knocked them offline for several days.
"The website was temporarily redirecting all specific press release pages to the homepage. It is currently being addressed and will be fixed shortly," a Trump transition spokesman told The Huffington Post in a statement.
According to web developer and internet abuse specialist Izzy Galvez, the Trump campaign's site contained a "glaring XSS vulnerability" in its code which allowed anyone who knew how to code to "write in any text to the header." Galvez noticed the flaw on Wednesday afternoon.
As he transitions from campaigning to governing, Trump is under pressure to moderate some of his more extreme policy positions in light of political or legal hurdles.
PREVIOUSLY: A controversial statement by President-elect Donald Trump calling for an outright ban on Muslim immigration disappeared from his website in the hours following his unexpected presidential victory.
The statement, released last December, called for "a total and complete shutdown of Muslims entering the United States until our country's representatives can figure out what is going on." More than 1.6 billion people worldwide practice Islam, and the statement sparked an immediate backlash around the globe.
As of late Wednesday, the page announcing the ban was gone from Trump's campaign site and available only in an archived form, visible here and included below.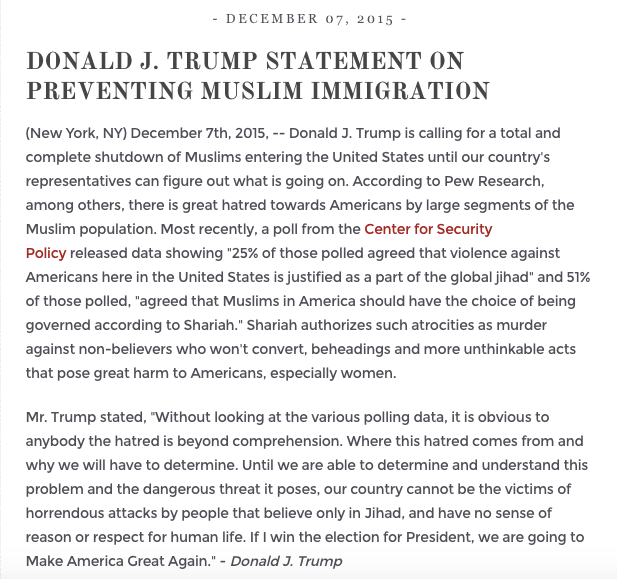 The deleted language page was part of a sweeping purge of content from the Trump campaign site, which included removing all of Trump's hundreds of campaign press releases as well as individual pages on the site that had featured endorsements and announcements.
Also missing Thursday was a section titled "Issues," which contained short video clips of Trump talking into the camera about an array of topics, including "Political Correctness," "Trade War" and the opioid epidemic in New Hampshire.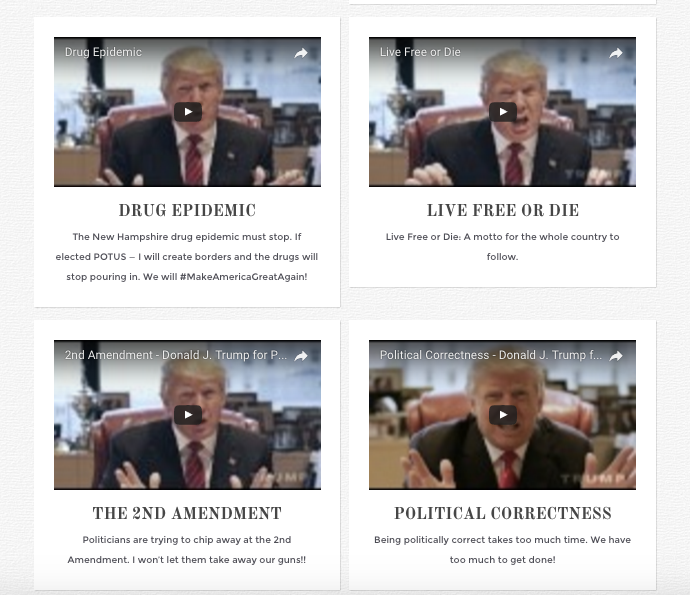 The issues page had also contained two videos of Trump defending Trump University, his failed real estate seminar program which is being sued for fraud.
A spokeswoman for Trump did not respond to questions about what happened to the Muslim ban language or to the website overall.
REAL LIFE. REAL NEWS. REAL VOICES.
Help us tell more of the stories that matter from voices that too often remain unheard.