President-elect Donald Trump broke with tradition on Thursday by heading to Washington, D.C., without a "protective pool" of journalists to cover his movements for the larger press corps.
The White House Correspondents Association oversees a rotating pool system so that the president is always covered while traveling, especially in the event of historically significant or life-threatening moment.
Neither Trump nor Hillary Clinton's campaign had a fully protective pool, as opposed to recent major-party nominees. However, the Democrat's system was close to the standard used in the White House. Trump didn't fly with reporters, and sometimes didn't notify them when he was leaving for events and even mocked them for being late.
Last month, WHCA President Jeff Mason urged both presidential campaigns to agree to have a "protective pool" during the transitional period between the election and inauguration. Not doing so, he wrote, would be a "serious breach of historical precedent."
Trump's team hasn't responded to the letter, Mason told The Huffington Post.
In a statement, Mason said it's "unacceptable" that there isn't a pool of journalists traveling with the president-elect.
"The White House Correspondents' Association is deeply concerned by President-elect Donald Trump's decision to reject the practice of traveling with a 'protective pool' of reporters for his first visit to Washington since the election. In addition to breaking with decades of historical precedent and First Amendment principles, this decision could leave Americans blind about his whereabouts and well-being in the event of a national crisis. A pool of reporters is in place and ready to cover President-elect Trump. The WHCA urges President-elect Trump to allow it to do its job, including being present for motorcade movements, meetings, and other interactions. Not allowing a pool of journalists to travel with and cover the next president of the United States is unacceptable."
Trump spokeswoman Hope Hicks did not respond to HuffPost's request for comment. However, she told Politico they "fully expect to operate a traditional pool and look forward to implementing our plans in the near future."
Trump flew Thursday from his home in New York to Washington to meet with President Barack Obama and other political leaders. There was no pool reporter with him during the flight or in his motorcade, a break with tradition for a president-elect.
The White House pool currently covering Obama will be on hand to photograph the sitting president and the president-elect together after their discussion. But journalists weren't on hand to bear witness their initial meeting.
Olivier Knox, chief Washington correspondent for Yahoo News and a WHCA board member, expressed concerns about the press not being able to cover Trump's arrival on the South Lawn, but suggested the lack of a traveling protective pool is even more problematic.
Trump's presidency presents a serious threat to the press, as the candidate has vilified reporters and blacklisted news organizations, HuffPost reported Monday.
Trump shattered precedents during the campaign ― and it remains to be seen if long-running practices at the White House, from holding a daily briefing to allowing pool reporters aboard Air Force One, will be upheld after he's sworn in.
This article has been updated with comment from Jeff Mason.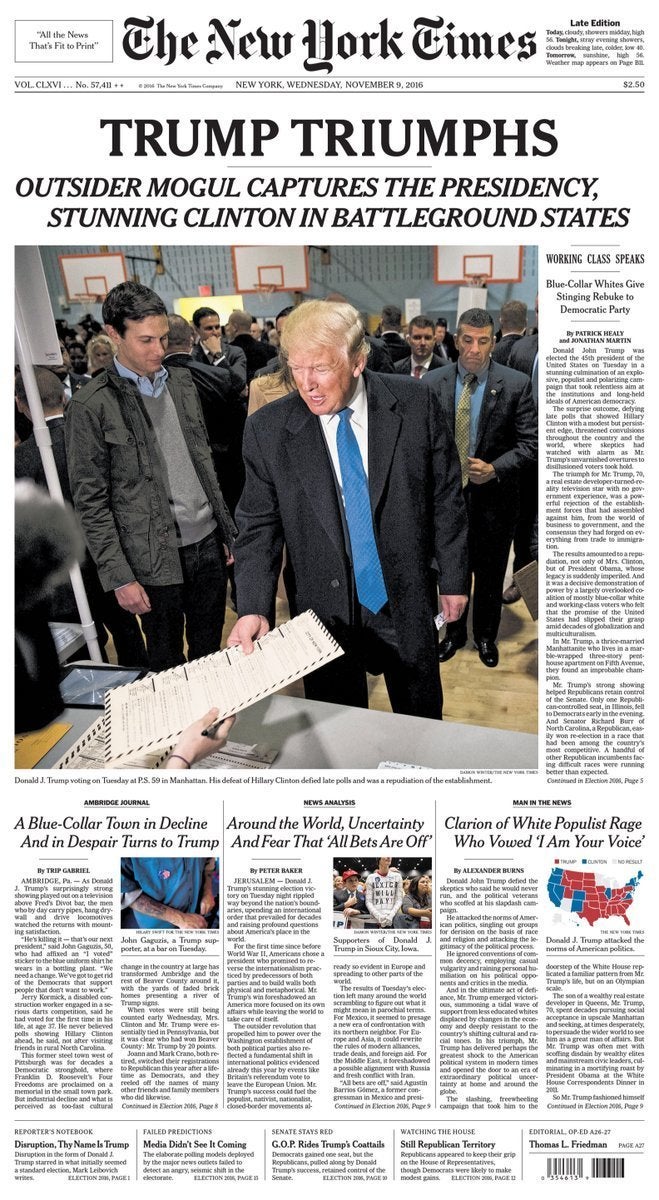 Newspapers React To President Trump
Popular in the Community