President-elect Donald Trump on Tuesday renounced the white nationalist movement, which has grown in prominence following his campaign and election.
Speaking with New York Times reporters and editorial staff at their office in Manhattan, Trump said he did not feel responsible for energizing white supremacists and Nazi sympathizers.
This is the furthest Trump has ever gone in acknowledging and disavowing the white nationalist movement, also know as the "alt-right." During the campaign, the real estate mogul was slow to reject former Ku Klux Klan grand wizard David Duke, who celebrated Trump's candidacy as a boon for white supremacists around the country. Despite his public comments, however, Trump's campaign often openly courted white supremacist groups.
Over the weekend, a group of white nationalists met in Washington, D.C., where they cheered Trump's victory with Nazi salutes and chanted, "Hail Trump, hail our people, hail victory!" Trump's campaign initially issued a tepid statement that said the president-elect has "continued to denounce racism of any kind and he was elected because he will be a leader for every American."
But Trump offered a stronger condemnation on Tuesday when a New York Times reporter asked him about the weekend event.
Steve Bannon, who was recently brought on as Trump's chief strategist, is also under fire for his ties to Breitbart, a far-right website that traffics in white nationalist sentiment. In the Times interview, Trump defended Bannon, whose title still remains executive chair of Breitbart News.
"If I thought he was a racist or alt-right or any of the things, the terms we could use, I wouldn't even think about hiring him," Trump said. "I think it's very hard on him. I think he's having a hard time with it. Because it's not him."
Before You Go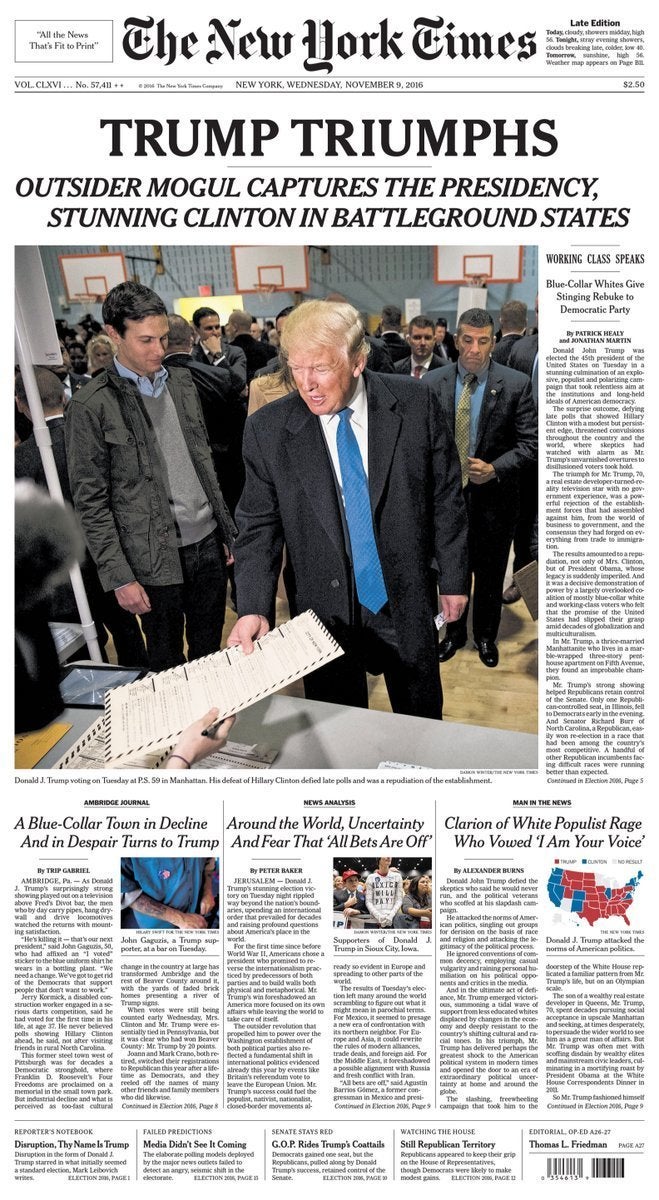 Newspapers React To President Trump
Popular in the Community