WASHINGTON-- After winning the Michigan and Mississippi primaries Tuesday night, Republican presidential candidate Donald Trump gave what might be the most bizarre and unhinged press conference of his political career.
The candidate spoke at Trump National Golf Club in Jupiter, Florida, where he was flanked by piles of his company's products: Trump bottled water, Trump wine and Trump steaks. After a brief speech touting his victories -- "There's only one person who did well tonight: Donald Trump," he said -- Trump veered into something like an informercial, bragging about his successful business ventures and even hawking some of his products.
"Trump steaks -- where are the steaks?" said the likely Republican nominee, waving his hand toward an actual pile of raw steaks at the event. "We have Trump steaks. By the way, if you want to take one, we'll charge you about 50 bucks a steak." (As the Daily Caller reported, the steaks weren't actually branded with Trump's logo.)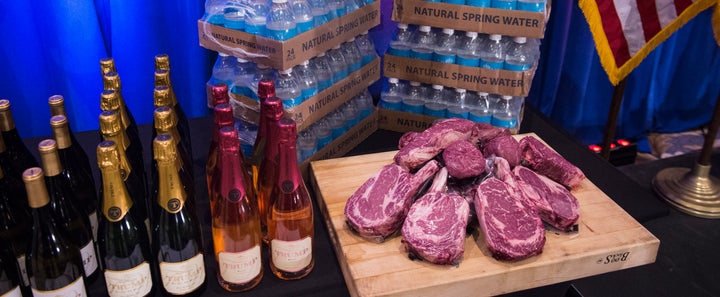 "I can be more presidential than anybody, if I want to be," Trump said. "More presidential than anybody, other than the great Abe Lincoln. He was very presidential."
Trump said he wasn't offended by the negative ad -- he wants it to keep running, because it shows a "certain degree of anger" that he thinks is resonating with American voters.
"It shows a certain degree of, 'We're not gonna take it anymore from all these countries that have been ripping us off and taking our jobs and taking our money like we're a bunch of babies,'" Trump said. "Very, very stupid babies."
Trump does seem to be resonating with voters-- particularly angry, white male ones. A new Wall Street Journal poll shows that former Secretary of State Hillary Clinton would beat Trump 51 to 38 percent in a general election, but Trump would beat Clinton 53 to 35 percent among white men only. And Trump is rapidly pulling ahead of his Republican rivals, despite intensifying efforts by the GOP establishment to stop him. Trump won Hawaii's primary on Tuesday as well, though its results were officially reported after the press conference.
Trump said the reason people like him is because he's not afraid to be politically incorrect and say out loud what other people are thinking. He had a perfect opportunity to demonstrate that quality at the press conference Tuesday night, when an NBC reporter asked him what parents should tell their children about the profane language he uses. Instead of answering the question, Trump mercilessly mocked the reporter.
"Oh, you're so politically correct," he said. "You're so beautiful. Oh, look at you. Awwww. Aw, he's so. Oh, I know. You've never heard a little bad, a little off, language. I know, you're so perfect. Aren't you perfect. Aren't you just a perfect young man. Give me a break. You know what? It's stuff like that that people in this country are tired of. It's stuff like that."
Before You Go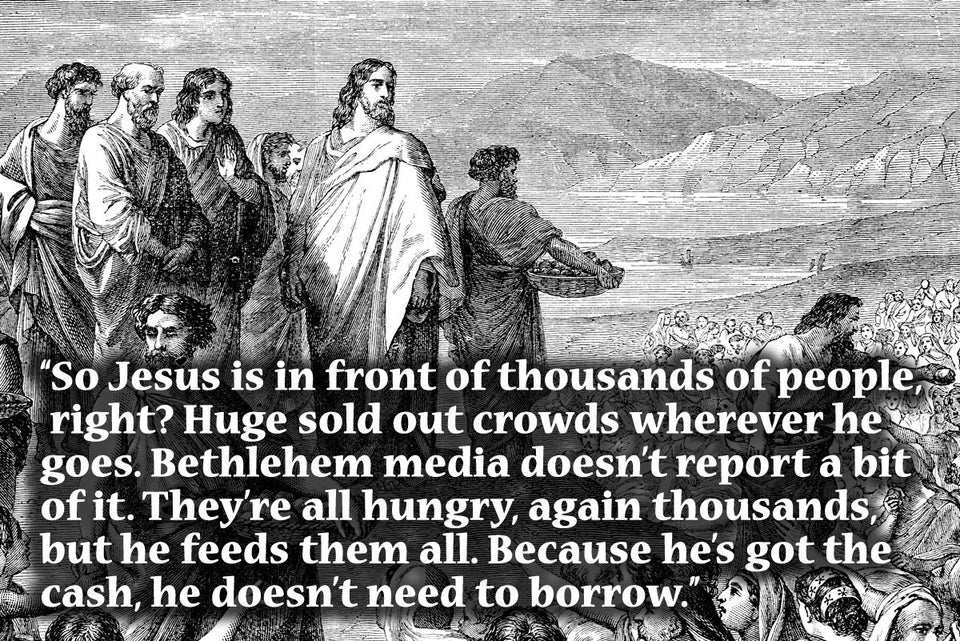 If Donald Trump Wrote The Bible (God Help Us)
Popular in the Community