WASHINGTON ― More than a week after President Donald Trump alleged without evidence that his predecessor, Barack Obama, ordered wiretapping at Trump Tower, White House press secretary Sean Spicer on Tuesday continued to insist that Trump could prove the claim through a congressional investigation and findings from the Department of Justice.
"I think he is extremely confident," Spicer told reporters of Trump's belief in his unsubstantiated claim. "I'll let them do their job — I'll let the House and Senate, I'll let the DOJ report this, but as I've commented in the past, I think there is significant reporting about surveillance techniques that have existed throughout the 2016 election. I'll leave it to them to issue their report, but I think he feels very confident that [what] will ultimately come of this will vindicate him."
The House Intelligence Committee gave the Department of Justice until Monday to provide evidence of the claim, but on Monday afternoon, the DOJ said it needed more time.
Meanwhile, Spicer and other administration officials have struggled to defend the claim, repeatedly insisting that there is proof but providing none. Even Vice President Mike Pence could not support it last week, merely saying that "the president's tweet speaks for itself."
At Monday's press briefing, Spicer got into an argument with reporters, stating that there was "an abundance of reports" to support Trump's claim and then asserting that Trump didn't actually mean what he tweeted.
"He doesn't think President Obama went up and tapped his phone personally," Spicer said, even though Trump specifically referred to Obama in the tweets.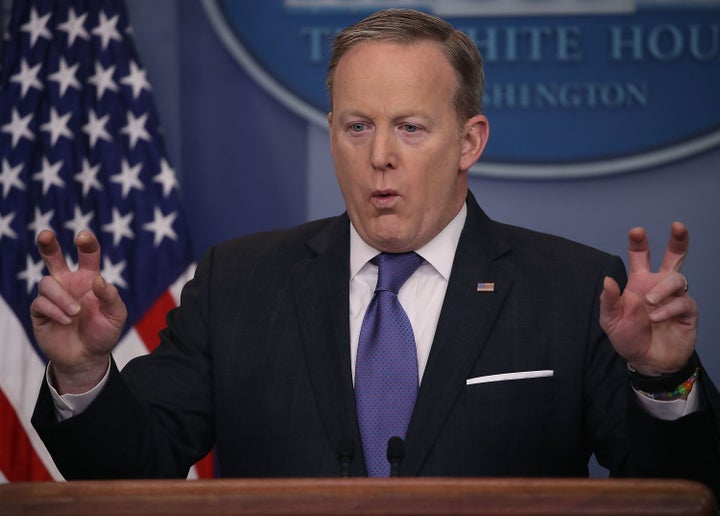 Spicer went on to argue about the semantics of Trump's tweets, using air quotes to signify that Trump did not necessarily mean wiretapping because he tweeted "wire tapping" with quotation marks. Yet last week, Spicer said that he would "let the tweet speak for itself," in response to questions about the claim.
In defending the claim, Trump counselor Kellyanne Conway on Sunday suggested that there could be broader methods of surveillance used, such as "microwaves that turn into cameras." She later clarified that she was talking about "surveilling generally," telling CNN that "I am not Inspector Gadget."