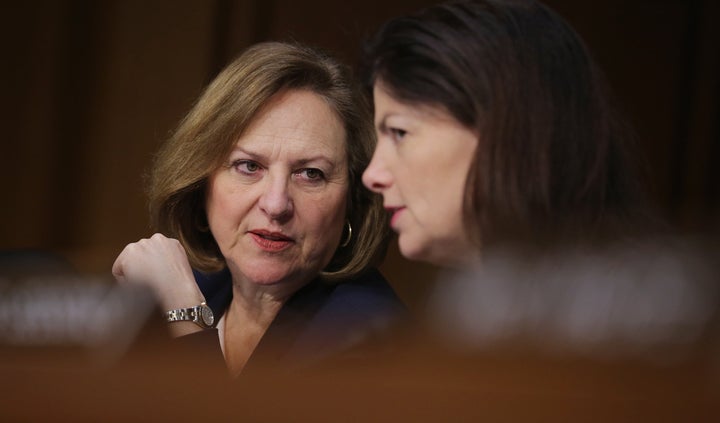 WASHINGTON -- Donald Trump reduced Democratic presidential candidate Hillary Clinton to little more than a female human vessel Tuesday night, saying her gender is the only thing she's got going for her in her campaign.
"The only card she has is the women's card," Trump said during a victory speech after sweeping in five state's primaries. "She's got nothing else going on. Frankly, if Hillary Clinton were a man, I don't think she would get 5 percent of the vote."
The Huffington Post wondered how Republican women in the House and Senate felt about their party's presidential front-runner talking like this about about a former secretary of state and U.S. senator. So we spent Wednesday asking them. It was like pulling teeth.
"Oh God, I'm not getting into that. I'm not getting into that," said Sen. Deb Fischer (R-Neb.), walking away quickly.
Sen. Susan Collins (R-Maine), ducking into a Senate lunch, said she missed Trump's speech. Asked what it means to have a women's card to play, Collins said only, "I don't know."
None of the other female GOP senators returned HuffPost's messages to their offices seeking comment. We're looking at you, Sens. Kelly Ayotte (N.H.), Shelley Moore Capito (W.Va.), Joni Ernst (Iowa) and Lisa Murkowski (Alaska).
Democratic women in the Senate, not surprisingly, had some thoughts on Trump. Asked about her women's card, Sen. Maria Cantwell (D-Wash.) gave an eye roll. Sen. Amy Klobuchar (D-Minn.) said Trump has "gone from demeaning to downright ridiculous" in the way he talks about Clinton.
"Oh, there he goes again," said Sen. Barbara Mikulski (D-Md.), who's been in Congress since 1977. If anyone has an amazing girl-club card, surely it's her.
"I don't have a woman's card," Mikulski said. Whatttt?
"What's my card?" Mikulski asked. "My card is the Democratic card. My card is my voting card."
In the House, GOP congresswomen had surprisingly different takes on the way Trump talks about Clinton's gender.
"I cannot be held responsible for anything Donald Trump says," said Rep. Mia Love (R-Utah), zipping down a Capitol hallway. "I think everyone, regardless of gender or color, should stand on their policies and how they're going to move America forward."
Asked if she had her women's card in the purse swinging on her shoulder, Love said, "I have no idea what that is."
Rep. Candice Miller (R-Mich.) said she missed Trump's speech, but said Clinton does play the women's card. By that, she said, she means Clinton talks a lot about the fact that she's a woman.
"You don't have to say anything about it," said Miller. "I just try not to engage in the woman politics ... I've never considered myself a woman member of Congress. I'm a member of Congress. I don't have to run around saying, 'Hey, I'm a woman member of Congress.'"
Asked if she's saying Clinton runs around talking about being a woman, she replied, "I'm not saying that. You asked me what Trump said."
But she just said Clinton plays the women's card? "Well, she does," said Miller.
At least one GOP congresswoman acknowledged thinking Trump's comments were offensive. Longtime Texas Rep. Kay Granger said she proudly carries several cards.
"I have a woman card. I have an intelligence card. I have an achievement card. I have a background card," Granger said. "I play with a full deck."
It's insulting to all female politicians to say someone is just playing a women's card, Granger said. "It's not saying you have nothing to offer," she said, "but it's very close to nothing."
Asked if a political opponent has ever accused her of playing the women's card in her 18 years as a congresswoman, Granger said she did have one challenger who told voters not to just vote "for a pretty face." She took it in stride.
"I said, 'You can vote for me for any reason you want to,'" she said. "The votes count and I'm going to do a great job."
Before You Go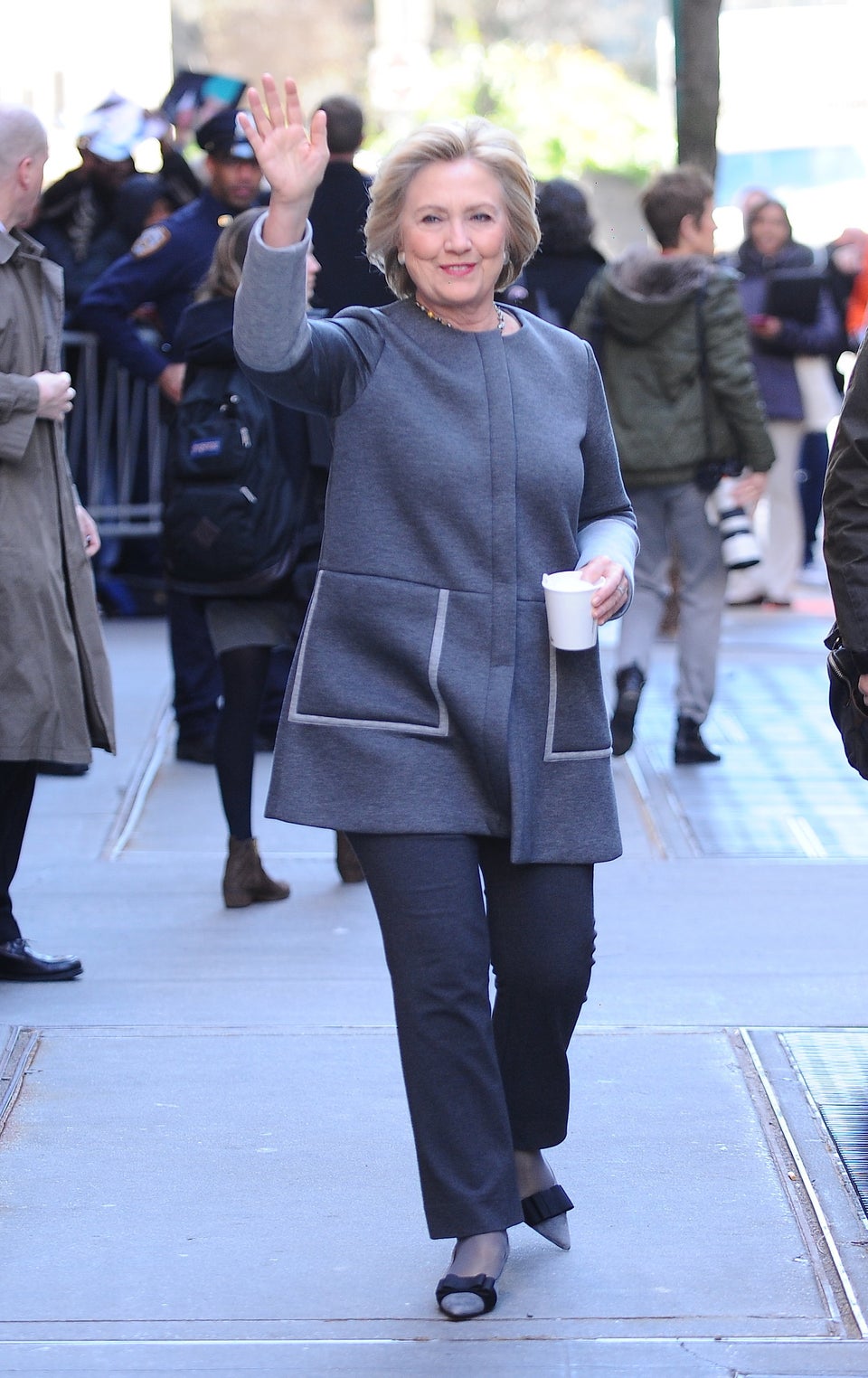 Hillary Clinton's Long Coats
Popular in the Community