APPLETON, Wis. -- Donald Trump frequently says he loves and "cherishes" women. He has even boasted that he will be "the best thing that ever happened to women." For all his stated affections, however, most women voters have spurned the brash real estate mogul who is the leading the race for the Republican presidential nomination.
According to a recent CNN/ORC poll, 74 percent of all registered women voters hold an unfavorable view of Trump -- a key early advantage for Democratic presidential front-runner Hillary Clinton.
The gap is similarly evident among Republicans. According to the latest NBC/WSJ poll, 47 percent of GOP female primary voters -- whose support Trump will need in order to secure the GOP nomination later this summer -- said they could not imagine themselves voting for him. The stat is welcome news for groups that are part of the #NeverTrump movement, one of which curated Trump's greatest hits about women into a devastating super PAC ad.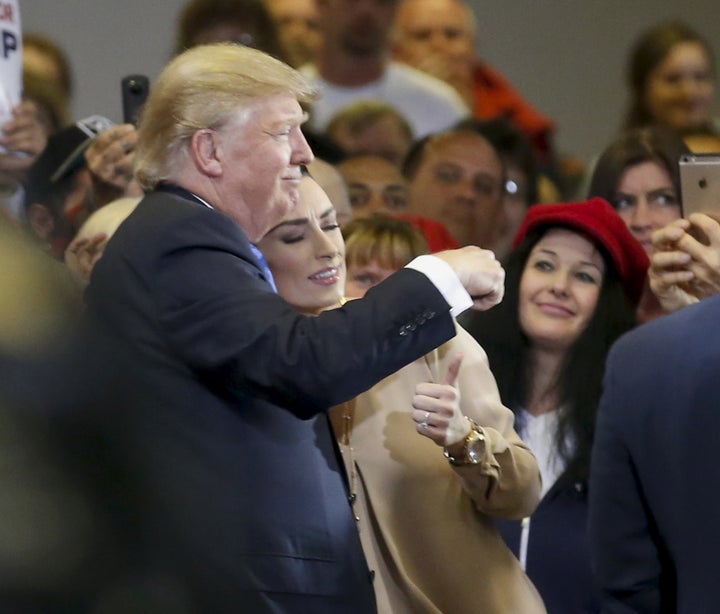 It's not hard to see why women are so turned off by Trump.
Among his many hateful musings, women are a constant target. In his years as a celebrity playboy in New York, he has called women "fat pigs," "dogs," "slobs" and "disgusting animals." He has insulted, belittled and objectified women on and off the campaign trail -- including fellow presidential candidate Carly Fiorina. He has taken his bizarre obsession with Fox News host Megyn Kelly, in particular, to new levels, spending an absurd amount of time attacking her on Twitter. Earlier this week, he actually attempted to waive off criticism of his sexist rhetoric, saying he'd make the remarks in question before he ran for president.
But many women who spoke with The Huffington Post at a pair of Trump campaign events in Wisconsin this week firmly stood by their candidate, whom they described in positive terms as a good family man who would be good for women if elected president. The media, the women added, are blowing his comments out of proportion.
"They show these little clips of him saying some kind of remark, so they take all these negativities and they put it on there so a woman viewer that's just clicking around the channels, they're actually believing the despicable media who are always telling lies," said Saundra Kiczenski, a Michigan resident who drove 300 miles and stood in line 10 hours to see Trump on Wednesday.
"They believe all of that," she added. "But if they really sat down and went on his website, and read his policies -- and I would suggest to the people that are thinking that he's hateful, racist and all of this, come and attend a rally."
Oshkosh resident Lynn Paulus, a manager of a travel agency, also said the media was to blame. Trump's personal history and background, she added, was proof of his decency and good nature toward women.
"I see him as a family man. He has daughters, he has a wife," Paulus said. "Do you think they would put up with something like that? I mean, if I was married to him, I would say, 'Goodbye! I don't care how much money you have, goodbye!'"
Sarah Schnell, who manages a real estate company in Appleton, however, suggested jealousy on the part of some of Trump's detractors had a role to play. 
"I think Trump's always been who he is," she said. "He's a big mogul who has beautiful women around him all the time, so that probably -- jealousy or whatever," is driving the criticism. She added, "I never felt that he was against women."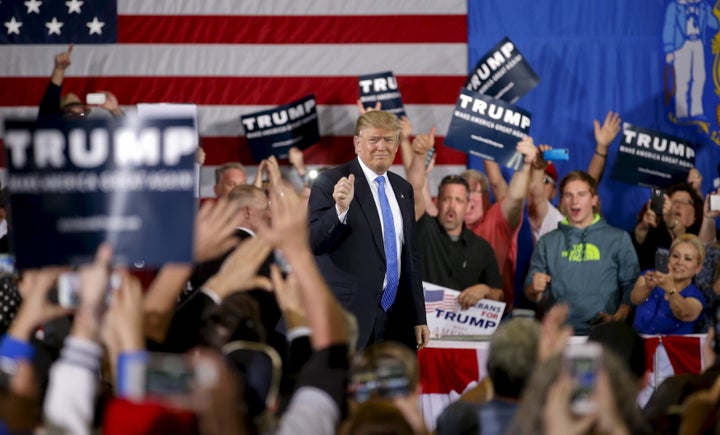 Trump's difficulties in appealing to women jumped to the forefront of the presidential campaign again this week after police in Florida announced Trump campaign manager Corey Lewandowski had been charged with battery for allegedly assaulting a Breitbart reporter earlier this month at a campaign event. Trump and Lewandowski have repeatedly denied that he grabbed the reporter's arm, despite video evidence to the contrary.
On Wednesday, Trump added fuel to the fire by saying that if abortion were illegal, which he believes it should be, he would support "punishing" women who have an abortion. He subsequently walked back his comments.
The fresh controversy may hurt him among GOP voters in Wisconsin who will take to the polls next week. According to a Marquette University poll released Wednesday, Trump trails Texas Sen. Ted Cruz by 10 percentage points -- a significant gap to overcome, even before the state's governor and former GOP presidential candidate Scott Walker had announced he was backing Cruz.
One resident of Manitowoc who attended Trump's town hall on Wednesday said Trump ought to think about dialing it down a notch.
"Sometimes I wonder if somebody isn't telling him, 'Maybe you should just tone it down a little bit,'" said Laurie, who declined to give her last name. "I mean, I'm still going to support him -- but he's always you know, 'I'm winning, I'm winning, I'm winning.' It's just a little over the top."
But Lucy Deboard, a sanitarian who recently moved to Wisconsin from New Jersey, had a much different reaction when asked if Trump ought to soften his tone in order to appeal to more women.
"I think that's bull crap," she said, as she filed out of Trump's event in Appleton.
REAL LIFE. REAL NEWS. REAL VOICES.
Help us tell more of the stories that matter from voices that too often remain unheard.
BEFORE YOU GO
PHOTO GALLERY
Signs You May Suffer From Being A Trump Supporter