"Taking advice from Roger Ailes is more proof that Donald Trump is trying to lose the women's vote by the largest margin in history," said Dawn Laguens, executive vice president of the Planned Parenthood Action Fund. "The full picture is coming into view: Trump doesn't want any women in his cabinet, he has almost no women advisers on his campaign, he's not interested in the issues that affect women's lives — AND he's taking advice from the man Fox News forced out for chronic, egregious sexual harassment."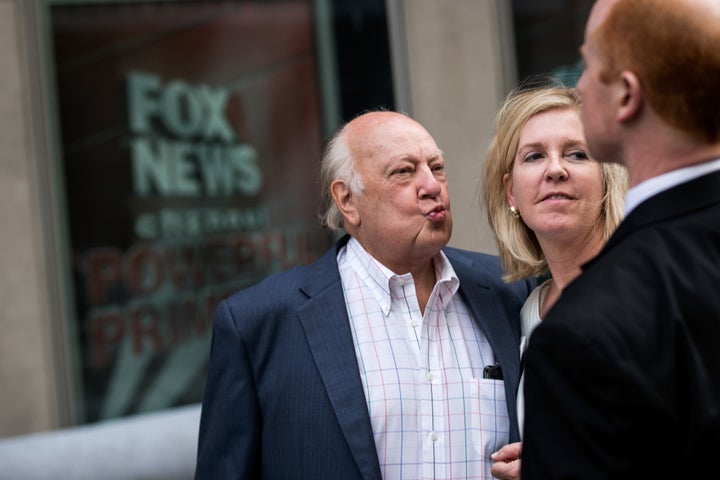 The New York real estate mogul also defended Ailes and cast suspicion on the women who have accused Ailes of sexual harassment, including Kelly, Fox host Gretchen Carlson, as well as several other high-profile female reporters, hosts and bookers on the network.
"I can tell you that some of the women that are complaining, I know how much he's helped them, and even recently. And when they write books that are fairly recently released, and they say wonderful things about him. And now, all of a sudden, they're saying these horrible things about him," Trump said in an interview with NBC's "Meet the Press" in late July. "It's very sad because he's a very good person. I've always found him to be just a very, very good person. And, by the way, a very, very talented person. Look what he's done. So I feel very badly."
Trump's campaign denies that Ailes is advising him ahead of his first debate with Clinton in September. But his embrace of Ailes and his unapologetic misogyny are already sabotaging his chances of wooing female voters in November. He is trailing Democratic nominee Hillary Clinton among women voters by double-digit margins in seven key battleground states, according to a new NBC/Wall Street Journal poll. And several Republican women told the Atlantic they are so disgusted by Trump and the GOP leaders who are supporting him that they are planning to leave the party altogether after November if it doesn't disavow the loose-lipped real estate mogul.
"I was shocked when I saw the leadership in the party standing by him," said Susan Alvarez, a self-described "lifelong Republican" in Spokane, Washington. "They helped create Donald Trump by not confronting the racism and paranoia that was infecting the party. By their silence, they validated Trump, and for me that is worth leaving the party over."
Trump cannot win in November without the support of women, who make up 51 percent of the U.S. population. Women decided the presidential election in 2012, when Barack Obama beat Republican candidate Mitt Romney by a historic 12-point gender gap. And Trump has the potential to lose by even bigger numbers among women this year― especially if he takes debate tips from a serial sexual harasser.
"His campaign is shaping up to be a reflection of what his presidency would mean: a complete and total disaster for women," said Marcy Stech, a spokeswoman for the pro-choice women's PAC EMILY's List. "Luckily, women can and will be the ones to stop him in November."
Romney's former campaign manager, Katie Packer, thinks Trump isn't even trying to appeal to women.
"So the GOP candidate is just giving up on the women's vote altogether," she tweeted. "Got it."
Popular in the Community