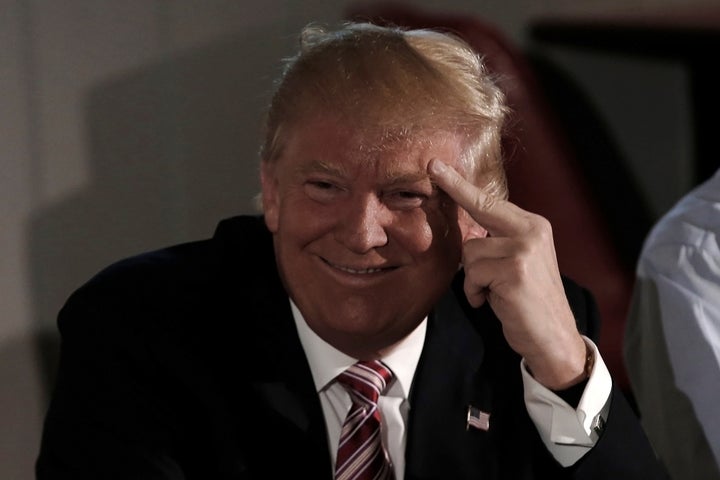 The union-backed movement Fight for $15 is gearing up for a nationwide day of protests next week, a reminder that working class politics in the U.S. is far more complicated and diverse than post-election autopsies would have you believe.
While the group shied away from naming Donald Trump explicitly, its agenda reads as a clear rebuke to the president-elect.
In a call with reporters on Monday, representatives of Fight for $15 emphasized that its goal isn't solely to raise the minimum wage and unionize workers, long its core focus, but also to fend off any attacks on workers' rights, including efforts to roll back Obamacare.
Calling out "newly elected politicians [that] threaten an extremist agenda," the Service Employees International Union-backed organization said in a statement, "any efforts to block wage increases, gut workers' rights or healthcare, deport immigrants, or support racism or racist policies, will be met with unrelenting opposition."
Next week's protests will be the group's "largest and most disruptive," Kendall Fells, Fight for $15's organizing director said in a call with reporters on Monday morning. 
The group is planning protests at 20 airports, as well as fast-food restaurants and other businesses on Nov. 29. The date marks the four-year anniversary of the organization's first protests in 2012. Strikes are planned in only a couple of locations, including at Chicago's O'Hare airport.
The protests are the clearest signal yet that "economic anxiety" among American workers without a college degree is hardly the big explanation for the election of Trump.
One-third of workers without a college degree are people of color, notes Bryce Covert in The Atlantic, many of whom were repelled by Trump's campaign and are frightened by his selection of Stephen Bannon as a top advisor. Until recently Bannon ran Breitbart news, a white nationalist pro-Trump news site.
And while more union workers backed Trump on Nov. 8 than expected, the election results also showed enormous support for Fight for $15's core issue. Minimum wage hikes passed in four states in November, including Arizona which voted for Trump. Two states passed paid sick leave laws.
For the past several years, raising the federal minimum wage from its current $7.25 an hour has become a relatively popular issue among Americans, regardless of political leaning. The only holdouts on raising the minimum wage seem to be Republican legislators. A majority of states now have a higher wage ceiling than the one set by Congress.
And it's somewhat unclear whether Trump, who made a broad appeal to union workers and the economically downtrodden, supports raising pay. He said last year he doesn't think the federal government should raise wages, but over the summer he said he was supportive of raising the minimum wage to $10 an hour. 
"He's been all over the place," Fells said.
Trump is also reportedly considering for Labor Department secretary Andrew Puzder. The CEO of CKE Restaurants, parent company of Hardee's, Carl's Jr., and other fast food outlets is a vehement opponent of raising the minimum wage. 
CORRECTION: An earlier version of this article incorrectly stated the day of Fight for $15's first protests in 2012.
REAL LIFE. REAL NEWS. REAL VOICES.
Help us tell more of the stories that matter from voices that too often remain unheard.