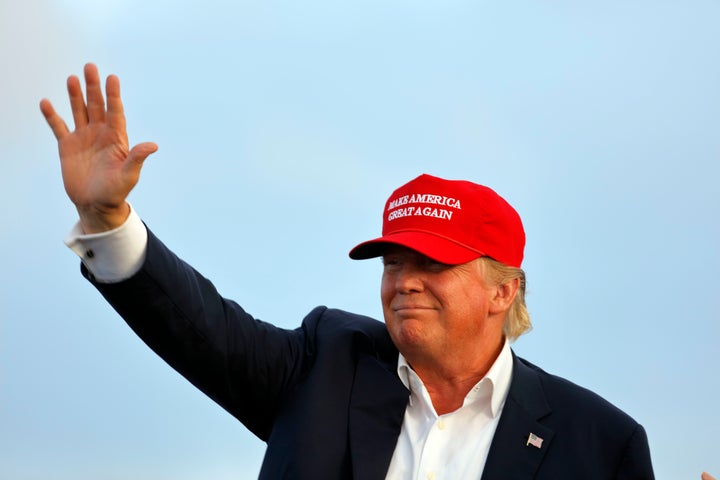 WICKLIFFE, Ohio ― Joshua Lewis is knocking at a front door when the homeowner pulls into the driveway in a red Toyota pickup truck. Out steps Craig. Craig is fresh off from work, and he's just the voter Lewis is looking for.
Lewis has a question for Craig: If he had to vote in the presidential election tomorrow, whom would he choose ― Hillary Clinton or Donald Trump?
"I would vote for Trump," says Craig.
It's not the answer Lewis was hoping to hear. But it's the reason he's been knocking on doors in the Cleveland suburbs for months on end, asking people to explain what matters most to them in 2016.
"I was a Democrat all the way up to this election," Craig explains. "We need a change."
"Smart change is better change," Lewis counters. "A lot of what he's saying is not only disturbing, but incorrect."
"Look, I don't think he's the perfect candidate," Craig goes on. "But I don't think she can be trusted. We need integrity."
Lewis and Craig find some common ground in their five-minute chat in the driveway ― both believe trade deals like NAFTA have been bad for American workers ― before Craig gives Lewis his email and phone number, so Lewis can follow up with him before the election. Craig is still leaning toward Trump.
"There are some people who say they've been Democrats all their lives, but a lack of progress has driven them the other way," Lewis says after his discussion with Craig. "We have to meet them on their level."
Lewis is a canvasser for Working America, an affiliate of the AFL-CIO union federation. The AFL-CIO created the group in 2003 to make inroads with non-union workers at a time when unions are shrinking. Working America has campaigned to pass Obamacare, raise the minimum wage and stop the Trans-Pacific Partnership. Right now, it's all-in against Trump. The group says it has 150 paid, full-time canvassers hitting the pavement hard in a handful of swing states, and as election day nears, that staff will ramp up to 500.
Working America's sweet spot is the same as Trump's ― working-class, mostly white, former industrial strongholds. Though the vast majority of its support used to come from the AFL-CIO, Working America now pulls much of its funding from foundations and liberal donors, as well as members' voluntary dues.
On a recent evening, Lewis was canvassing in Wickliffe, Ohio, the blue-collar Lake County town where he grew up outside Cleveland. Wickliffe, which went for Obama in 2012, is 93 percent white (Lewis is African-American), and has a median household income of $48,000, according to census data. It's just the sort of Rust Belt area that pundits point to when they say Trump could potentially redraw the electoral map with his nationalist, anti-trade message, if he can get his campaign in order.
"The Cleveland area's been hurt by the loss of manufacturing jobs. They're looking for answers."
"There are folks who like Trump because his promises are appealing to them," says Lewis. "A lot of them are concerned with the lack of good-paying jobs, and they think someone from the outside can come in and make those changes. But Trump doesn't have a plan."
The canvassing by Working America illustrates one of Clinton's many advantages in the election. The former secretary of state has vastly outraised Trump throughout the campaign, and she is hammering her opponent with TV ads in battleground states like Ohio. But beyond her own campaign, groups like Working America are already running an ancillary ground game on Clinton's behalf.
A pillar of the Democratic base, the AFL-CIO and major national unions have uniformly endorsed Clinton ― despite Trump's proclamations that he is the candidate for union members ― and will run get-out-the-vote operations as the election nears.
Working America is particularly invested in the battleground state of Ohio, which Trump will likely need to win if he's to prevail in November. As of the latest polling, Clinton probably holds a very slight lead in Ohio. Working America has 80 canvassers based in the state. Though it's now ramping up, the Trump campaign had just 82 staffers nationwide in the month of July. (Clinton, by contrast, had 705.) Come October, Working America's hopes to have 200 bodies in Ohio.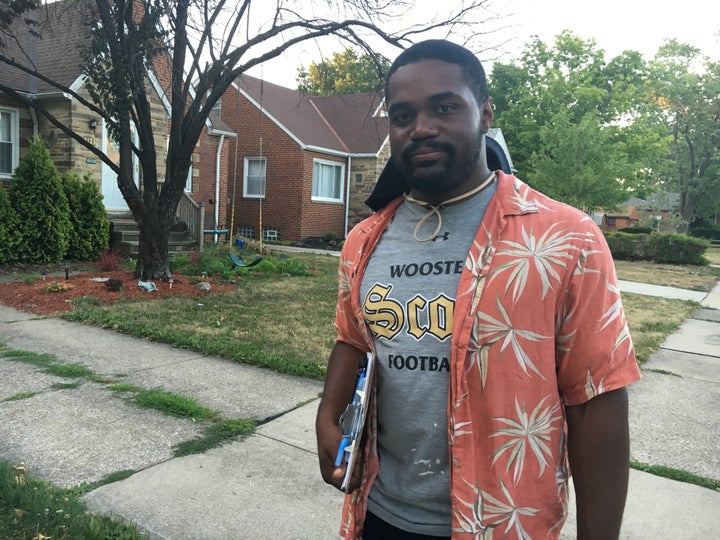 The Ohio staff includes Lewis, whose knuckles are smudged with white paint from knocking on 70 doors a day. (His goal is 40 conversations per shift.) He quit his job as an account manager to join Working America last year. Raised by grandparents who were union members, he wanted to campaign for labor-friendly policies and candidates. Now he finds himself interrupting people's dinners to hear how they feel about Trump.
"The Cleveland area's been hurt by the loss of manufacturing jobs," he says. "A lot of people are hurting, and they're looking for answers."
Voters like Craig are exactly who Lewis and his colleagues want to reach. Craig is not wearing a "Hillary for Prison" T-shirt. He does not appear to be a white nationalist. Hell, he typically votes Democratic. Craig is just another guy who thinks the cost of living is too high and wages are too low. And like a lot of voters, he says he has trust issues with the Democratic nominee.
"We're up against years and years of what people have been hearing on television," Lewis says.
As one would expect from the favorability polling, Lewis' Wicliffe canvass turns up plenty of distaste for the Democratic nominee, some of it startling: "I don't care for her." "I don't believe in her." "I think she's a liar." "She's a murderer." Sometimes his goal is simply to warm someone to the idea of Clinton being president. "It's tough to start out in a hole where you're explaining that she wasn't indicted," he says.
On his nightly canvass, Lewis is aiming for what he calls pivots. There are two kinds. The half-pivot is when you steer an undecided voter toward Clinton's side of the line. The full pivot is when you take a Trump supporter and flip him or her to Clinton. Not surprisingly, full pivots are much more elusive. The day before he met Craig, Lewis says he pulled off a rare feat ― half-pivoting a libertarian.
His proudest pivot came in Brunswick, Ohio, south of Cleveland. He was speaking to a single mother who said she had voted for Obama but now supported Trump. Her biggest concern was education. Lewis told her Trump has floated the idea of eliminating the Department of Education (true). By the time he stepped off the front stoop, the woman said she planned on voting for Clinton.
Before he can sway someone, Lewis needs them to explain what's important to them going into the election.
"We're holding up a mirror and letting them talk," he says. "I just try to plant a seed. Give them a chance to verbalize their thoughts on the election and the working class. I want to have a polite talk with the facts, try to have people open up and have a conversation."
Working America was one of the first groups to document Trump's potential appeal in the Rust Belt in a general election. Back in the winter ― when most pundits and odds-makers were still writing Trump off in the GOP primary ― canvassers like Lewis were talking with people in Pittsburgh and Cleveland on their front porches, hearing their thoughts and concerns. They called it the "front porch focus group."
They concluded that, out of the entire cluttered field of Republicans and Democrats, Trump was the single most popular candidate with the hundreds of people they spoke to. The group issued a splashy report essentially sounding the alarm: "Key white working-class voters have not made up their minds yet in the 2016 presidential race, but of those who have, Donald Trump is the strongest choice." Once Working America endorsed Clinton, the group began actively campaigning against Trump.
Near the end of his night canvassing in Wickliffe, Lewis knocks on the door of a 34-year-old mother who's never voted before. She recently registered to vote, after growing concerned about a plan to consolidate local schools. Lewis asks her a simple question that she clearly doesn't get asked often: What's important to her and her family right now?
"Better wages would be nice," she says after a long pause. "Anything more than I'm making right now."
This will be the first time she ever casts a ballot for president. She was jazzed about it, until the candidates were decided. "Honestly, I don't care for either one," she says.
Lewis leaves after a five-minute chat on her steps, the undecided voter still undecided. But all in all, Lewis considers the talk a success.
"We're letting people flesh out their own stories," he says. "And it pumps me up when I'm at a door and someone's willing to listen."
Popular in the Community