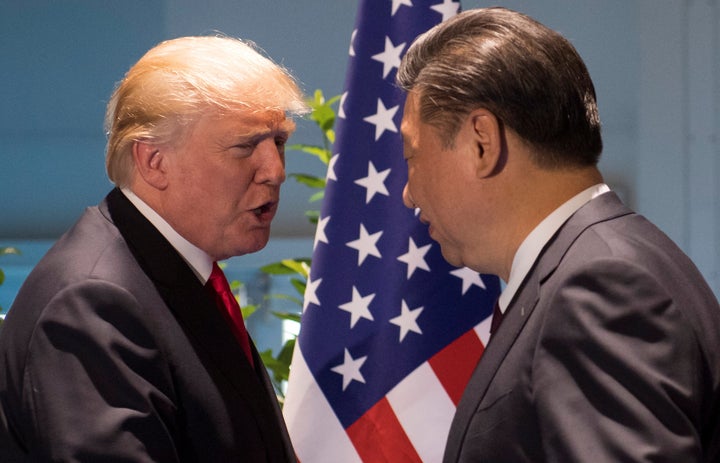 U.S. President Donald Trump turned to his favorite platform on Wednesday to fire off a quick congratulatory message to Chinese President Xi Jinping for his "extraordinary elevation." 
China had unveiled its new generation of leaders in a historic announcement earlier in the day, without presenting a clear successor to Xi ― thus consolidating the Communist Party leader's ironclad grip on power.
But it also raises questions as to whether or not Trump fully understands the implications of his Chinese counterpart's ascension. 
Referred to by some as China's "COE," or "Chairman of Everything," Xi is now arguably the most powerful Chinese leader in decades. He boasts near-absolute authority over the nation, which is home to some 1.4 billion people and the world's second-largest economy. Human rights groups warn that government suppression of dissent and free speech has worsened under his leadership.
The Communist Party voted to enshrine Xi's name and political thoughts in its constitution on Tuesday, elevating his status to that of Mao Zedong, the founder of modern China.
Vowing to spearhead the "great rejuvenation of the Chinese nation," Xi kicked off his second five-year term on Wednesday. But there is already speculation that he may amend the constitution to extend his tenure beyond 2022.
For now, Xi will rule with six other members of the new Communist Party Politburo Standing Committee, all hand-picked by his loyalists. As NBC News concludes in an analysis, this sends a clear signal that China "may be entering an era of strongman rule."
Trump will visit Xi in China next month during a 12-day trip through Asia. His praise for the authoritarian leader may be alarming, but it is certainly not surprising.
Trump also said that he and Egypt's autocratic President Abdel-Fattah el-Sissi "agree on so many things." In April, he told the Egyptian leader he'd done "a fantastic job in a very difficult situation," though Egyptian security forces are accused of a litany of ongoing human rights violations, including the use of torture.
Trump has even offered kind words to Philippine leader Rodrigo Duterte, an admitted killer who has encouraged citizens to shoot suspected drug dealers in the streets, resulting in thousands of extrajudicial killings.
And let's not forget Trump's bizarre justification for his flattery of Russian strongman Vladimir Putin: "If he says great things about me, I'm going to say great things about him."
Calling all HuffPost superfans!
Sign up for membership to become a founding member and help shape HuffPost's next chapter