WASHINGTON ― President-elect Donald Trump has the power to make good on one of his top campaign pledges within hours of taking office.
Trump, who pitched himself as an opponent of U.S. involvement in Middle East conflicts, could take a few quick steps to immediately end the American role in one of the most widely criticized of those wars ― in Yemen, where the U.S. is helping Saudi Arabia, the United Arab Emirates and other Arab nations fight a militia linked to their rival Iran.
The U.S.-backed, Saudi-led coalition has been accused of multiple war crimes and of causing the majority of the more than 10,000 deaths since the beginning of the conflict. It has bombed hospitals so frequently that Doctors Without Borders, one of the most vital humanitarian groups in war zones around the world, had to temporarily shut down part of its Yemen operation. And it has continued to receive millions of pounds of U.S. fuel, fresh supplies of U.S. weapons and a constant stream of U.S. intelligence.
In response to mounting criticism, Obama administration officials told Reuters last month that they would limit some weapons transfers to the Kingdom. But days later, top U.S. and Saudi figures downplayed the report; the U.S. is committed to helping the Kingdom, Secretary of State John Kerry said.
Once Trump is in charge, he could go further. It would be a prime opportunity for him to score political points by distancing himself from one of his predecessor's least popular policies, while also making a show of protecting U.S. blood and treasure and signaling anew that he is not afraid to break with convention or challenge foreign governments in pursuing his vision of the American interest.
Within hours of taking the oath, Trump could end the practice of sending U.S. tanker planes to refuel the Saudi-led coalition's jets in the air. Lawmakers and humanitarian groups have identified that aspect of U.S. support as key to the question of whether Washington is legally liable for Saudi actions. The refueling also contributes to the growing hatred for the U.S. within Yemen, a country where terror groups like al Qaeda have long found hundreds of recruits. (The local al Qaeda franchise, al Qaeda in the Arabian Peninsula, and a branch of the self-described Islamic State militant group have grown increasingly powerful in Yemen as the Saudi-backed government and the Iran-backed opposition have focused on battling each other.)
U.S. refueling of Saudi coalition planes increased 60 percent between February and August 2016, Air Force Times found. Without those flights, the Saudi-led coalition would make significantly fewer bombing runs, former Pentagon official Pierre Sprey told The Huffington Post in October. Its planes wouldn't be able to spend nearly as much time bombing Yemen, Sprey estimated ― they'd be limited to between five and 15 minutes per run, rather than the one to three hours they spend over the country now. That would sharply reduce the amount of damage the coalition jets could do.
Trump could also order U.S. personnel to stop giving the Saudis intelligence about the pro-Iran rebels, and to stop identifying targets that the coalition should avoid hitting ― information that the Saudis are in fact suspected of using to target vulnerable areas. In later weeks, Trump could place conditions on future military assistance to the Kingdom and its partners, to try to deter more controversial actions in Yemen and other excesses.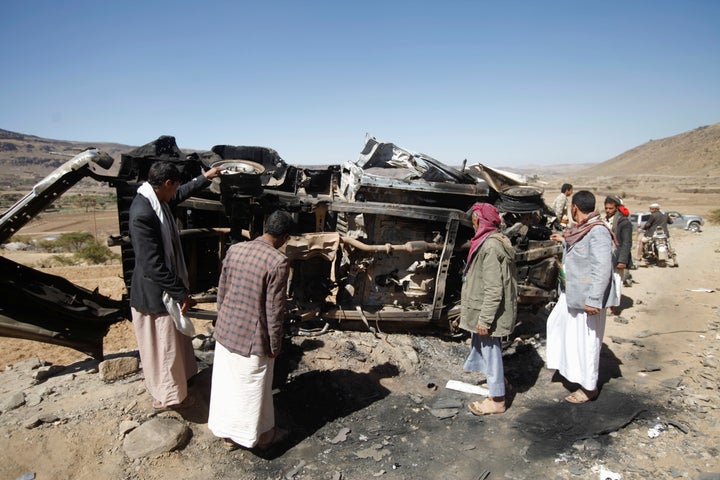 Two Trump spokespeople declined to comment on the president-elect's plans.
Disappointed by President Barack Obama's approach, some in the outgoing administration want to see Trump take a dramatically different line. "At least he could do this," a State Department official told HuffPost.
The move would likely thrill critics of the war and could earn Trump goodwill in some surprising quarters.
Democratic legislators have taken the lead on raising congressional awareness about the conflict, and they're keen to continue the fight. "Senator Murphy has been vocal that U.S. support for the Saudi-led war in Yemen has harmed national security, enabled terrorist groups and killed innocent civilians," said a spokesman for Sen. Chris Murphy (D-Conn.). "He has urged the Obama administration to cease U.S. support for the Saudis' war, and will call on the incoming administration to do the same."
Murphy is considering pressing the issue of the Yemen war during a Senate Foreign Relations Committee confirmation hearing for the future president's secretary of state pick, Rex Tillerson, two people with knowledge of the matter told HuffPost. One said Sen. Ed. Markey (D-Mass.) might raise it as well. (Murphy's spokesman said the senator would not decide his questions until closer to the date of the hearing, Jan. 11. A spokeswoman for Markey did not respond to a request for comment.)
Scott Paul, a senior humanitarian policy adviser at Oxfam America, said his group would be pleased if the Trump administration emphasized negotiations between the Saudi-backed government and the pro-Iran rebels.
The Obama administration has left Trump with significant leverage he could use to pressure the Saudis to improve their tactics or move more quickly to end the war, Paul said. And Trump's team could take an additional step toward peace by pushing for a new United Nations Security Council resolution to serve as a basis for negotiations, to replace a controversial two-year-old resolution seen as strongly influenced by Saudi Arabia and its partners.
The current administration is reluctant to bring new Security Council attention to Yemen because it would allow Russia and others to criticize the U.S. as hypocritical for bashing Russian brutality in Syria while aiding Saudi violence, according to Paul.
Trump, however, appears willing to turn a blind eye to violations of humanitarian law by Russian President Vladimir Putin and Syrian President Bashar Assad. He has even echoed their criticisms of the U.S., saying it does not have the moral standing to scold other nations. So he may be willing to permit a new resolution that is less Saudi-friendly, describe the U.S. role in the conflict as an Obama mistake and move forward.
But there's little evidence that the president-elect actually wants to stay faithful to his campaign rhetoric and pull the U.S. out of the Yemen war.
Congressional staffers in three offices paying close attention to the crisis told HuffPost the Trump team has not communicated any plans to them yet.
In the one instance when the future president spoke at some length about Yemen, Trump said he would be happy to help the Saudis deal with the Iranian influence there. "I will say this about Iran, they're looking to into Saudi Arabia. They want the oil. They the money... They took over Yemen," Trump told Bill O'Reilly on Fox News on Jan. 4, 2016. "I would want to help Saudi Arabia. I would want to protect Saudi Arabia. But Saudi Arabia is going to have to help us economically."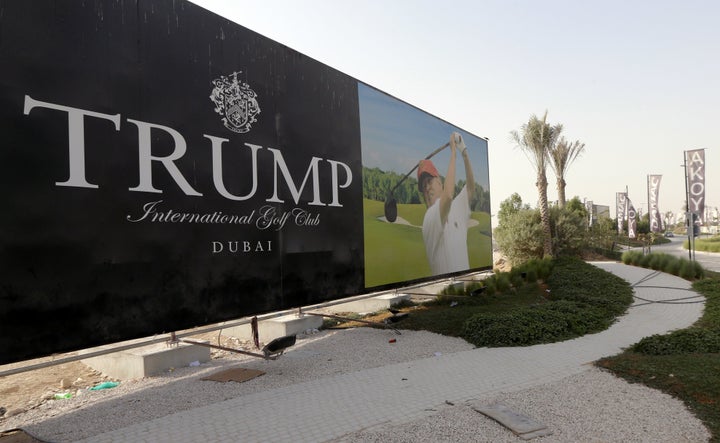 This is in keeping with Trump's general argument that the U.S. should operate on a pay-to-play basis with its partners.
His viewpoint has been clear to foreign officials for months, and those close to the leaders of the Saudi-led coalition say they are prepared to deal with it.
"Businessmen are always predictable," Abdulla al-Mannai, a Bahraini columnist, recently told Foreign Policy. "What's the bottom line? And what would make him look good?... Him being a businessman and the Gulf willing to do business... means that, chances are, the Gulf countries will be able to get along very well with Trump."
One country in the Yemen coalition, Kuwait, recently made headlines for moving its annual Washington, D.C., party to Trump's new hotel. And Saudi Arabia is behind a big new investment in U.S. startups that Trump has publicly praised.
Bilal Saab, an expert on Gulf politics at the Atlantic Council, said Trump's selection of Gen. James Mattis to lead the Pentagon is a reassuring signal for the Saudis and other U.S. partners worried about Iran's reach into Yemen and elsewhere.
"I think Iran will be Trump's top Middle East priority," Saab told HuffPost in a Wednesday email.
While Trump himself may be willing to cut some kind of deal with Iran, Mattis is convinced that Tehran's leaders are too dangerous to U.S. interests to be seen as potential partners. He and other Iran hawks in the new administration will likely find support from congressional Republicans, many of whom speak of supporting the Saudis in Yemen as an essential part of the U.S.'s strategy for the region.
Balancing these varying constituencies, Trump may well simply defer to Riyadh on the issue, maintain some level of U.S. assistance and hope his voters don't notice.
The Saudis are looking for a way to end the war already, Saab noted.
"It's time for a smart exit strategy that meets core Saudi national security goals and doesn't concede too much to the Iranians," he wrote. "It's tough but doable."
In the meantime, Yemen will continue to bleed.
Popular in the Community