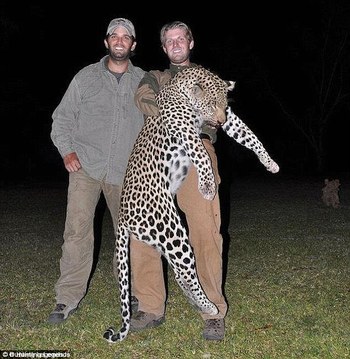 Donald Trump, the billionaire reality TV star, real estate tycoon, and Republican presidential nominee frontrunner, supports his sons' wildly expensive hunting expeditions in Africa. In response to the global outrage of Minnesota dentist Walter Palmer's hunting and killing Cecil, the once regal and treasured 13-year-old lion, the conversation regarding expensive African Safari hunting trips has increased to a feverish pitch. Photos of Donald Jr. and Eric Trump's hunting massacre from a trip in Zimbabwe in 2011 resurfaced recently. The pictures were originally posted on the website for the company that ran the hunting trip to the Matetsi area of Zimbabwe.
In July 2015, during the television, newspaper, online and social media frenzy surrounding the killing of Cecil the lion, Mia Farrow tweeted a picture Donald's sons posing with their hunted and killed "trophy." Donald Sr. once told TMZ in 2012. "I am not a believer in hunting and I'm surprised they like it." However, in response to Farrow's tweet, when asked about his sons' hunting of African wild life, the very political Donald Sr. stated, "My sons love to hunt. They are members of the NRA, very proudly. I am a big believer in the Second Amendment."
News flash to Donald Trump: Donald Jr. and Eric's love of hunting and killing beautiful, exotic animals like a leopard, elephant, Buffalo Bull, 12' crocodile and a Waterbuck, has nothing to do with the Second Amendment. The Second Amendment of the United States Constitution reads: "A well regulated Militia, being necessary to the security of a free State, the right of the people to keep and bear Arms, shall not be infringed."
The Second Amendment, regardless of how broadly or narrowly interpreted, has nothing to do with hunting wildlife in Africa. In fact, one need not even own a gun, legally or otherwise, to participate in these hunting expeditions. As noted on African Sky Hunting's site, the hunter may "hunt with one of the rifles of your professional hunter. The only cost involved will be the replacement cost of ammunition, which should be around $100." Furthermore, being that his sons' slaughters occurred in Zimbabwe, Africa, the Second Amendment of the United States Constitution -- with emphasis on the words "United States" - has no governing authority over gun rights and laws in Africa. Come on Donald. You should know this!
Like all animals, elephants, buffalo, and crocodiles deserve better than to be killed and hacked apart for two young millionaires' grisly photo opportunity. If the young Trumps are looking for a thrill, perhaps they should consider skydiving, bungee jumping, or even following in their anti-hunting father's footsteps and taking down competing businesses--not wild animals. If the Trumps want to help villagers, they have plenty of resources at their disposal.
Donald Jr. and Eric's love of the grossly extravagant African hunting has everything to do with ego, animal cruelty, and wealth. It is no surprise (some say an apple doesn't fall far from the tree) that Donald's sons would offer ridiculous, almost laughable justification of their love of African bush killing expeditions. Donald Jr. told Forbes magazine in 2012, "If you wait through long, cold hours in the November woods with a bow in your hands hoping a buck will show or if you spend days walking in the African bush trailing Cape buffalo while listening to lions roar, you're sure to learn hunting isn't about killing."
Wrong Donald Jr. The hunting you do is 100% about killing -- that is why you proudly posed with the killed animals. It is why you proudly held up a cut-off elephant's tail with the knife presumably used to dismember the animal. If it was truly about the sport of hunting, instead of the sport of killing, then hunters would employ a strategy similar to the recreational fishermen who "catch and throw back".
Donald Jr. continued, "Hunting forces a person to endure, to master themselves, even to truly get to know the wild environment. Actually, along the way, hunting and fishing makes you fall in love with the natural world. This is why hunters so often give back by contributing to conservation." I must confess, I cannot follow this line of reasoning. More importantly, it has been widely agreed that killing animals to save them is not conservation.
As one campaigning to win the Republican nomination, and ultimately the title of President -- the Commander and Chief of the United States -- Donald Trump should have an extensive understanding of the Constitution of the United States and when, where, and how it applies. His apparent lack of understanding of the Second Amendment is just another indicator that Donald Trump Sr. may be more "show" and fluff than he is substance and knowledge.
Popular in the Community