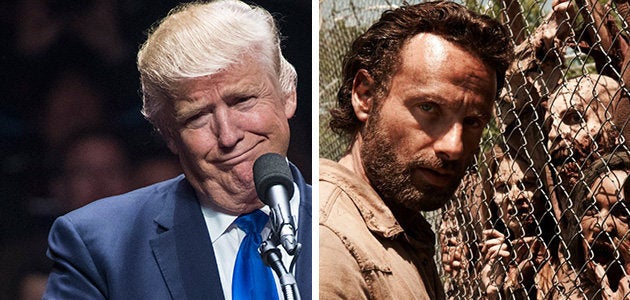 (Warning! "Walking Dead" spoilers!)
In between Daryl breaking down over Glenn's death and the show torturing us by playing the song "Easy Street" over and over, fans spotted something on Sunday's episode, "The Cell," that made it particularly "yuuuge." 
Just days before the 2016 presidential election, "Walking Dead" fans think AMC gave us a glimpse of Donald Trump as a walker. Ladies and gentlemen, in all his gory ... erm ... glory ... here he is:
The face and hair seem "bigly" similar, at least, and that was enough for fans.
ComicBook.com reached out to AMC about it, and apparently it was "just another walker." But, c'mon. Really, AMC?
Just look at that classy, fantastic hair and tell me that walker isn't going to make zombies great again.
Even though it's not technically Trump, it's fitting that he'd show up in an episode featuring Negan. "Walking Dead" star Michael Cudlitz compared Trump to Negan before the season. 
Of course, some fans might have a problem with that.
But if Negan is still trying to make a wall of walkers guard his fence, at least he has the right guy for the job.
Calling all HuffPost superfans!
Sign up for membership to become a founding member and help shape HuffPost's next chapter
BEFORE YOU GO
PHOTO GALLERY
The Walking Dead