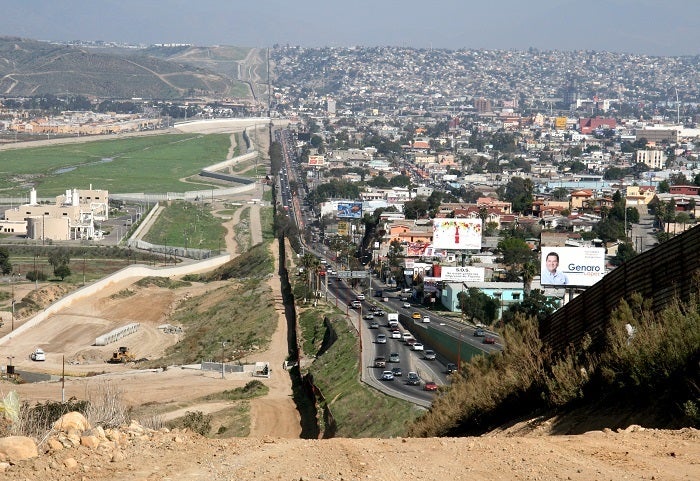 June 16, 2015: And nobody builds walls better than me... Trump announces his campaign for the presidency and first mentions his idea to build a southern border wall.
"I will build a great wall ― and nobody builds walls better than me, believe me ―and I'll build them very inexpensively. I will build a great, great wall on our southern border, and I will make Mexico pay for that wall. Mark my words."
June 2015 - November 2016: Rile up the crowds! Trump with frightening regularity uses a call and response with his crowds to reinforce his promise to build a wall and vilify immigrants from Mexico and Central and South America.
November 13, 2016: A fence is okay too. Trump appears on 60 Minutes after his Electoral College victory and suddenly the impenetrable, 30 foot high wall becomes a "fence."
STAHL (60 Minutes): You're-- you know, they are talking about a fence in the Republican Congress, would you accept a fence?TRUMP: For certain areas I would, but certain areas, a wall is more appropriate. I'm very good at this, it's called construction...there could be some fencing.
January 11, 2017: Mexico is totally paying for it...at some point...in the future.In what would turn out to be the first of many unhinged press conferences by President Trump, he clarifies that Mexico might not be paying the upfront costs for the wall after all.
"I want to get the wall started. I don't want to wait a year and a half until I make my deal with Mexico. They will reimburse us for the cost of the wall, whether it's a tax or whether it's a payment. Probably less likely that it's a payment."
January 25, 2017: Oh hey, I'm the President now.As one of his first acts as President, Trump signs the "Border Security and Immigration Enforcement Improvements" executive order that instructs the Secretary of Department of Homeland Security to begin the process of constructing the "wall."
The EO includes four specific points:-Taking steps to plan, design, and construct a physical wall,-Diverting all possible current funding to pay for the wall,-Figuring out the short- and long-term funding needs of the wall, and-Completing a study of the southern border to inform the plans for the wall.
January 27, 2017: Mexican President reconsiders friendly jaunt to the north.After Trump floats a trial balloon of taxing Mexican imports 20 percent to pay for the wall, Mexican president Enrique Peña Nieto cancels his trip to the White House.
"Mexico does not believe in walls. I've said time again; Mexico will not pay for any wall."
February 6, 2017: Congressional Republicans aren't too sure about this whole thing.After the Republican Congressional retreat, many lawmakers are expressing skepticism that the border wall is worth the price tag and are demanding that Trump offer off-sets for the cost. Even Texas' own Senator, John Cornyn, isn't convinced: "I have concerns about spending un-offset money, which adds to the debt, period. I don't think we're just going to be able to solve border security with a physical barrier because people can come under, around it and through it."
February 9, 2017: Exactly how much is this wall going to cost?A leaked report from the Department of Homeland Security puts the cost of building the wall (and fencing) at around three times as much as Trump originally estimated, $21 billion in total, and estimates that construction will take at least three years to complete. Womp, womp. Fun fact: the report does not take into account "major physical barriers, like mountains, in areas where it would not be feasible to build."
February 22, 2017: Let's go to the border!House Speaker Paul Ryan, along with a few of his Republican colleagues, toured the southern border and met with CBP officers. I mention this only to be able to include this photo.
February 24, 2017: Who has ideas about how to build this thing?Customs and Border Protection announce they will be seeking proposals to design and build "prototype wall structures" in anticipation of receiving the funding from Congress. DHS Secretary John Kelly, in his first time testifying before Congress, clarified that, "We're not going to be able to build a wall everywhere all at once" and that Border Patrol agents preferred fencing to a wall so they could see what was happening on the other side. Of course.
Also today, Trump told CPAC attendees that construction of a wall along the southern border is "way, way, way ahead of schedule" and building would "start very soon." So there's that.
Popular in the Community