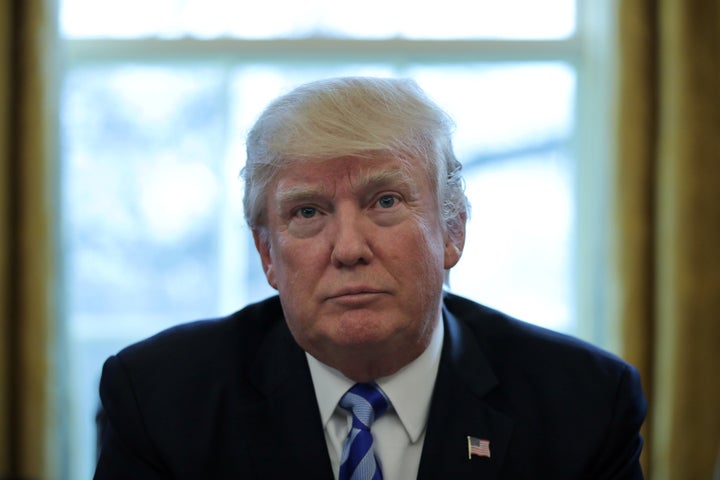 President Donald Trump's approval rating has been negative virtually since he first took office. Now, it may be heading even further underwater.
That specific number, like any individual data point, doesn't actually mean all that much. Gallup's tracking poll is somewhat volatile, as is the public reaction to its findings. When Trump's approval hit a previous low of 37 percent earlier this month, it kicked off a wave of social media freakouts. Then, it promptly rebounded by several points.
Trump's numbers also vary between pollsters, and Gallup's ratings, for a variety of reasons, also tend to be less positive for Trump than some other surveys.
But even in the aggregate, Trump's current approval rating doesn't look too good. HuffPost Pollster's average, which combines publicly available polling, puts Trump's approval rating somewhat higher: It's about 40 percent as of Monday afternoon, with just under 56 percent disapproving. (In March 2009, by comparison, Obama was at about 60 percent approval, although that number was rapidly declining.)
The aggregate also suggests that Trump's numbers, on average, are worsening after a period of relative stability. Individual trend lines tell a similar story. Most pollsters who've conducted at least two surveys this month, and at least one with field dates as recent as last week, show the president's net approval declining during the course of March.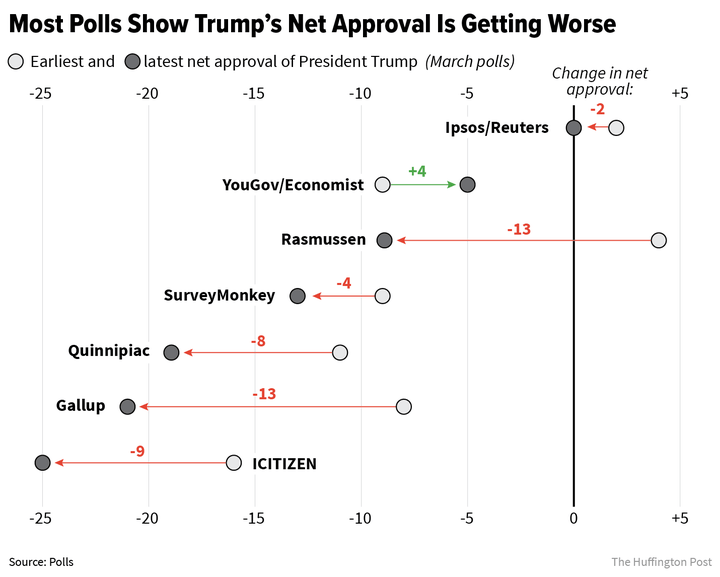 And most of those polls were taken before last Friday, when a health care bill backed by Trump failed dramatically in the House of Representatives. Although it's hard to assign causation to any specific political issue, health care is an issue that strikes home for much of the public, and, as FiveThirtyEight's Nate Silver points out, the timing of Trump's declining numbers lines up fairly well with the date when the bill was introduced.
As Gallup's editor-in-chief, Frank Newport, noted, there's plenty of time ahead for things to change ― in either direction.
"Presidential job approval ratings are fluid, and all presidents have seen both upward and downward swings in their ratings at various points in their administrations ― a historical precedent indicating Trump's approval could drop further or recover in the weeks and months ahead," he wrote.
Support HuffPost
The Stakes Have Never Been Higher
Popular in the Community