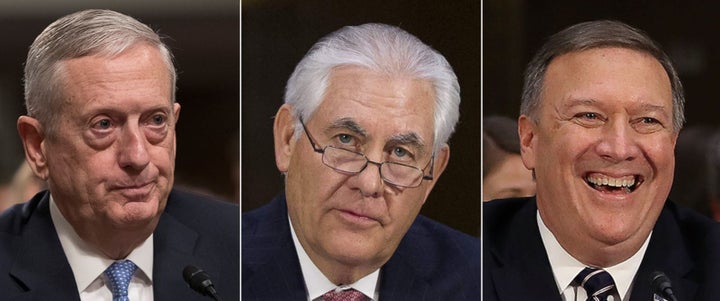 How will the incoming Trump administration respond to the conflagrations sweeping the Middle East? For months the answer to this question has been obscured by contradictory policy statements from the President-elect and relative silence from his cabinet picks. Last week, however, in a series of high-level confirmation hearings, Trump's nominees broke their silence.
The hearings saw Trump's nominee for Director of the CIA, Congressman Mike Pompeo, his nominee for Secretary of State, Exxon Mobil executive Rex Tillerson, and his nominee for Secretary of Defense, retired general James Mattis, testify on a range of foreign policy issues. With their testimony, as well as statements from Trump and his top national security advisors, we can now begin to sketch out the incoming administration's vision for the Middle East.
A common theme among the cabinet picks was alarm at a rising Iran. Mike Pompeo described Iran as the number one state sponsor of terrorism and warned that the country was becoming "bolder" in spreading its influence throughout the region. James Mattis stated that Iran is the "biggest destabilizing force in the Middle East." He argued that the United States needs to forge a strategy to "checkmate Iran's goal for regional hegemony."
The cabinet picks called for the US to contain Iran by backing the Arab-Israel axis – an emerging partnership between Israel, Sunni-majority countries such as Turkey, Saudi Arabia and the UAE, and secular authoritarian states like Egypt. Mattis called for a "partnership with both Israel and the Arab neighbors" against Iran. Rex Tillerson stated that, given the rise of Iranian influence in the Middle East, "we now find that Israel, the US and the Arab nations in the region all share the same enemy."
On the issue of the Iranian nuclear deal, the incoming administration's position was unclear. This may be due to inconsistency on the part of the President-elect himself, who stated in 2015 that he would keep the deal in place and "police that contract so tough," but promised in a March 2016 speech to AIPAC that his top priority would be to "dismantle the disastrous deal with Iran."
In the confirmation hearings, Trump's cabinet picks seemed to inch toward the former position while taking care not to contradict the President-elect outright. Mike Pompeo stated that though he had opposed the nuclear deal in the past, as CIA director he would commit to enforcing the terms of the agreement. Pompeo maintained that the US had a "sound protection regime" and that he foresaw the deal remaining in place. James Mattis called the Iran nuclear deal imperfect but said he supported the US keeping its end of the bargain. "[W]hen America gives her word," Mattis stated, "we have to live up to it." Rex Tillerson recommended a "full review" of the deal and stated, incorrectly, that it allowed Iran to purchase nuclear weapons. However, Tillerson argued that sanctions would send a "weak" message unless applied on an international basis, implying that the Trump administration would not unilaterally tear up the deal.
Across the board, the cabinet picks said that defeating ISIS was the administration's top foreign policy goal. In Mike Pompeo's view, ISIS and Al Qaeda in Syria and Iraq represented the most immediate threat to Americans. Rex Tillerson described the elimination of ISIS as the administration's "foremost priority in the Middle East."
According to Tillerson, the new administration would prioritize eliminating ISIS over removing Syrian President Bashar Assad from power. In a break with Obama administration policy, Tillerson questioned the wisdom of removing Assad at all. "The truth of the matter is carrying both of those out simultaneously is extremely difficult because at times they conflict with one another," Tillerson said. "The clear priority is to defeat ISIS."
When asked about specific strategy for combatting ISIS, Tillerson stated that the administration intended to support Kurdish fighters in eastern Syria. James Mattis stated that he would continue the Pentagon's current strategy to regain control of Raqqa, but that it would be "energized on a more aggressive timeline." Mattis advocated an "integrated strategy" so that "you don't squeeze them in one place and they develop in another." For Mattis, this meant keeping US troops in Iraq long after the recapture of Mosul from ISIS. On the question of cooperation with Russia, Tillerson expressed little concern about the country's air campaign in Syria. Mattis stated that the US and Russia could work together in some areas but that he had "very modest expectations."
For the most part, testimony regarding the Gulf States focused on their position as a bulwark against Iran. In several exchanges, however, Rex Tillerson appeared to defend Saudi Arabia's human rights record. In response to a question about Saudi Arabia's bombing campaign in Yemen, Tillerson said that he would increase cooperation with the country by providing intelligence and "better targeting capability" – a change of tack from the Obama administration's decision to distance itself from the Yemen conflict. Tillerson also declined to label Saudi Arabia a human rights violator, another departure from official US policy. He questioned whether the label would be helpful, and said that he was "realistic about dealing in cultures" and that Saudi Arabia was "moving in the right direction."
President-elect Trump has been a staunch supporter of the Israeli right, influenced in no small part by his son-in-law Jared Kushner. The President-elect has endorsed Israeli Prime Minister Benjamin Netanyahu, criticized the recent UN vote condemning Israeli settlements, and floated the idea of moving the US embassy from Tel Aviv to the disputed city of Jerusalem – a move that the Jordanian government said would have "catastrophic consequence" for the region.
Trump's cabinet picks also came down strongly on the side of Israel, though they attempted to dial back some of the President-elect's language. Rex Tillerson called Israel "our most important ally in the region" and stated that the recent UN resolution was "not helpful." Tillerson voiced some support for an eventual two-state solution, though he stated that "whether [the two-state solution] could ever be a reality remains to be seen." He also condemned a growing movement to boycott, divest and sanction Israel. James Mattis deflected questions about moving the US embassy to Jerusalem and reaffirmed the current US policy, which does not recognize Jerusalem as the capital of Israel.
The cabinet picks voiced their support for Turkish President Recep Tayyip Erdogan, who has faced international criticism for his crackdown on dissidents following a July 2016 coup attempt. According to Rex Tillerson, "The first step we have to take is to re-engage with our traditional allies and friends in the region… We have to re-engage with President Erdoğan in Turkey." Tillerson's statements were consistent with those of President-elect Trump. Trump has praised Erdogan for his handling of terrorism. He has also dismissed criticism of Turkey's human rights situation, stating, "I think right now when it comes to civil liberties, our country has a lot of problems, and I think it's very hard for us to get involved in other countries."
Incoming national security advisor Mike Flynn drove home the Trump administration's support for Turkey in a November 2016 op-ed. Writing in the Hill, Flynn stated that Turkey was "vital" to US interests, "our strongest ally" in the fight against ISIS, and a "source of stability in the region." Flynn criticized the Obama administration for keeping Erdogan "at arm's length" and for refusing to extradite Fethullah Gulen, a Turkish preacher living in the US who the Turkish government has blamed for the 2016 coup attempt. US officials do not believe Gulen is associated with terrorist activity and have requested that Turkish authorities provide evidence for their claims.
While Egypt did not come up in the confirmation hearings, Trump has been a vocal supporter of the government of Egyptian president Abdel Fattah el-Sisi. Sisi, like Erdogan, has faced criticism for his human rights record. The President-elect has expressed "strong support for Egypt's war on terrorism" and Sisi's ability to "[take] control of Egypt." He has stated that "under a Trump administration, the United States of America will be a loyal friend, not simply an ally, that Egypt can count on in the days and years ahead." In September 2016, following a meeting between the two, Trump called Sisi "a fantastic guy" and stated there was "a good feeling between us." Sisi was the first foreign leader to call Trump following the results of the US presidential election.
Consistent with his "integrated strategy" for combatting terrorism, James Mattis stated that the US would continue to play a role in Afghanistan. Rex Tillerson described Afghanistan as a front in the fight against ISIS along with Iraq and Syria.
While the incoming administration has been silent on Libya, former CIA director James Woolsey, who Trump named his senior adviser on national security issues, said that Trump would make the destruction of ISIS within Libya a top priority. While the Trump administration's strategy remains to be seen, it seems likely that Trump will support Libyan warlord Khalifa Hefter, a former CIA asset and a secular strongman backed by the UAE and Egypt.
To the extent that Trump and his cabinet picks have articulated a coherent foreign policy, their Middle East strategy appears to have two major tenets. The first is support for the emerging Arab-Israeli axis in order to contain Iran. While incoming Trump administration officials believe that these countries can make common cause against Iran, it remains to be seen how the administration will handle rivalries within this coalition – including between Assad and the Gulf States, and between Syrian Kurds and Turkey.
The second tenet is to partner with – and refrain from criticizing – authoritarian governments that prove useful in the fight against terrorism. Trump and his nominees have praised strongmen such as Egypt's el-Sisi's and Turkey's Erdogan, while refusing to criticize Saudi Arabia's King Salman, Israel's Netanyahu, Syria's Assad and even Russia's Putin. Trump's realist approach to foreign policy has already won him favor among Middle East leaders, even as it has alienated the region's inhabitants, who have long suffered under foreign-backed autocrats. The challenge for the Trump administration will be to combat terrorism without contributing to the very conditions that foment it.
REAL LIFE. REAL NEWS. REAL VOICES.
Help us tell more of the stories that matter from voices that too often remain unheard.