Emily's List has seen an "unprecedented" amount of women interested in running for political office, the group's president Stephanie Schriock told The Washington Post on Friday for a story about Democrats challenging Republicans in traditionally red districts during the midterm elections.
"During the 2016 cycle, her group spoke with about 900 women interested in running for school board, state legislature or Congress," WaPo's Ed O'Keefe and Mike DeBonis wrote. "This year, they've heard from more than 11,000 women in all 50 states — with a few dozen seriously considering House races, she said."
In December, The Huffington Post's Emma Gray reported that former Secretary of State Hillary Clinton's loss in the 2016 presidential election had motivated women across the country to get more involved with the political process. At the time, Emily's List told HuffPost that the organization raised $770,000 since election day, with more than one-third of those donations coming from new donors.
Since its founding 30 years ago, Emily's List says it has helped elect more than 100 Democratic women to the House of Representatives, 23 to the Senate, 12 to governors' seats, and hundreds more to state and local office.
While research demonstrates that women have the same chance of getting elected as men do, far fewer women run for public office. Research has shown that the reason for that disparity ranges from men being more likely to be recruited for the job, to an ambition gap that's well established by the time women leave college. Research also says another main barrier to women running for office is their role as the primary person responsible for the majority of child care and households tasks.
Less than one month before the general election, The New York Times reported that the number of women serving in office stalled in the 1990s, and the gender gap did not show signs of tightening in the future.
But it seems that momentum has kept up if not surged since Clinton's 2016 run and President Donald Trump took office.
"Some of [the increase in interest] is absolutely a reaction to President Trump and his policies," Jean Sinzdak, of the Center for American Women and Politics at Rutgers University, told NPR in February. "For others, it is Hillary Clinton's loss."
Other organizations that specialize in training women to run for political office say they've also seen an increase in participants. She Should Run told Slate in January that 6,000 women had contacted them since the 2016 election.
"Over ten thousand women isn't a ripple — it's a wave," Shriock said last month. "Republicans everywhere should sit up and take notice — because this is only the beginning."
Related
Before You Go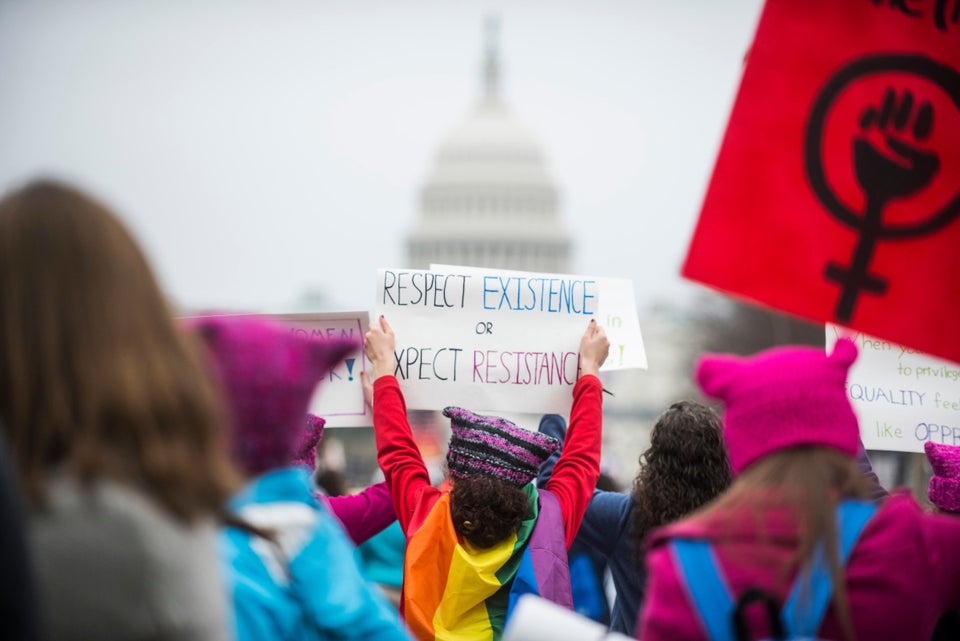 Feminist Signs From The Women's March On Washington