Donald Trump has now won three GOP contests in a row, but many pundits are still expressing shock at his success.
"What's actually -- what is happening out there? Joe Scarborough pondered on "Morning Joe" on Wednesday after Trump came out on top in Nevada. "[T]hey should have seen this coming and nobody did. They were in denial until a couple days ago," he said, referring to the Republican establishment.
The pundits worked to wrap their minds around the real estate mogul winning yet another state, but Trump himself had just bragged about beating their expectations. "Of course, if you listen to the pundits, we weren't expected to win too much and now we're winning, winning, winning the country," he said Tuesday night in his victory speech.
But HuffPost Pollster's polling averages have pointed to Trump as the front-runner in most contests for several months -- and with the notable exception of Iowa, they've been mostly right in the primaries and caucuses that have taken place.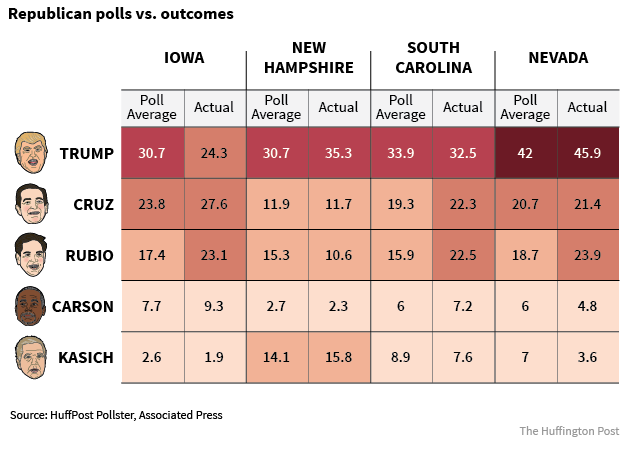 Perhaps Cruz's unexpected victory in Iowa generated a false sense that the polls would be wrong and Trump wouldn't win. After all, polls projected Trump to win with 31 percent of the vote, and he wound up in second place with 24 percent. Ted Cruz, who was polling at 24 percent, won with 28 percent. But even so, polls weren't necessarily wrong -- they just left the field too early and weren't able to pick up on the last-minute momentum shifts.  
In fact, the only candidate whose vote totals have been consistently different from the polls is Florida Sen. Marco Rubio. In three of four contests so far, Rubio has won more support in the election than in the polling averages, and a poor debate showing could have been to blame for his underperformance in New Hampshire.
On the Democratic side, the polling averages have been impressively close to outcomes. The Iowa caucuses were closer than polls indicated, but that was likely because former Maryland Gov. Martin O'Malley's supporters had to reallocate themselves between Clinton and Sanders when they failed to reach the 15 percent threshold for viability.
In New Hampshire, Sanders received more support than the polls anticipated, but the results were what polls indicated -- that Sanders would easily sail past Clinton in the state's primary. And then in Nevada, despite almost no polling, the HuffPost Pollster polling averages basically nailed the result.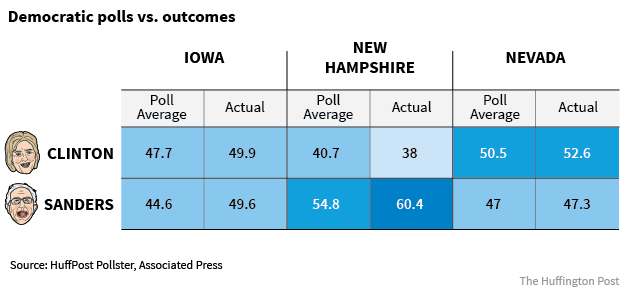 That doesn't mean HuffPost Pollster's averages will continue to successfully reflect outcomes. For Super Tuesday and beyond, there will be far fewer polls than there were in Iowa, New Hampshire and South Carolina. Although the very few polls in Nevada turned out OK on average, that may not be true for the next round of states.
But given that HuffPost Pollster's averages have correctly indicated the winner in six of seven primaries and caucuses so far, it might be time to believe the polls when they say Trump is leading and the Democrats are in a tight race.

Alissa Scheller contributed reporting.

Calling all HuffPost superfans!
Sign up for membership to become a founding member and help shape HuffPost's next chapter