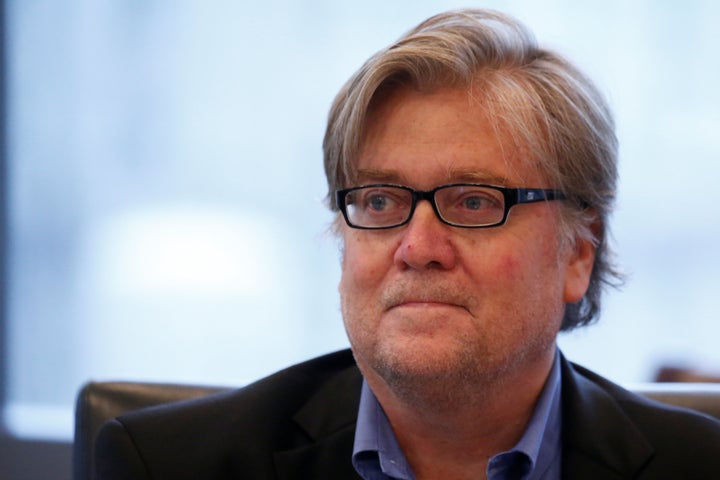 President-elect Donald Trump has a long history of making sexist, disparaging remarks about women. It should come as no surprise that he has elevated to one of his closest advisers a man who was accused of physically assaulting his wife.
Stephen Bannon, the former head of Breitbart News, an ultra-conservative website known for misogynistic and racist content, was named chief strategist and senior counselor to Trump on Sunday.
According to a Santa Monica police report obtained by Politico, police responded to a hang-up 911 call at Bannon's home on New Year's Day, 1996. They were met at the door by his then-wife Mary Louise Piccard. She was crying and took several minutes to compose herself.
Piccard told police that over the course of their relationship, there were three or four instances where arguments turned physical. Earlier that day, she said, she asked Bannon if she could use a credit card to get groceries. The couple had twin baby girls. He said no, she said, and it triggered a fight about finances that turned physical.
She alleged that he grabbed her by the wrist and the neck, and tried to pull her into the car he was sitting in. She got away from him and attempted to call 911, but Bannon wrestled the phone away from her and threw it across the room, she said.
The police officer noted red marks on her left wrist and the right side of her neck. Her injuries were photographed.
In February 1996, Bannon was charged with misdemeanor domestic violence, battery and dissuading a witness from reporting a crime. He pleaded not guilty to all counts.
However, the case was dismissed the following summer when Piccard failed to show up in court. According to records obtained by The New York Times, she claimed that she was threatened by Bannon not to testify.
In addition to the allegations of domestic violence, Bannon has a lengthy record of alleged sexist behavior.
As Buzzfeed reported this summer, Bannon and an associate were accused of sexual harassment in a 1990s court case, when he was working as a consultant for Biosphere 2, a research facility in Arizona.
The former director of the project, Margret Augustine, alleged that Bannon "made lewd remarks, told offensive off-color stories, made disparaging remarks about females, made sexually suggestive remarks, discussed females they had known in a lewd and derogatory fashion and in general acted with total indifference to the feelings of the plaintiff and other female employees."
While dancing with Bannon at a holiday party, Augustine said he "held my wrist tightly and told me that once I'd done it with him I'd never want to do it with anyone else."
Welcome to Trump's America.
Melissa Jeltsen covers domestic violence and other issues related to women's health, safety and security. Tips? Feedback? Send an email or follow her on Twitter.
Related
Popular in the Community