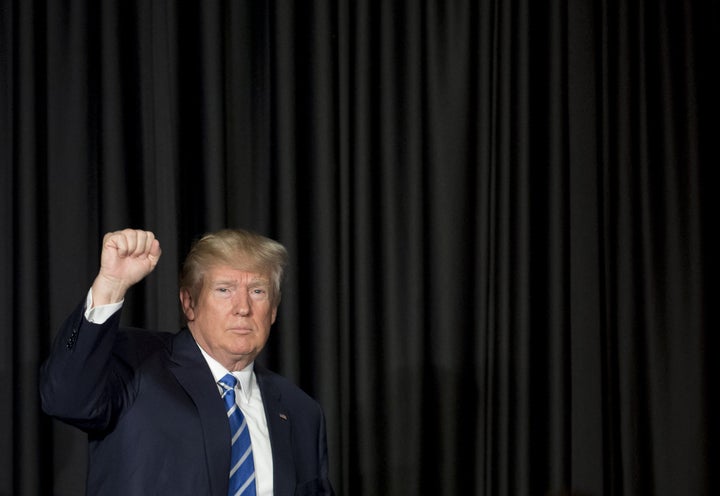 No alternative facts here: The current political environment is taking a major toll on Americans' mental wellbeing, according to a new report.
Data published by the American Psychological Association has found that two thirds of all Americans feel anxiety over the future of the country. The analysis, called "Stress in America," also discovered 57 percent of the nation reported that politics were either somewhat or a very significant source of stress in their lives.
"Honestly, these are some pretty startling figures," Vaile Wright, a licensed clinical psychologist and member of the APA's Stress in America team, told The Huffington Post.
In August of last year, the average stress rating among Americans was 4.8 on a scale from 1 to 10 (with 1 being little-to-no stress and 10 ranking as very high stress). That figure is now up to 5.1, which APA researchers theorize has a lot to do with political events since then.
"The stress we're seeing around political issues is deeply concerning, because it's hard for Americans to get away from it," Katherine Nordal, APA's executive director for professional practice, said in a statement. "We're surrounded by conversations, news and social media that constantly remind us of the issues that are stressing us the most."
Average reported stress has fluctuated from 4.8 to 5.1 since 2012, according to the report, but the Stress in America Survey is typically conducted once a year. The results of the additional January poll show "a statistically significant increase in stress for the first time since the survey was first conducted in 2007," the authors wrote. This rise is alarming, according to Wright.
"We heard a number of people say that they've been experiencing an increase in both physical and emotional symptoms of stress," Wright explained. "We're concerned about those health effects."
The data paints a more stark picture when it's broken down by political party. Approximately 76 percent of Democrats polled reported that the outcome of the election was a significant source of stress for them, compared with just 26 percent of Republicans.
And the mental strain doesn't just span party lines. The survey also revealed there's a gender gap: Women consistently reported higher levels of stress than men overall.
APA researchers theorize that the negative rhetoric of the election, including accounts of sexual assault and discussion on women's rights, may have contributed to the higher anxiety levels, Wright explains. Women also feel more pressure when it comes to financial and family responsibilities.
And unlike past surveys, overall average stress rates have balanced out across all races and ethnicities, with each group reporting about the same numbers on the scale, the report said.
However, when this is broken down by what's causing the stress, there's a stark difference. Communities of color cite issues like police violence toward minorities as one of their main stressors. White individuals often labeled money as a significant source of stress. And, overall, more than half of Americans cite the threat of terrorism as a potential source of significant stress.
"There are a lot of things going on right now that we don't have control over but we can control how we respond," Wright said.
Below are a few suggestions on how to keep those worries from taking over:
Practice self care. "This includes exercise, eating healthy and seeking social support," Wright said.

Stay informed... Wright says that staying active in democracy is a critical part of taking control of your stress, regardless of your party affiliations.

...But allow yourself to take breaks. Oversaturation is real. "Know your limits on how much information you can take in," Wright explained. "It doesn't make you a bad citizen if you need to take a pause from reading the news."
Here's hoping the country can only go up from here when it comes to their wellbeing.