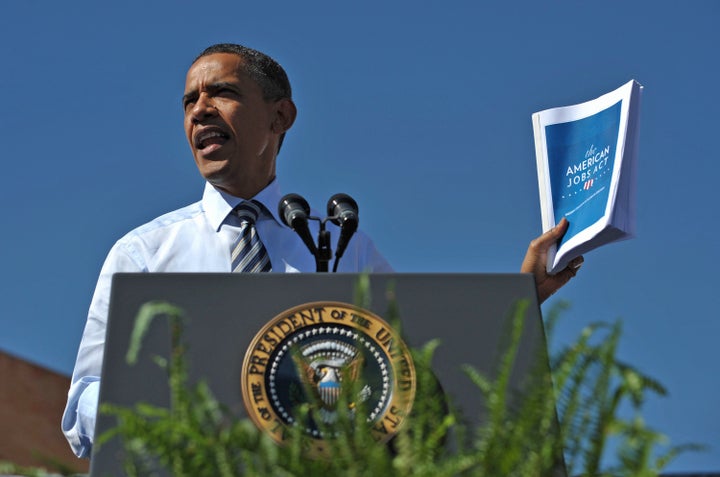 On Monday afternoon, I received an email from Jim Messina, the Campaign Manager for Obama for America. The email's subject line was, "3,418 people in Oakland, CA" and I assume similar emails went out for San Francisco, Chicago, Boston and cities across the country. Normally, I just hit "Archive" on Obama campaign emails, but I thought this one was worth response.
Here's what I wrote back to Jim:
I just got your email. You pointed out that I don't have something in common with 3,418 people in Oakland. Specifically, that I haven't donated to your campaign this year.
That's correct. Let me tell you why.
Many of us poured our hearts and souls into the Obama campaign in 2008. For some of us, that meant quitting our jobs or dropping out of school to go work for the campaign. For others, it meant volunteering our time or chipping in a few bucks. Each of us had our own personal reason for giving.
For me, that reason had a lot to do with the environment, specifically the climate crisis. In 2008, I helped co-found 350.org, a campaign that works to build a movement of people around the world to take on global warming. (Just this weekend, we came together for over 2,000 bike rides and rallies in 175 countries to help "move the planet away from fossil fuels," you can see some photos here).
When Barack Obama announced his candidacy for Presidency, I was swept up in the excitement. Finally, I thought, here is a man who can bring the country together to build a clean energy economy. Here is a leader who can use his eloquence to fight back the forces of denial and inaction and help America finally wake-up to the task at hand.
And I stepped up to help out. When I wasn't bird-dogging all the candidates on climate and energy, I spent time canvassing for Obama, knocking on doors, identifying voters, and getting people out to the polls. I got to see the campaign in action in New Hampshire, South Carolina, New Mexico, and Nevada. And on election night, I cried tears of joy, taking to the streets of my new home city, San Francisco, to celebrate with thousands of others.
The celebration didn't last long. The Administration's historic clean energy investments in the stimulus bill ended up being an aberration rather than a sign of things to come. After failing to help pass a climate bill in Congress, President Obama opened up the Powder River Basin for coal mining and expanded offshore drilling. In his 2011 State of the Union he failed to mention the words "climate change" or "global warming once." And just last month, the President ignored the advice of the Environmental Protection Agency and all his scientific advisers and refused to strengthen ozone standards, a measure that the EPA said would have saved up to 12,000 lives a year.
Now, the President is facing his most important environmental test before the next election: whether or not to grant the permit for a dangerous new oil pipeline. The proposed Keystone XL pipeline would carry dirty tar sands oil 1,700 miles from Canada to refineries in Texas. Tar sands oil is so dirty that our nation's top climate scientist says that fully developing the tar sands would be "essentially game over" for the climate. The pipeline itself threatens a BP style oil spill over the Ogallala Aquifer, the source of fresh drinking water for millions of Americans.
The unique thing about this pipeline is that President Obama gets to make the call on whether or not it gets build. Because the pipeline crosses our international border with Canada, it must receive a "Presidential Permit" from the administration. This is a clear test for the President: will he stand with Big Oil or will he stand with us, the millions of Americans that cheered his promise to "end the tyranny of oil" and heal our planet?
You see, Jim, here's the difference between you and all of us: your job is to help elect a President, ours is to help him fulfill the promises that he ran on in 2008. At some point down the road, donating to your campaign might be the most important thing we could do to help achieve that goal, but for now, I think there's a better way to hold the President to his word.
Rather than give the $3 you asked for in your email, I'm going to join the tens of thousands of people working with TarSandsAction.org to keep pushing you and President Obama to deny the permit for this pipeline. All across the country, but especially in swing states, we're planning on visiting Obama for America offices in groups of 30-50 people to say, "We volunteered and donated to your campaign in 2008, but this time, we're going to wait until you stand up to Big Oil and stop this pipeline. Here are our buttons from the last campaign, when you do the right thing, mail them back and we'll proudly wear them again." And on November 6, thousands of us will go a step further and travel to Washington, DC to surround the White House in a giant circle, a gesture of hope, as well as a symbolic reminder that 1600 Pennsylvania Ave is the people's house and we expect the residents of that address to stand up for us.
I can't think of a more important thing to be doing, not only for the planet, but for your campaign. Jim, according to your own strategy, you need to increase voter turn out in the progressive base to win in 2012. How do you expect to do that when you continue to run away from our values? When you deport our brothers and sisters, fail to protect our rights to unionize, let gays serve the military but refuse to let them marry, bail out the banks but abandon homeowners, put the profits of big polluters ahead of our children's health? Stopping the Keystone XL won't right those wrongs, but it will be a step in the right direction. And it would spark just the jolt of electricity you need to shock some of your base back into action.
Jim, in your email, you wrote, "President Obama has you. And when you're building a grassroots organization from the bottom up, the first person gets the next one involved. And the first 3,418 provide the foundation and inspiration for the next 3,418."
When he was elected, President Obama asked us to push him to do the right thing. Well, he can count on those of us working on stopping this pipeline to keep pushing. We've gone ahead and built a grassroots organization from the bottom up, the first people getting the next involved. This August, 1,253 people were arrested at the White House protesting the Keystone XL. They provided the foundation for the hundreds more people who were arrested in Ottawa on Monday protesting the pipeline and tar sands oil it would carry. And together, they're providing the inspiration for the thousands more that will join us in DC this November 6, a year out from the 2012 election, to push President Obama to live up to his promises, stop this pipeline, and rekindle the spirit of hope and change that so many of us fought for and are still fighting for today.
If you're in the area, you should join us.

Related
Popular in the Community