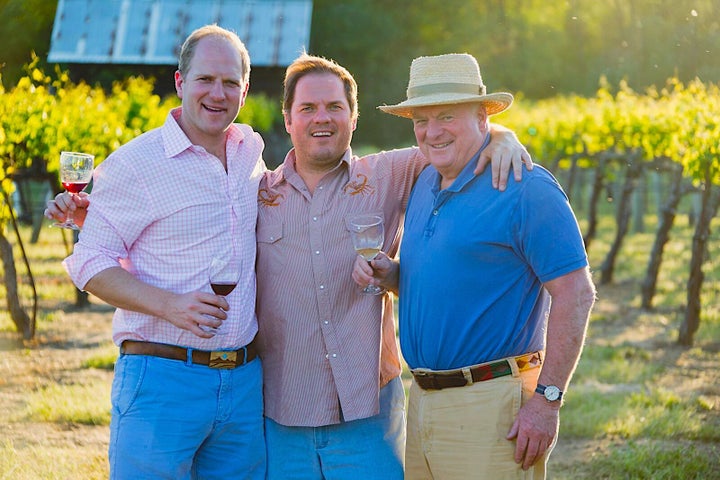 Cushing, Tripp and Joe Donelan
I don't think I've ever done an interview with a California wine company executive—owner, wine maker, marketing director—who didn't say pretty much the same exact things about their wines: "We only buy the best grapes; We care deeply about terroir; We work with and respect Mother Nature; We have no desire to be a commercial winery; And, our wines are expressions of ourselves." You'll find the same contentions on their websites as well as on their back labels. I'm not often enlightened. So it was an evening of refreshing conversation over dinner in New York with Cushing Donelan, Director of Marketing for Donelan Family Wines, who is as candid as he is possibly because he lives not in Sonoma but in Los Angeles. For, although he is intimately involved in the family winery, he was until 2012 an executive at actor Matthew McConaughey's production company, and now has his own oneinarow production company. So he talks more like a Hollywood guy than a Northern California winemaker, saying things like, "Conditions in the vineyards were so good in 2007 even an untrained monkey could have made a great wine."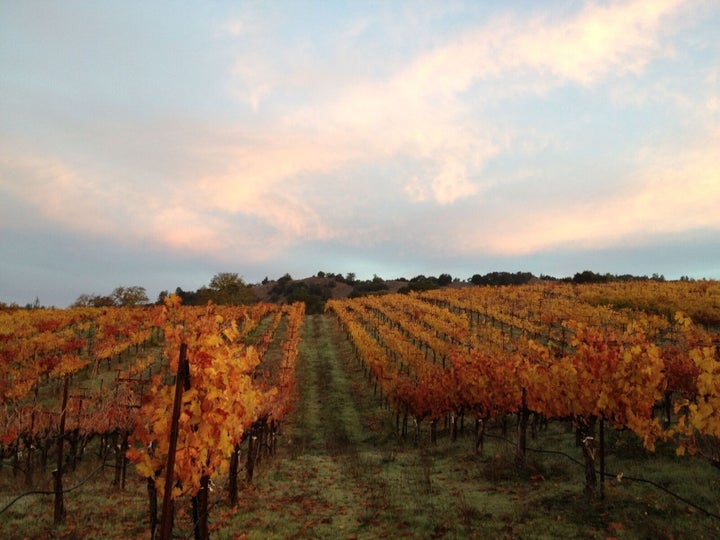 Born in Connecticut, Cushing learned about wine when his father, Joe, a paper industry broker, co-founded, with Pax Mahle, PAX Wine Cellars, known for its high-end Rhône varietals. Cushing Donelan attended Amherst as a fine arts major, which led him to Southern California and into the film production industry. But his involvement with his family's wine interests has always been intense. He joined the business in 2012, three years after the founding of Donelan Family Wines, which has sourced its grapes on long leases from cooler vineyard sites like Kobler, Richards, and DeVoto; in 2015 the family acquired Obsidian Vineyard in Knights Valley. "It's like real estate," says Joe. "If you have a great location, then you should be in good shape. We believe that the best wines are not made, they are discovered. Site really trumps all variables." Another son, Tripp, oversees all sales for the winery.
The choice to join the so-called Rhône Rangers, who make Syrah (in addition to Pinot Noir, Roussane and Viognier) was, according to Cushing, based on the belief that, "Syrah (left) has had a couple of false starts in California. Napa is too hot, but Sonoma is not as affected as Napa by heat. From the Obsidian site there's little topsoil, and we get smaller clusters and therefore intensity in the fruit. We take Robert Frost's 'the road less traveled' (which is also the name of their 75-minute Tasting Tour at the winery). We don't make those overripe Australian-style Syrahs. And we don't make Pinot Noirs that are massive and have too much alcohol. I always say, if I can't see through a Pinot Noir in the glass, I don't want to drink it."

Cushing is frank about his competitors, and, while not naming labels, insists many of them adulterate their wines to give them body, adding juice from grapes not listed on the labels. Cite some of the biggest names in Napa, and he says flat out, "They once made excellent wines, now they are getting more and more commercial." And he waves away notions that outrageously priced cult wines supposedly on allocation ever actually sell every bottle they say they do. Eighty percent of Donelan's wines are sold through direct mailing lists and at the winery.
"Whether a customer buys a bottle or several cases, he or she can count on receiving a handwritten note from my dad after each purchase," said Cushing. "My father was always a commission guy when he sold paper, so we get a bigger cut of the sales by not going through distributors, although we do sell 20 percent at retail or in restaurants. Our business lives and dies by word-of- mouth."
I had a chance to taste several of Donelan's wines over a dinner of steak and lamb chops at Sparks Steak House, starting with seafood and a bottle of Nancie Chardonnay ($48), named after Joe's mother, which showed body and fruit but had enough acid to make it ideal for lump crabmeat and shrimp in garlic sauce. I did not love the Two Brothers Pinot Noir ($55), which, while I could see through it, I thought lacked varietal character. The Syrahs, however, were some of the best I've sampled from California, and the best will never be cheap. The La Cuvée Christine 2012 ($48) is Donelan's "front line, the most value-driven wine we produce," a blend of wines from different sources. It is indeed a good introduction to the winery's talent for making fine Syrah without the cloying style of so many others. Walker Vine Hill Vineyard 2013 ($75) had a much richer body, very fruit-driven but multi-layered, a delicious example of what the terroir of California soil does for the grape.
I also tasted the Obsidian Vineyard 2014 ($105), which is still tight, its tannins unyielding, so I withhold judgment until I have a chance to taste it two or even five years down the road. Right now it's not all that it will be.
Related
Popular in the Community