 In the latest parent-publicly-punishes-teen stint, father Donell Bryant made his 15-year-old daughter, Quandria, sport a sign on the side of a North Carolina highway that read "I have a bad attitude. I disrespect people who try to help me," on one side and "I do what I want, when I want, how I want," on the other.

Dad told WCTI12 that his daughter was becoming a "mean girl" who needed an attitude adjustment. Quandria had recently been suspended from school for being disrespectful, the news station reported, but Bryant didn't think the school's punishment sufficed.
So, he forced her to pace on the highway around the time when students were let out of school so she'd be seen. Dad's attempt to humiliate his daughter was apparently effective; Quandria said she plans to change her ways.
Just a few weeks ago, when an Illinois father used the same discipline tactic with his 8-year-old (her sign read "I like to steal from others and lie about it!!"), HuffPost columnist Lisa Belkin noted that the approach is not brand new -- every year or so a similar story makes headlines. But, she continued, a whole slew of parents seem to be turning to public punishment very recently, and they seem to be getting support.
Belkin offered the explanation that, "In a moment when so much else in life is lived out loud and in public, it would follow, in a backwards and disjointed kind of way, that the method of discipline as old as The Scarlet Letter would seem fitting in a modern age."
Below, five more signs children have worn as punishment: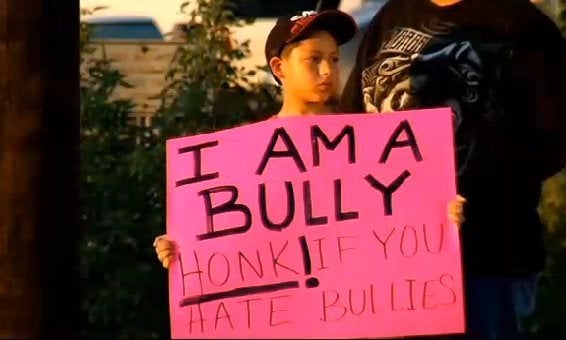 Kids Who Have Worn Signs As Punishment
Related