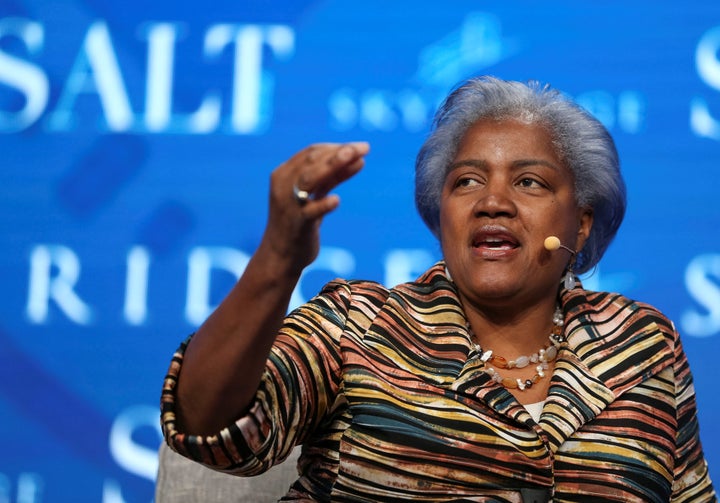 In the sixth chapter of her new book, Hacks, former interim Democratic National Committee Chair Donna Brazile says Hillary Clinton's top male aides engaged in sexist behavior toward her. Brazile says it prompted her to tell the group during a contentious conference call, "Gentlemen, let's just put our dicks out on the table and see who's got the bigger one, because I know mine is bigger than all of yours."
Brazile's book will be released Tuesday ― the same day some states and municipalities have critical elections. Hacks has stirred up controversy after previously published excerpts described Clinton having a deal with the Democratic Party to give her more access and power than independent Vermont Sen. Bernie Sanders, and Brazile putting together a contingency plan to replace Clinton as the party's nominee with then-Vice President Joe Biden after Clinton fainted on 9/11 due to pneumonia.
(Disclosure: This reporter was a co-chair of Clinton's presidential campaign in 2008 and has supported the Clinton foundation in the past, but no longer engages in political activity.)
The book is highly critical of Clinton's campaign manager Robby Mook, saying, "He had the habit of nodding when you are talking, leaving you with the impression that he has listened to you, but then never seeming to follow up on what you thought you agreed on." Brazile adds, however, that when she saw him at the DNC convention, he was "warm and treated me with respect."
The book also says all of Mook's top aides were men: "The young men that surrounded Robby Mook ― and they were all men in his inner circle ― had mastered a cool and removed style of politics." However, Mook's chief of staff, campaign chief operating officer, communications director and rapid response director were women.
Brazile says her relationship with Mook got so bad that she told Clinton's chief administrative officer Charlie Baker, "Charlie, I'm about to kill Robby and it ain't going to be pretty."
A former Clinton aide who has read the excerpts that were shared with HuffPost said, "Given that she already had to walk back her claims about a rigged nomination and was caught buying into a right-wing conspiracy about Hillary's health, I'm not sure how much more of this book people should take seriously." Brazile's book describes a deal that allowed Clinton "control of the party long before she became its nominee," according to an excerpt published by Politico. But on ABC's "This Week," she said there was "no evidence" the nomination was rigged for Clinton.
According to the book, a big bone of contention between Brazile and Mook was Mook's refusal to allow Brazile to hire a temporary CEO for the DNC. Brazile says she wanted to get the party back on its feet after Florida Rep. Debbie Wasserman Schultz resigned in response to Wikileaks emails revealing she was trying to sabotage Sanders. Brazile pushed to hire longtime Democratic aide Tom McMahon, she says.
But a source familiar with Mook's thinking says he thought McMahon was a good choice, and on Aug. 2, 2016, Brazile announced McMahon was joining the DNC on an interim basis.
Recalling what she describes as a tension-filled conference call with Mook and his team of top aides about hiring a temporary CEO for the party, Brazile says, "I have worked with men all my life in politics and I can sense when they get to this part about not being able to deal with a woman. This is not a racial thing. This was a gender thing."
Brazile says that she interjected at one point in the conference call and said, "You know, this does not feel like a negotiation to me. This feels like power and control. Gentlemen, let's just put our dicks out on the table and see who's got the bigger one, because I know mine is bigger than all of yours." A former Clinton aide confirmed Brazile made the comment, but doesn't believe a call focused on hiring McMahon occurred.
Clinton supporters have aggressively pushed back on assertions in Brazile's book. Over 200 former Clinton campaign staffers signed an open letter saying they "do not recognize the campaign she portrays in the book."
Popular in the Community