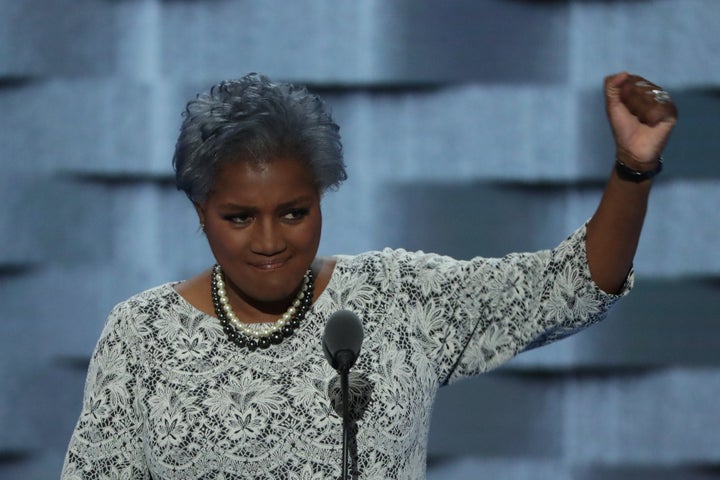 Donna Brazile, the interim leader of the Democratic National Committee, was giving what one attendee described as "a rip-roaring speech" to about 150 employees, about the need to have hope for wins going forward, when a staffer identified only as Zach stood up with a question.
"Why should we trust you as chair to lead us through this?" he asked, according to two people in the room. "You backed a flawed candidate, and your friend [former DNC chair Debbie Wasserman Schultz] plotted through this to support your own gain and yourself."
Some DNC staffers started to boo and some told him to sit down. Brazile began to answer, but Zach had more to say.
"You are part of the problem," he continued, blaming Brazile for clearing the path for Trump's victory by siding with Clinton early on. "You and your friends will die of old age and I'm going to die from climate change. You and your friends let this happen, which is going to cut 40 years off my life expectancy."
Zach gathered his things and began to walk out. When Brazile called after him, asking where he was going, he told her to go outside and "tell people there" why she should be leading the party.
Two DNC staffers confirmed the exchange.
Asked for comment, Brazile said in an email, "As you can imagine, the individual involved is a member of the staff and I personally do not wish to discuss our internal meetings."
A DNC spokesman did not respond to a request for comment.
Brazile, a seasoned Democratic strategist, is the DNC's interim chair until March 2017, when party officials hold a full DNC meeting to elect a new chair. Brazile has been filling in since July, when then-chair Wasserman Schultz stepped down after WikiLeaks released internal DNC emails showing party officials trying to help Clinton win the Democratic primary.
Brazile ran into her own bit of trouble in October when Wikileaks released emails showing that, in her role as a CNN strategist, she shared questions for CNN-sponsored candidate events in advance with friends on Clinton's campaign.
Neither of the DNC staffers who spoke to HuffPost knew Zach's last name, or much about him. They noted that he wasn't alone in his sentiments. Some in the room nodded as he spoke, they said, and after he left, some talked about him being right on some points (perhaps not his claims about imminent death by climate change).
A third attendee told HuffPost that, despite Zach's blow-up, there was "overwhelming" support for Brazile in the room. Her motivational words "had some staffers in tears," per this attendee, and Brazile spoke to Zach's concerns after he left.
"If he had stayed, he would have heard that," this person said.
Brazile could move to stay on as chair after March, but Thursday's meeting shows at least some party officials want fresh blood at the top.
"The party is at a crossroads. They have been using the same playbook for decades, and now, they won't let anyone else come in and change it up," said one former longtime DNC staffer, who requested anonymity to speak freely. "The fact that Democrats just sat through a devastating defeat and now have to trust the leadership that not only contributed to Clinton's loss, but the crushing 2014 midterm losses, well, what do they expect?"
This article has been updated to include comment from a third DNC meeting attendee.
Before You Go
Democrats Hold Sit-In On House Floor
Popular in the Community