Political strategist Donna Brazile gave a rousing commencement speech at Spelman College on Sunday, urging graduates of the historically black college for women to take up leadership positions in their respective fields.
"Why you? Because there's no one better," she said. "Why now? Because tomorrow is not soon enough."
Brazile sang Spelman's praises, calling the institution a pioneer in educating black women and explaining the far reach its alumni have had in the world.
"I know you all know [about the school's achievements]," she said with a wry smile before looking directly at the camera filming her, "but I'm talking to the TV."
She said that the list of women she has worked with -- many of them Spelman graduates -- "reads like a who's who and 'who says I can't.'"
"Many of them gave me my first seat at the table," Brazile said. "That's why every time I get to walk in a room, I leave the door open so more can come through."
Brazile told the graduates that it's their time to step forward and take charge. She mentioned realizing that all of the leaders amid the unrest in Baltimore last month were black women: Baltimore Mayor Stephanie Rawlings-Blake, Attorney General Loretta Lynch, Maryland National Guard Adjutant General Linda L. Singh and Baltimore City state's attorney Marilyn Mosby.
"We are finally finding our place at the table, finally being given credit and credence, finally being listened to," Brazile said. "Even when they disagree with Michelle Obama, they're listening."
She said that she expects to see women and people of all races in the White House as this generation of graduates grows up. However, she wants to see black women as leaders in every field that the graduates are going into, not just politics.
Brazile briefly addressed the men who may be listening, telling them she's not saying they should leave the table completely, but that they should "scoot over, because the women are ready to take charge -- we're ready to lead."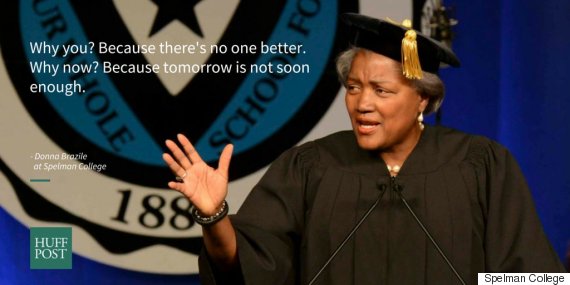 Related
Popular in the Community