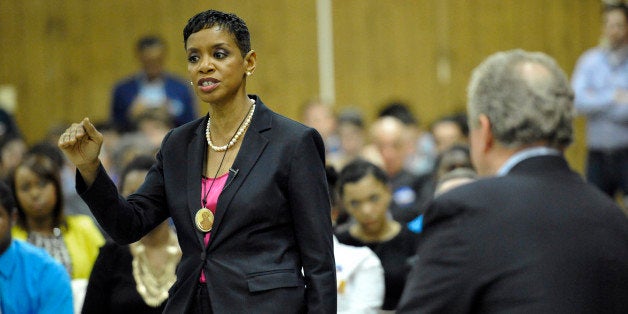 The Washington Post published today a shockingly critical article questioning why EMILY's List is spending big to defeat a progressive Democrat.
Really? Of course EMILY's List is spending big to elect a progressive, pro-choice Democratic woman. Duh. That is exactly its mission.
What's more, do we need to remind the Washington Post and its readers that women comprise only 20% of the Senate and currently not one African American woman is in the Senate?
But Donna Edwards is more than a demographic. She's a leader in the House - yes, a champion - on women's issues, civil rights issues, and for every day concerns of single moms and working families. That's why the Feminist Majority, National Organization for Women, National Women's Political Caucus, Lesbian PAC, Women's Action for New Directions, and a dozen labor unions have endorsed her.
Long before Donna was elected to Congress, she fought for survivors of domestic violence as the Founder and Executive Director of the National Network to End Domestic Violence. Then as the Executive Director of the Arca Foundation, she was again a champion for social and economic justice issues.
But Donna is still being out-fundraised - as so many women often are - and that's where EMILY's List comes in. It has helped to provide her a level playing field. She is now ahead in the polls and has the momentum to become the first African American woman ever to represent Maryland in the Senate, and only the second African American woman to be elected to the Senate in history. We will all be richer for her being there with her unique voice and perspective - just as we've been enriched by the first woman to ever be elected to the senate in her own right, the historic and invincible Senator Barbara Mikulski, whose seat Donna is seeking to fill.
Calling all HuffPost superfans!
Sign up for membership to become a founding member and help shape HuffPost's next chapter