If you don't live in Maryland or haven't paid much attention to the primary race to replace retiring Senator Barbara Mikulski you may not be familiar with Congresswoman Donna Edwards -- who since 2008 has served the 4th District with distinction. I've been lucky enough to know Donna for nearly 20 years, and to know that her brand of responsive, solution-driven leadership is what Maryland, the Senate, and the country needs most now.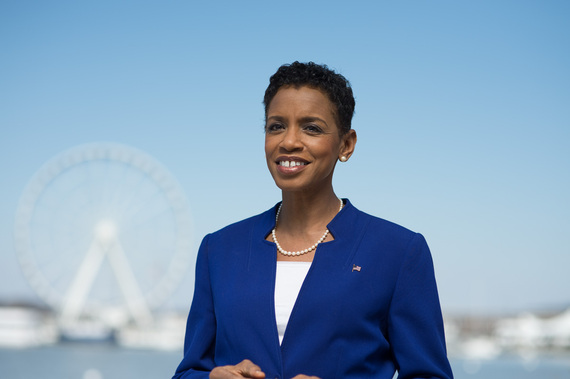 Donna is a rock star, legal scholar, rocket scientist, the daughter of an Air Force veteran and a woman who understands issues impacting veterans and their families better than anyone, and a single mom -- who led an advocacy movement to write the Violence Against Women Act and then went into politics to take on the system by listening to voters and bringing their voices to Congress.
How do I know all this and why should you hear me out?
Well, for starters, as a former board member of the National Network to End Domestic Violence, the organization that Donna co-founded and led as its first executive director, I witnessed firsthand her smart pragmatism, her passion, her vision, and her ability to forge bi-partisan agreement that has become near-impossible in politics today.
I first met Donna with my husband, actor/activist Victor Rivas Rivers in 1998 after she was told of Victor's efforts to raise awareness about domestic violence. Victor, a witness to his mother's battering, and a victim and survivor of child abuse, had begun speaking out as a way to honor those in his community who intervened on his behalf. He also wanted to send the message that more men needed to take a stance in ending violence against women.
Donna immediately recognized the value of having a man come aboard as NNEDV's first national spokesperson--which broadened the coalition, upsetting the status quo that said domestic violence was just a woman's issue.
Upsetting the status quo has long been a theme of Donna's work. It was necessary when she unified advocates from every corner of the country - Democrats, Republicans and Independents - to persuade U.S. senators to support the Violence Against Women Act. She formed a bipartisan coalition, headed by then-Senator Joe Biden and Republican Senator Arlen Spector. She brought both sides to the table to get the legislation written and signed into law by President Clinton.
Donna not only helped advocates form lasting relationships with their congressional representatives, but she also fostered those connections on the state level and in the private sector. She brought new allies into the work to end domestic violence, driven by the belief that government and the private sector can work in tandem to address issues.
Thanks to Donna's focus, the landscape has completely changed for millions impacted by domestic violence and for those working to end what my husband calls "our most curable yet most prevalent social disease."
I have a vivid memory of an "if-only" conversation with Donna Edwards about the possibility of her running for Congress. Realistically, the challenges seemed insurmountable. How could a single mother without deep pockets or ties to big money run a campaign, much less take on the status quo? The answer turned out to be what makes Donna different -- what she calls leadership that listens. She tirelessly got out in her district, met constituents, heard their stories and let their concerns direct her priorities to make a difference.
And in Congress, she has led with the same blend of passion and pragmatism that defined her years at NNEDV: almost twenty years after she helped pass VAWA, Donna once again reached across the aisle, partnering with Republican Congresswoman Jamie Herrera Beutler to reauthorize VAWA in the face of partisan obstruction.
As a fellow military kid -- I was in fact born on the army base in Aberdeen, Maryland -- and as someone who might be inspired to one day go into politics, I am all the more proud of Donna's emphasis on public service. Having served as chair of the Democratic Women's Caucus and recruitment chair for the DCCC, Donna clearly has been identified as a leader who sets the pace for other rising stars who care about making a difference in the lives of all citizens.
There are many reasons that Donna Edwards is the only choice to carry on the legacy of Senator Mikulski. Does it matter that they're both women? Yes, it does. We need more women in the Senate who will make for damn sure we are represented as so many of our rights are being marginalized. And we especially need a woman of color in the Senate at a time when communities of color have been pushed to the side.
Senator Mikulski came from a background in social work, and has never abandoned the priorities that shaped her values. Donna will carry on that fight with the same humor, toughness, and honesty.
In the Democratic primary, Donna is facing a much better-funded, better-connected male candidate. Frankly, we have a lot of those in the Senate already. But there is no one like Donna Edwards. I know she will make every Marylander proud and be the example that we want all of our leaders to be.
Calling all HuffPost superfans!
Sign up for membership to become a founding member and help shape HuffPost's next chapter