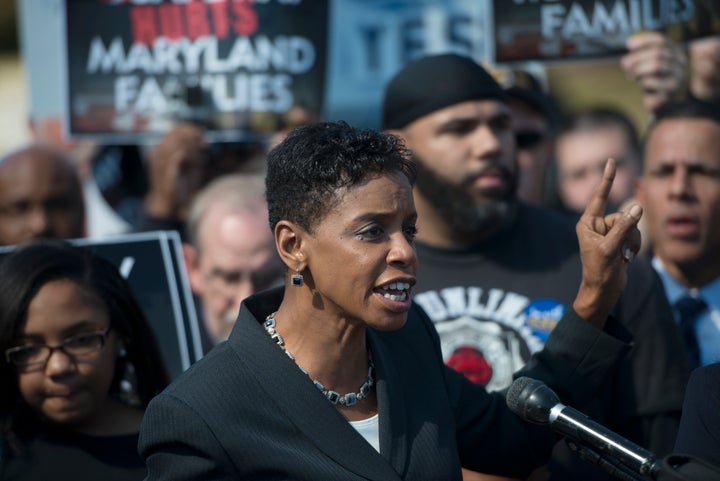 WASHINGTON -- A white Republican lobbyist has been giving money to Democratic Senate candidate Rep. Donna Edwards (D-Md.), who is African-American, because, the lobbyist says, the Senate's not diverse enough.
Sam Geduldig first gave $200 to the Edwards campaign last year, an amount too low to appear on federal campaign finance documents. But now he's giving more.
"I was lobbying the Senate the other day and I noticed Cory Booker was the only black Democrat," Geduldig told The Huffington Post in an email, referring to the Democratic senator from New Jersey. "The institution needs diverse senators, like the House. That's why I am contributing."
Geduldig served as a top aide to former House Speaker John Boehner before switching to the private sector in 2007. With a $400 donation on Thursday (for which he shared an email receipt with HuffPost), Geduldig said his total giving to the Edwards campaign has topped out at $800 so far.
"I think the Senate is broken and I think the reason the Senate is broken is there's no diversity," Geduldig said. "I think the only way it will work is if there's more diversity in the Democratic caucus."
An Edwards campaign spokesman said he didn't have much to say about the donations, other than to "agree that we believe the Senate needs more diversity and the perspective of someone like Donna Edwards."
Edwards is in a tight race with Rep. Chris Van Hollen (D-Md.) for the Senate seat being vacated by Sen. Barbara Mikulski (D). Van Hollen, a longtime member of House Democratic leadership, is white.
Other than Booker, the only Democratic members of the Senate who aren't white are Mazie Hirono (D-Hawaii) and Robert Menendez (D-N.J.). Minorities among Senate Republicans include Tim Scott (S.C.), Ted Cruz (Texas) and Marco Rubio (Fla.). On the House side, however, white men actually make up a minority of Democratic members. Republican lawmakers are mostly white men in both the House and Senate.
Geduldig considers the House more functional than the Senate, though diversity in the House Democratic caucus has not helped the lower chamber pass a budget so far this year. A type of basic functionality known as "regular order" has eluded both chambers for most of the last several years.
Geduldig is a partner in the lobbying and PR firm CGCN Group, representing a range of corporate and banking clients. He's donated $635,400 to political candidates, PACs and party committees over the past 12 years. The only reported contribution that went to a Democrat was a $250 donation to Rep. Gwen Moore (D-Wis.) in 2013. At the time, Moore was the head of the Congressional Black Caucus and a powerful member of the House Financial Services Committee.
Geduldig has also donated $3,000 to HuffPost's crowdfunding campaign supporting a full-time reporter position in Ferguson, Missouri. Geduldig said he made the donations because HuffPost isn't diverse enough, either.
Geduldig's crusade on behalf of greater diversity in the media and in the Democratic Party is not new. For years, he has missed few opportunities to remind reporters at the New York Times, MSNBC, HuffPost, Politico, The Wall Street Journal and elsewhere that criticism of Republicans for lacking diversity is coming from glass houses. Now, it seems, he's putting his money where his mouth has been.
Support HuffPost
The Stakes Have Never Been Higher
Popular in the Community