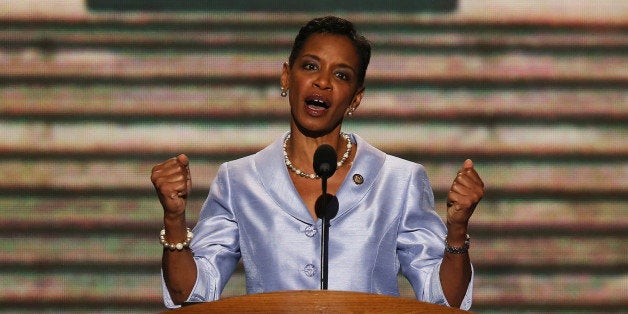 NEW YORK, April 9 (Reuters) - A Democratic candidate for the U.S. Senate, Donna Edwards, pledged on Thursday to swear off all campaign donations from Wall Street banks, the latest Democrat to assail big financial institutions.
Edwards, who sits in the U.S. House of Representatives, is vying for the Democratic nomination in Maryland along with fellow Representative Chris Van Hollen. She said she was "outraged" by a Reuters report that major Wall Street banks had met to discuss ways to urge Democrats such as Massachusetts Senator Elizabeth Warren to soften their tone against the financial sector.
"Wall Street won't be happy until Democrats stop listening to progressives like me and Elizabeth Warren - and instead carry out orders from the biggest banks in the world," Edwards wrote in a campaign announcement that slammed "massive Wall Street corporations" she said had crashed the U.S. economy during the 2007-2009 financial crisis.
Edwards urged Van Hollen, the leading Democrat on the House Budget Committee, to also forgo Wall Street donations. The election is in November 2016.
The announcement is a victory for the advocacy group Democracy for America, founded by former Democratic National Committee Chairman Howard Dean, who lost a bid for the presidential nomination to John Kerry in 2004. The group has been lobbying candidates to forswear Wall Street donations.
"If Democrats want to prove that they're not owned by Wall Street bullies, it starts by making clear that you can't be bought and we're hopeful that other House and Senate candidates will join Donna Edwards in boldly speaking out," said Jim Dean, the group's chairman.
Warren and other party activists are pressuring Hillary Clinton to take a tougher line on Wall Street if she runs for the White House as expected in 2016.
Warren and Edwards have collaborated in the past on issues emerging from the financial crisis. Warren has yet to endorse a candidate in the Maryland race prompted by the retirement of Senator Barbara Mikulski.
Reuters reported on March 27 that big Wall Street banks were so upset with Warren's call for them to be broken up that some had discussed withholding campaign donations to Senate Democrats in symbolic protest, sources familiar with the discussions said.
They said representatives from Citigroup, JPMorgan , Goldman Sachs and Bank of America, had met to discuss ways to urge Democrats to soften their tone toward Wall Street, and that Citi, JPMorgan and Bank of America considered halting donations to the Democratic Senatorial Campaign Committee. (Reporting By Emily Flitter; Editing by Caren Bohan and Howard Goller)