When Donna Karan sat down with Fern Mallis at the 92nd Street Y Thursday night, the designer opened up about her humble beginnings in fashion, working as a salesgirl at Long Island store Sherri's. "I was 13 or 14 and lied about my age [to get hired]," she said. "I tell everyone in the industry, if you want to be a designer you must work in retail."
While Karan initially aspired to work at Women's Wear Daily, it wasn't meant to be. "John Fairchild told me to be a designer," she said. "I wasn't a good enough illustrator."

A two-year stint at Parsons followed. "I had to go to summer school, because I failed draping," the designer noted. Fortunately, a summer job working for Anne Klein proved more successful. "Anne Klein hired me, and then said, why would you want to go back to school?" She was quick to dryly add, "I learned to make coffee and sharpen pencils. It was an extraordinary experience." While Karan was fired by Klein as a teen, she later returned to be head designer for the brand, before starting her eponymous label.

Karan had a lot to say about her mentor. "Anne taught me the best lesson in the world: a designer is a designer, even if she's designing hospital gowns."
"Anne was the first person who really brought designers together," she continued. "She was the first person who did sportswear. Everyone was doing dresses; Seventh Avenue was all about Europe. She was more collegiate."
Karan also revealed her first experience working with her idol, Barbra Streisand. "I was at Studio 54 smoking a cigarette, and my sweater went up in flames," she recalled. After Karan discovered that the sweater was flammable, Streisand requested one. "I was like, I can see it now: Barbra Streisand burns down. But when Barbra wants something, she wants something: she said, 'Give me your yarn provider and I'll make it myself.'" And thus began a famous friendship. When Streisand wed James Brolin in 1998, she chose a Karan creation. "I'll never forget this moment -- sheer perfection," the designer said.
Mallis then asked the significance of the "NY" in DKNY. "It's the most important thing," Karan asserted. "Who's Donna Karan? My name means nothing. New York means the world"
Karan went on to discuss her charitable work, including her UrbanZen foundation, and her longtime devotion to yoga. "I would love to do a meditation with all of you," she offered. "Not now," Mallis joked. When asked what she considers her legacy, Karan fittingly responded, "to dress people on the inside not just on the outside."
Mallis wanted to know whether Karan has been approached by Target or H&M for a possible collaboration. "Sure," she said. And, can we expect to see one? "I don't know -- ask Mark. My boss is over there," she noted, gesturing to Donna Karan International CEO Mark Weber in the audience. "I have to watch out."
So, what's Karan's advice to aspiring designers? "I would tell them they're crazy," she quipped. But in all seriousness, "You don't have to aspire; you either are or you're not." She continued, "I'm a designer. This is who I am."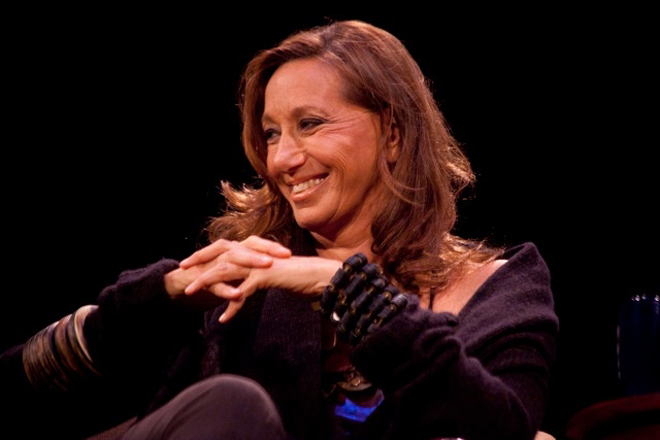 Joyce Cuvler for 92nd Street Y