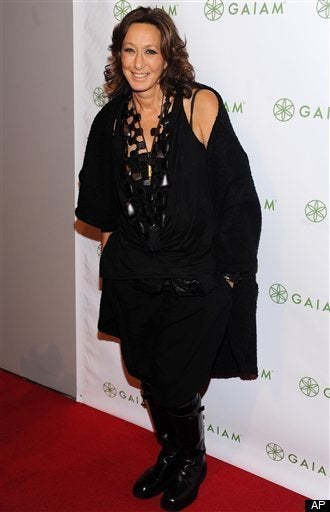 "We can't walk away from this and lead our daily lives as if nothing had happened," Donna Karan immediately thought when she heard about the tragic earthquake in Haiti. "This is a wake-up call, a call to community, to caring, to something greater than ourselves."
Andre Harrell, an entertainment industry executive and founder of Uptown Records, heard the same call. "From the first moment I heard about the crisis in Haiti, I felt a sense of responsibility -- and the question: 'What can I do to help?' It sounds a little mystical but I felt like the universe was speaking to me," he said.
Harrell went through a typical day for him--high level meetings uptown, midtown and downtown in Manhattan. Later at the Boom Boom room, he connected with his friend, Andre Balazs at Balazs' elegant Standard Hotel. "We're great friends and I felt the urgency of finding a way to support him in supporting Haiti," Balazs explained. "This is an opportunity to take advantage of a tragedy to focus the world's attention on an ongoing crisis, and create a sustainable solution."
Before long, the two Andres reached out to Donna Karan, whose Urban Zen Center is just a few blocks away from the Standard.
"We have the passion to support Haiti, we have the dream of making a difference, but the question is how do we make it happen?" Karan asked when the powerhouse creative trio met to discuss partnering to bring together the New York art, music, fashion and entertainment worlds to kick off a benefit called Hope, Help, and Relief Haiti, slated for next Monday, February 8th.
The funds raised from that evening will provide immediate support for a country in crisis. Following the event, the initiative will explore ways to meet long term needs for housing, health care, and sound economic infrastructures.
In seeking the star performer for the event, Harrell, "knew it had to be an entertainer with the purity of heart and the hard-won experience that could speak for those going through the worst crisis."
A phone call later and Mary J. Blige was on board.
Urban Zen, the non-profit foundation which Karan founded is hosting the benefit at the Urban Zen Center next Monday night. Blige will headline with an exclusive performance at a sold-out fundraiser dinner (hosted by CNN's Soledad O'Brien) which also features an auction (lead by Whoopi Goldberg). In typical New York style, the evening will continue as the crowd moves from the Urban Zen Center to a late night after-party at the Standard Hotel, featuring a performance by Wyclef Jean.
Three organizations will receive the monies raised: Habitats for Humanity, Partners in Health, and Yele Haiti. In keeping with the trio's slogan, "Tents today, homes tomorrow," the monies raised will be used immediately to send tents to Haiti. The tents are actually "shelter survival kits" and each kit includes a tent that can house 10 people, along with water purification and storage, stove for heating and cooking, utensils, tools and other items.
Attendees will also have the opportunity to purchase "homes tomorrow," to be distributed by Habitats for Humanity.
Following the event, the Initiative will focus on a strategy of support for a long-term rebuilding effort.
"This is a call to action," Harrell points out. "Here's a whole new generation of performers who can wake up to the power of using their talent and their fame as a different kind of currency. They can meet the immediate needs of people in a hopeless situation. Long term they can help empower Haitians to rebuild their community themselves."
"If this current tragedy could be parlayed into something positive, that would be a great outcome," says Balazs.
"Whether it's donating money, or shoes -- whether it's purchasing a tent today, or helping Haitians rebuild their homes tomorrow, there's something we each can do," says Karan.
A special tee shirt designed for the Benefit is available on-line here.
I'll blog on the benefit next week. For insight on health, lifestyle, and sustainability, get the free Health Outlook at www.healthjournalist.com
Popular in the Community