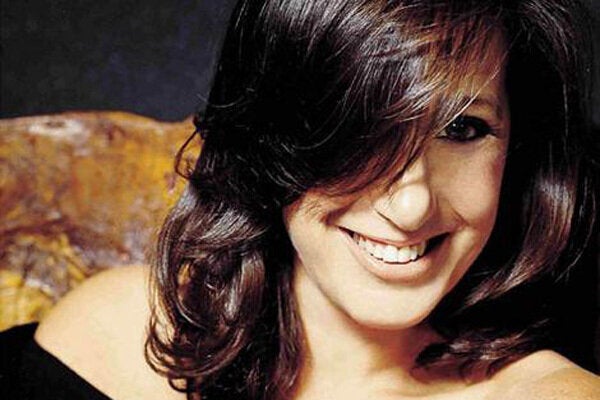 When one thinks of the medical oncology unit at a major hospital, the inhalation of uplifting aromas, a feeling of sanctuary, opportunities for centering and relaxation, and guidance through restorative yoga poses are usually not what first comes to mind.
It could be a reality if you were at the Beth Israel Medical Center in New York City, where integrative therapists are assisting doctors and nurses in providing comfort and care to cancer patients.
World-famous fashion designer Donna Karan, in conjunction with her Urban Zen Foundation, is developing this unique program which provides support to cancer patients and their families, as well as the hospital staff itself. Urban Zen trains the "integrative therapists," who facilitate the support in the form of yoga, meditation, and aromatherapy to comfort those in the inpatient oncology unit at Beth Israel. The integrative therapists also act as patient navigators, hand holding the patients and their families throughout the often rocky and scary road from diagnosis through treatment.
The program is the result of inspiration from Donna Karan, who lost her beloved husband Stephan Weiss, an artist and her business partner, to lung cancer in June 2001. Karan shares that while she is grateful for the wonderful doctors who treated her husband, something she noticed was a need to provide care and comfort for patients as well as treating the disease. This new program grew from the complementary modalities she added to Weiss's care from her knowledge of Eastern approaches.
When Donna Karan has an inspiration, watch out! After recognizing the need to help others, she sponsored a 10-day Well-Being Forum at the Urban Zen studio, discussing health care needs with doctors, nurses, and others. They pondered, "How could we best serve this community?...How do we deliver the optimum care for patients and their loved ones?"
A decision was made to utilize the yoga community, a group aware of integrating the mind, body, and spirit, of looking at the whole person.
Dr. Woodson Merrell, Director of Integrative Medicine at Beth Israel Medical Center, shares that "the goal here is really to allow the patient modalities that will promote self-healing and promote relaxation and relief from many of the symptoms: pain, anxiety, nausea."
During an interview for NBC Nightly News, Dr. Martin Karpeh, a surgeon at Beth Israel, admitted that he was skeptical at first of the program. But when he saw how aromatherapy and acupuncture could reduce nausea after an extensive bowel surgery, for instance, Karpeh recognized that these approaches could be complementary to the hospital's treatments.
Part of creating an optimal healing environment has been creating a separate and calm "sanctuary" space, where patients, loved ones, and hospital staff can hang out. This sacred space offers a peaceful escape from the hustle, bustle, and beeps of the busy oncology unit.
Urban Zen is sponsoring a clinical study at Beth Israel to document the benefits of the integrative therapy and its effectiveness in reducing symptoms of P.A.N.I.C. (panic, anxiety, nausea, insomnia, and constipation) as well as fatigue. The intention is to create a model for integrative care that could be implemented elsewhere in the health care community. An initial test in the Emergency Room "was miraculous," says Karan. "People came in to the ER completely nervous, and just needed to be calmed." But then the people experienced the help of the integrative therapists. Karan reports that afterwards, the people were aware of dealing with an emergency but feeling in a better place emotionally to handle it.
Donna Karan, the founder of Urban Zen, shares her absolute heartfelt dedication to be of service to the most vulnerable in this inspiring video:
From the time the patient receives the diagnosis, the integrative therapists will be there--patient navigators, working at bedside with patients and loved ones. Right now, a hundred integrative therapists are being trained, including doctors, nurses and other health professionals. The idea is to absolutely be of service and to tap into the compassionate aspects of healing.
In the program at Beth Israel Hospital, the integrative therapists assist those who have dedicated their lives to service (the medical professionals who are already there) as well as the patients who are vulnerable and their loved ones. The entire environment is positively influenced by the integrative therapists' presence and work.
Staff members report that involving themselves in yoga and meditation has helped them to be less stressed and better able to provide a healing environment.
What I find particularly impressive about this project is its essence of humility. There is not an East versus West mentality nor a condemning of the medical profession. Instead, there is a respect for the doctors who dedicate their lives to helping the cancer patients and a willingness to assist.
In fact, the project is the answer to the question posed by a true servant: How can I best be of service?
Shana Kuhn-Siegel, the Yoga Coordinator of the Urban Zen Integrative Therapy Program at Beth Israel shares how being of service at the hospital has had a profound impact on her life:
I've always thought that there's not just one way to assist in healing. Having the tools from the Urban Zen Integrative Therapy program has been most profound in helping me access the most fearful and deepest part of myself. Doing that helps me to assist others going through their own fear. These tools give me richness and confidence in offering my care to patients who are suffering.

As a patient there's only so far you can go alone. That's why I want to sit with patients and help them confront their own vulnerabilities. To just be with someone and help him/her to be with their own body and show them how to confront their fear is quite a gift. To be an empty container for family and loved ones to pour their own emotions and fear into has been very gratifying as well.

And as a yoga teacher, being in the hospital allows me to see the body in a whole new way. Taking it "laying down," literally doing yoga with those limitations, has given me a new perspective on my practice. Working with caregivers and hospital staff initially had a lot of unknowns. I didn't speak their language and they didn't speak mine. I was a foreigner listening to them, but by acknowledging their efforts and contributions and offering information to them about the integrative therapies, it was amazing to see them accept the therapies and me as well.
Donna Karan shares elements of her inspiration for Urban Zen:
"Urban Zen for me is finding the calm in the chaos... in the chaos of disease, where is the calm in it? How do we calm ourselves so we can deal with the disease?..."

"I had an idea to do something about it. And to think that I had an idea, and I didn't do everything I could have possibly done to make a difference... I couldn't get up every morning. It's just who I am."
Eastern influences complementing Western medicine: The Urban Zen Integrative Therapist program.
Thanks, Donna! You've been making us look good on the outside for many years, now you are taking care of our deepest, innermost needs--to be seen, heard, felt, and cared for. Your dedication to service and inspiring others to be of service in this capacity is extraordinary.
For more information, go to urbanzen.org.
Related