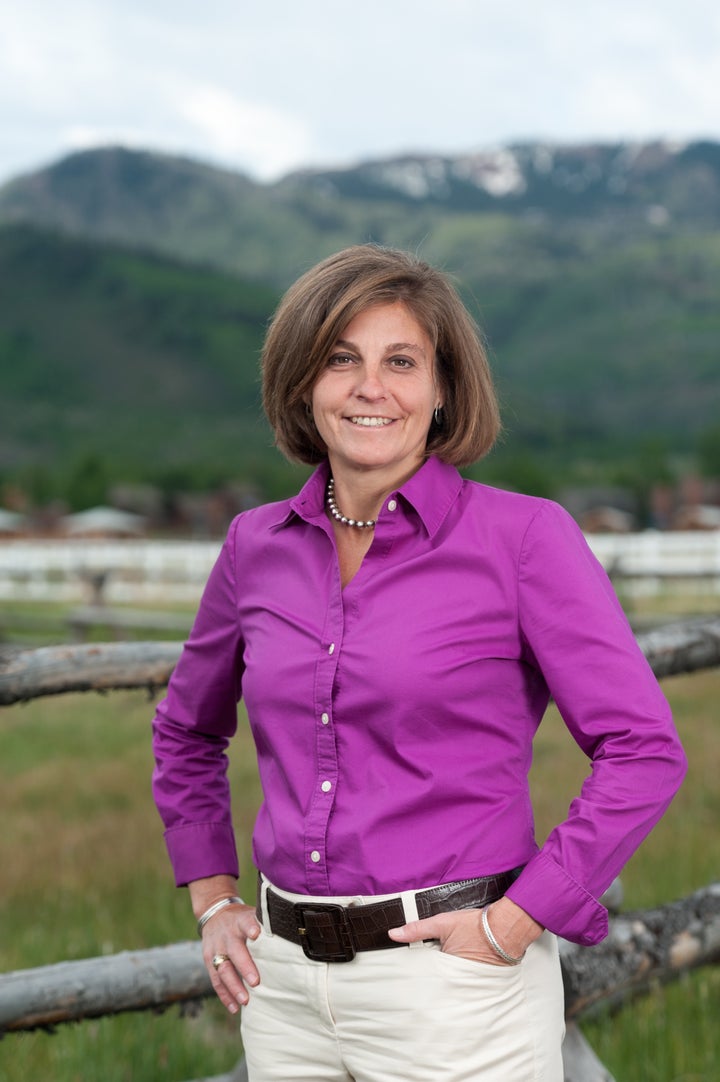 Donna McAleer, a former Army officer, United States Olympic Women's Bobsled team member, and Democratic candidate for the U.S. House of Representatives from Utah, lives in Summit County, UT, with her family.
In anticipation of the November 6 congressional elections, HuffPost Women talked to her about who she is, why she's running, and how to get involved with her campaign.
What's your favorite quality in another person?
Quick wit.
What three words best describe you?
Committed, tenacious, resilient.
What's your biggest flaw?
Being too hard on myself.
What failure are you most grateful for?
Finishing 4th in Olympic trials in women's bobsledding. The top two made the 2002 Winter Olympic Team and USA #2 won the gold medal. It was an incredible journey on which I learned life is not about the breaths you take, but by the moments that take your breath away!
If you weren't you, who would you be?
But I am me, and I'm comfortable with that.
If you could live anywhere, where would that be?
Park City, Utah--right where I live now.
What woman do you most look up to?
Anna Matturro, my mom. The women of West Point's Class of 1980.
What's the best advice you've ever been given?
Know your limits and ignore them.
What's your joy trigger?
Skiing in Utah's deep powder in the winter and running and biking the mountain trails in the summer.
What is your favorite album?
"Earth, Wind and Fire: Greatest Hits."
Where did you have the best meal of your life?
Again--difficult to name one as I love to eat when traveling.
Siem Reap, Cambodia.
Bangkok, Thailand.
Budapest, Hungary.
What is your favorite thing you've ever worn and why?
Love my Patagonia down sweater--it's warm, versatile, lightweight, functional and stylish. I am a mountain gal.
What talent do you wish you had?
Musical.
What quality or accomplishment do you want people to know you for?
A willingness to accept challenges no matter how daunting, and refusing to be overwhelmed by them.
What makes you feel the most free?
Camping, hiking and mountain biking.
Why are you running?
As a West Point graduate and Army veteran, my oath to serve does not have an expiration date. Congress needs leaders who are willing to look beyond partisanship and rigid ideology. West Point and the Army taught me that public service is about country, not politics. My leadership experience, across public and private sectors, has prepared me to confront the challenges that lie before us, and take direct action to get things done in the best interests of Utahns and Americans.
What is the most important issue for women in this election?
Health care. It is not simply a female concern, but a human one.
Our current politicans are out of touch with our lives. We need more women in elected office who are in touch with daily life--know what the price of food and gas are, how to balance cuts and investments in critical areas, like job creation and strong schools for our children, investment in renewable and sustainable energy development, and access to affordable healthcare.
Calling all HuffPost superfans!
Sign up for membership to become a founding member and help shape HuffPost's next chapter