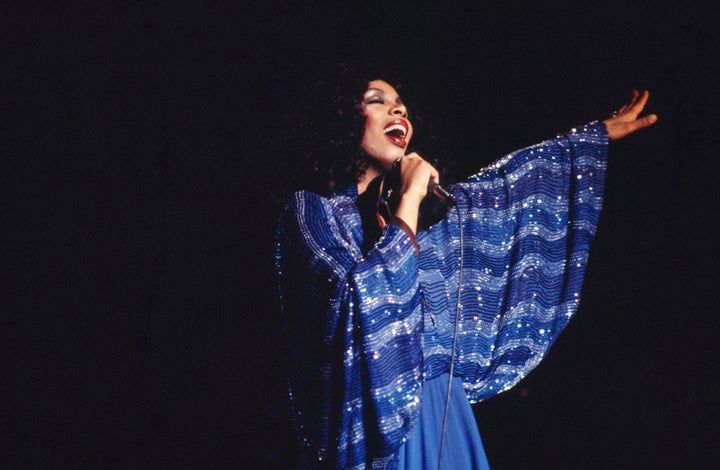 I've been telling all my friends that when I die, I want to be cremated, my ashes put in a disco ball that can be bounced and passed around the room during my funeral while Donna Summer's "Last Dance" is blaring over the loudspeaker.
Back in the '70s, it used to be that "Last Dance" was the worst song to hear because it meant the club was closing for the night. The party was over. There was no more dancing. No more alcohol.
Through the car radio and all the way to the dance floor, Donna Summer first filled me up and captured me in her Disco spin-cycle with "Love to Love You Baby." Her other song that could wallpaper my life was "She Works Hard for the Money." Donna really seemed to speak for us women. Her music was a friend of mine. Her words supported the language of my heart, always upbeat to cut the edge of pain or weariness. She allowed all of us to dance our way through it.
Even though she faded like the moon into the daybreak after the Grammy-filled '80s, leaving us too soon in music and here on earth, her anthems never left us. Ask any deejay.
She won't be on the dance floor in the great beyond alone either. Rest in peace, dear Robin Gibb.
I used to cut the Bee Gees occasionally when they came through Los Angeles in the '70s. One night, they requested a house call. I told Maurice that I was too tired after working at my salon all day. They insisted I come and sent me a limo.
The Bee Gees were always heroes of mine, as well as fun guys to hang out with. They were Saturday Night Fever any night of the week. Donna was on the dance floor, but Robin and his brothers created the Disco floor plan as far as I was concerned. I was more thrilled to cut their hair than that of the President of the United States.
The limo driver arrived, opened my door and said, "Mr. Robin said most likely you would want some champagne for the ride. Shall I open it for you?"
I kicked off my shoes, sat back and had a wonderful cruise to their temporary California pad.
The night was fuzzy as hair, but I do remember a fantastic view of the Laguna Mountains out of their big picture window. Barry didn't want a haircut and went off to his room. Robin and Maurice and I hung out. I snip-snip-snipped their hair, and we all sip-sip-sipped more champagne.
When the hair and bubblies were done, I got back in the limo and slept all the way back home. I never saw them again. They too left like Disco.
At the time, I was making an exit as well from too much partying. And some time at the end of the '70s, I literally rollerskated out of my salon one day and never came back... until I resurfaced sober in '84.
It's been bittersweet fun to see the Bee Gees skits on Saturday Night Live by Jimmy Fallon and Justin Timberlake. But, all jesting aside, the monster thief of cancer has stolen the King and Queen. It's a bad day for Disco.
Thank You, Donna and Robin, for the music of your lives in ours.
Listen to Donna Summer's "Last Dance":

Listen to the Bee Gees' "Stayin' Alive":

Calling all HuffPost superfans!
Sign up for membership to become a founding member and help shape HuffPost's next chapter