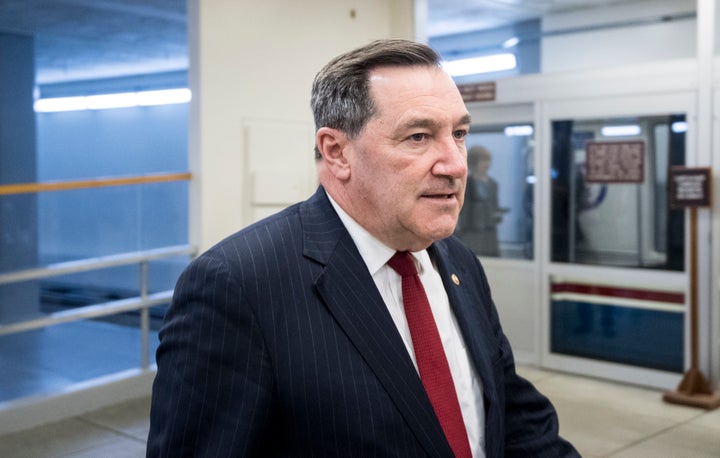 HIGHLAND, Ind. — President Donald Trump is set to fly to Indiana on Thursday night for a campaign rally, and if Senate Republicans have their way, his first goal will be to slam Joe Donnelly.
Don't expect Donnelly, arguably the most vulnerable Democratic senator running for re-election in 2018, to return the favor. 
At a campaign event at a public park here in heavily Democratic Lake County, he never mentioned Trump's name in his stump speech, even as Donnelly slammed two of the administration's signature achievements: nullifying Obamacare's individual mandate and making sweeping changes to the tax code.
The twist? He blames those measures on Senate Majority Leader Mitch McConnell, not the president who signed them into law. 
"Mitch McConnell increased everybody's health care [costs] in that tax cut bill," he said to applause from the crowd of about 40 Democratic activists. "And Mitch McConnell's tax bill made it so everything you did get would be given back in health care payments." 
The second television ad of Donnelly's campaign, released before Trump's visit, has the candidate positioning himself as "a bridge between the far left and the far right" to pass laws combating military suicides and working with then-Gov. Mike Pence to expand health care in the state.
It's a complicated dance — slam GOP policies without attacking Trump, promote bipartisanship while bashing McConnell. And with five Democratic senators running for re-election in 2018 in states Trump won by double digits, Donnelly won't be the only one who needs to learn the steps. While the Democratic base is fired up to deliver a blow to the president in the midterms, Donnelly and other red-state Democrats want to keep the focus on the GOP's unpopular tax and health care policies while showing they can work with the president at times. It's an approach Democrats are confident can work in Indiana.
"The voters Donnelly needs to win don't want someone who's throwing red meat," said Kip Tew, a former Indiana Democratic Party chair. "They want someone who's trying to solve problems." 
Donnelly's re-election bid got tougher on Tuesday night, when businessman and former state legislator Mike Braun won the GOP primary to challenge him. Braun portrayed himself as an outsider to win a Trump-inspired primary so nasty that one candidate made a children's book attacking another. 
Donnelly has a low profile in D.C. compared with some of the other Democratic senators facing re-election in 2018 — Missouri Sen. Claire McCaskill is ubiquitous on cable news, for instance, and Montana Sen. Jon Tester played a key role in spiking the nomination of Trump's White House doctor to lead the Department of Veterans Affairs. But Donnelly is a constant presence back home, and he has already gone on multiple tours of the state, driving a campaign-branded recreational vehicle.
Even his potential opponents acknowledged how hard it would be to defeat him. At a campaign stop last weekend before his loss in the primary to Braun, Rep. Todd Rokita said, "If you know Joe Donnelly, you know he's better than Evan Bayh in a lot of ways," referring to the state's Democratic former senator who lost a comeback bid in 2016. "He's very retail in what he does, and I mean that in the best way." 
Braun won the primary with the help of millions of dollars worth of television ads boosting his name recognition. He paid for those ads with his own money — something he reportedly said he wouldn't do in the general election. 
In an interview before his primary victory, he seemed confident his momentum would continue into November. He contrasted his success building up Meyer Distributing, his warehouse distribution business, with what he said was Donnelly's failed legal career and ineffective time in politics. 
"He's got a voting record that matches up pretty well with [House Minority Leader Nancy] Pelosi and [Senate Minority Leader Chuck] Schumer," he said. "I don't think we send the cream of the crop to D.C."
Braun has a simpler job: He just needs to keep pro-Trump voters in his corner. 
"His record is going to be easy to flush out," Braun said in his victory speech on Tuesday night, citing Donnelly's votes against the tax bill and for maintaining Obamacare. "I intend to be the person to send Joe Donnelly to an early retirement." 
Republicans and Democrats agree there are two large groups of swing voters in the state: union workers who make up Donnelly's base but voted for Trump in 2016 and college-educated suburban voters, mostly women, in the so-called doughnut counties surrounding Indianapolis. 
Union leaders are confident Donnelly's history of opposing free trade deals and outsourcing will keep voters in his camp in 2018. Jerome Davison, the rapid response coordinator for the United Steelworkers District 7, noted that Trump won 40 percent of the vote in deep blue northwestern Indiana, even as Democratic Rep. Pete Visclosky won re-election with 82 percent of the vote.
"It's a lot about the individual, not the party," he said of union members' voting decisions. "They know Sen. Donnelly's record on trade issues, on working-families issues."
But Republicans see an opportunity to undercut his image by attacking him for owning stock in a family business that outsourced jobs to Mexico. Donnelly sold the stock, but that hasn't stopped the GOP from dubbing him "Mexico Joe" and the National Republican Senatorial Committee from sending a mariachi band to one of his campaign events. Republicans hope the attacks can undercut the core of Donnelly's public image. 
Democrats will attempt to fire back by highlighting Braun's business record, citing an Associated Press report that found his companies "do brisk business importing goods from the same overseas countries he has criticized for taking American jobs" and said federal records "present a picture of a boss who has overworked and underpaid employees." 
He defended his business record, saying Democratic opposition researchers "cherry-picked" from a long career. 
"I think they found three instances from 37 years," he said. "If we had those kinds of problems, we wouldn't have high retention rates. And we did."
Some Republicans are worried that his embrace of Trump — Braun called himself a humbler version of the New York real estate magnate and ran ads promising to build Trump's promised border wall and follow the president's agenda — could alienate voters in the suburbs. Trump won just 56 percent of the vote in Hamilton County, a GOP stronghold where George W. Bush claimed nearly three-quarters of the vote in his two presidential bids. 
Donnelly is often seen as an accidental senator. He won his seat in 2012 after his opponent, then–state Treasurer Richard Mourdock, said pregnancies from rape were a "gift from God." That gaffe and others enabled Donnelly to cobble together 50 percent of the vote, winning over working-class voters and suburban women — the same coalition he needs to win a second term.
Calling all HuffPost superfans!
Sign up for membership to become a founding member and help shape HuffPost's next chapter