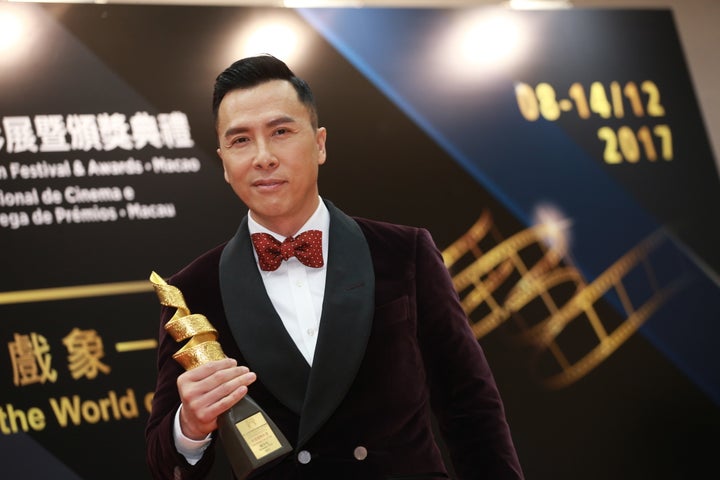 Donnie Yen wants more three-dimensional Asian characters in Hollywood.
"When I took on the role in Rogue One, I felt it was important for me to take a step forward, to develop it so that it would be less clichéd," Yen told Prestige. "I know they wanted Donnie Yen because he's Ip Man. They wanted Ip Man in Rogue One. I get it. But I don't want to portray another stereotypical Chinese martial-arts man."
Yen said he worked with producers to add some layers and context to the character. In the end, however, he feels the character still fell short. 
"Even after all of that, Îmwe still came out a cliché," he said. "But if you think he's a cliché on screen, you should've seen the original script they offered me. It was why I was initially hesitant to take on the role. But I understand why. They can't have an overhaul overnight. There's a large audience that has never watched Asians in films before, so it takes time for them to process an Asian actor."
Yen, who touched on his other movies including "Crouching Tiger, Hidden Dragon: Sword of Destiny" and the Hong Kong gangster film "Chasing the Dragon," had some thoughts about Hollywood's attempt at Asian-American representation as well.
Often, in Hollywood movies, Asian actors are cast in small roles with little significance to the overall story in an effort to appeal to international Asian audiences ― a practice known as pandering, as The New York Times notes. 
"They need to learn from their mistakes," Yen told Prestige. "Look at all these actors and actresses that now say no. It proves it doesn't work. You can't just put an Asian actor in there and expect that, because they show up for a second, you've covered the Asian market. That is a joke."
"I'm glad Asian actors are stepping up and saying no," he said. "If you're gonna spend months away from home and devote time in your life to work on a film it had better be worth it."
Hollywood has long had difficulty achieving genuine Asian-American representation in TV and films. Asians made up less than 6 percent of speaking characters in Hollywood films from 2007 to 2016, according to a 2017 USC Annenberg study.
Actors of Asian descent aren't faring much better in television. Research shows that though there are more Asian characters on TV now than there were a decade ago, the characters are often tokenized. A majority of shows fail to feature a single Asian-American or Pacific Islander in the main cast. And roughly two-thirds of the TV programs that do feature AAPI series regulars have only one.
"This is something that Asian-Americans struggle with in general ― visibility. You're not recognized as someone who is fully present in society," sociologist Nancy Wang Yuen previously told HuffPost. "It's a literal silencing of Asians and it reinforces the stereotype that Asians aren't expressive, they're invisible, that they're not really there. But that's because [Hollywood's] not casting them."
Hollywood has every reason to want to improve its Asian representation. In fact, the 2017 Hollywood Diversity Report from the Ralph J. Bunche Center for African American Studies at UCLA showed that diversity wins at the box office as well as in ratings over broadcast and cable networks. The report also noted a disconnect between "Hollywood industry production choices and market realities."
Well, Hollywood, you heard it from Donnie Yen himself. It's time to learn from your mistakes. 
Calling all HuffPost superfans!
Sign up for membership to become a founding member and help shape HuffPost's next chapter