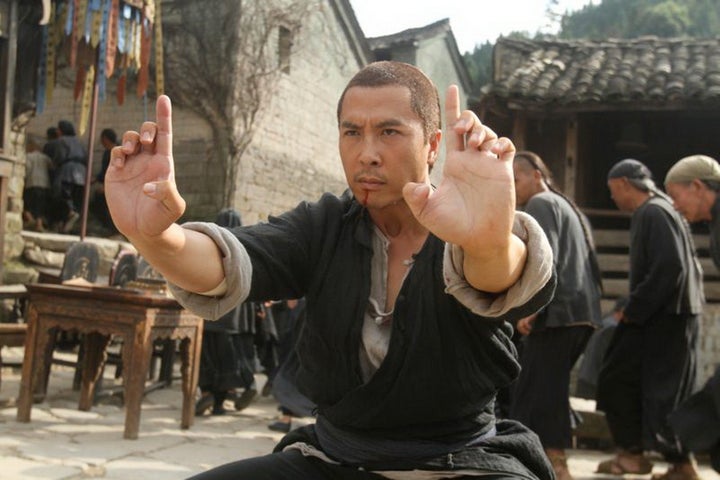 Donnie Yen is the biggest international action star and fight choreographer that mainstream American audiences -- Kung Fu fans excepted -- have never heard of.
The 48-year-old Chinese-born, Boston raised martial arts master and actor has been taking Asian theaters by storm since the late '90s, and elevated to mega-star status with 2008's release of "Ip Man" (pronounced "Eep Man").
But he hasn't made it big in Hollywood. At least not yet.
Yen has only played two small roles Hollywood films; bit parts in Guillermo Del Toro's "Blade 2" in 2002 -- for which he choreographed the fight scenes -- and "Highlander: Endgame" in 2000. His lack of screen time in Hollywood films is surprising considering Yen is essentially Jet Li, Jackie Chan, and Bruce Lee rolled into one powerful package.
The fluent English speaking Yen (he used to live in Boston) would seem a perfect fit for a starring role in a Hollywood blockbuster.
The full Q&A -- much of which focuses on his latest film -- will publish in advance of "Dragon's" October, 2012 North American release (Yen's biggest foray into western audiences).
But Yen also hinted as to the possible reasons why we haven't seen more of him in Hollywood films. He doesn't just go for any role he's offered, and he's always looking for something that really "clicks." Yen recently told Coming Soon that he turned down a role in "Expendables 2" because he didn't find it "intriguing."
"I've had many opportunities to play many roles since 'Ip Man,'" he said in his interview with HuffPost. Unfortunately, the roles Yen has taken have strictly been in films that have not gotten much play in American theaters.
Yen's "Ip Man" series, which is based on Bruce Lee's real-life trainer and master teacher, is his most compelling and will probably give him his best chance outside of "Dragon" to win the attention of American audiences without starring in a Hollywood epic.
"Ip Man 3", which is currently being conceptualized by Yen and director Wilson Yip, could be the film that tips the scales in Yen's favor with American audiences because of the potential for a storyline featuring Bruce Lee.
"That's the big question," Yen admitted. "Everybody wants Bruce Lee to be in the film, but it's so difficult to find a 'Bruce Lee' that can represent Bruce Lee."
So why doesn't Yen take on the Bruce Lee role in "Ip Man 3"?
Yen said, ""I have mixed feelings on that, if I do Bruce Lee … in my heart I feel I might be the best person to play that role, but what am I? Bruce Lee or Ip Man? I kind of passed that idea. As much as I would like to play Bruce Lee, I was quite sure that I wanted to leave Bruce Lee as it is instead of spoiling it."
Whether Yen chooses to reprise the role of Bruce Lee's master or step into the shoes of the famous Kung Fu legend could be a deciding factor of how well he connects with American audiences.
"We know we have to put the Bruce Lee elements in [the film], but we have to be sensitive as to how many elements we do. Is it about Bruce Lee or Ip Man? Those are the questions Wilson has been battling with since 'Ip Man 2' came out."
While the more familiar faces of Jackie Chan and Jet Li are household names in America, the 48-year-old Yen still needs one real chance to show his stuff with a significant part in a Hollywood-produced blockbuster to add his name to the list. Whether or not he's offered the right part (and accepts) could end up determining if he ever goes from Asia mega star to Hollywood personality.
Yen is more concerned about taking parts that resonate with him and his interests rather than jumping at whatever comes his way. And considering his body of work, it's hard to take issue with his selections.
Check back with Huffington Post Entertainment in October 2012 for Yen's thoughts on the "Dragon," the alternate ending you might never see because of Chinese censorship, and what its like choreographing a fight scene (with one arm) against 70-year-old legend of kung fu, Jimmy Wang. Enjoy out some of Yen's best fight scenes in the slideshow below.
PHOTO GALLERY
Donnie Yen Fight Scenes
Calling all HuffPost superfans!
Sign up for membership to become a founding member and help shape HuffPost's next chapter