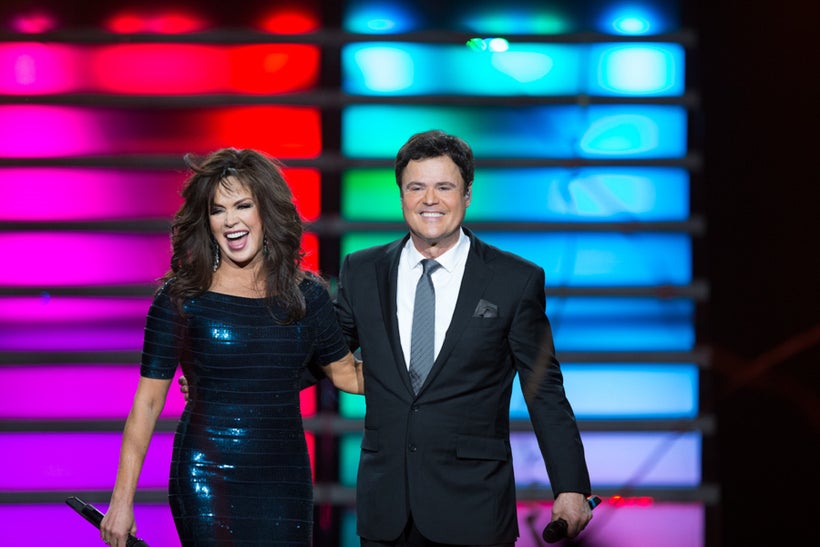 There's a giant, purple-hued billboard plastered across the side of the Flamingo Hotel and Casino in Las Vegas. It has been baiting me for years, whenever I came to town for trade shows, conferences or fun with friends. I'd gone to see other shows: Celine, Michael Jackson ONE, Little Legends (little people who dressed and performed as entertainment icons) or Reba with Brooks and Dunn.
Each visit, the joyful faces of Donny and Marie Osmond smiled down, inviting me to come see them perform. On Wednesday night, I finally took them up on the invitation.
Voted Vegas' #1 show three years in a row, I left my room at the Cosmopolitan, walked up the Strip and through the Flamingo's twinkling light lit entrance. I was first introduced to Donny and Marie during their variety show in the late 90's. A long line of fans waited to enter the Donny and Marie Showroom, their demographic quite different than my own, yet we shared excitement for the anticipation of seeing the sibling duo.
An intimate venue, the red velvet washed showroom and stage delivered a close atmosphere where even this balcony seated attendee felt like the performers were within arms reach. The lights went down, the curtain separated and together, Donny and Marie, wearing bedazzled jacket/dress and shoes, walked down an elaborate stage set singing a medley cover songs like, "It Takes Two."
Marie took over for an impressive solo set that included video documenting her storied career, philanthropy (Children's Miracle Network) and celebrity friends. After her first number, she guzzled down a bottle of water quipping, "Who says Mormons can't drink" and then cozied up next to her biggest fan at the front of the stage - a portable floor fan to cool off! Impressed by her range of vocals (country, ballads, pop, Broadway) and projects (doll-making, celebrity transformations, Nutrisystem), my jaw literally dropped when she came out singing the powerful opera aria "Nessun Dorma."
Then came Donny. The 1970's teenage heart-throb, musical icon started out in bubblegum pop and has consistently re-invented his style to form a genuine connection with his audience in every way. Demonstrating an unmatched range of musical and dancing prowess Donny seamlessly blended covers like "Can't Stop This Feeling" with his own catalog "Puppy Love," "Soldier of Love" and an Andy Williams tribute, "Moon River." It's an awesome realization that generations have grown up with Donny, his influence reaching so many people given his role in "Joseph and the Amazing Technicolor Dreamcoat" as well as Mulan's "I'll Make a Man Out of You" among dozens of other projects.
Backed by eight dancers and a nine piece band, the two took the stage together once again with fun sibling banter centered on their Dancing With the Stars appearance - Donny won and Marie fainted.
This is a must-see show the next time you're in Las Vegas - from start to end, the 90-minute (not a minute more or less) is unforgettable.
Calling all HuffPost superfans!
Sign up for membership to become a founding member and help shape HuffPost's next chapter
This post was published on the now-closed HuffPost Contributor platform. Contributors control their own work and posted freely to our site. If you need to flag this entry as abusive,
send us an email
.