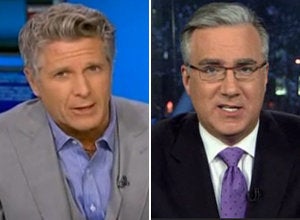 Donny Deutsch has been pulled from MSNBC's 3PM hour after including Keith Olbermann in a montage of angry media personalities.
Deutsch, who had been hosting an "America the Angry" segment in the hour formerly occupied by David Shuster, was informed Wednesday that his time in the anchor's chair was over.
"For whatever reason, they decided they didn't want to go with it the rest of the week," Deutsch told the New York Times.
The Times' Brian Stelter reports that "four people briefed on the decision said the cancellation stemmed from an unflattering mention" of Olbermann. Deutsch had included Olbermann in what Stelter described as "a series of clips of media bloviators during a segment that pondered what role the media plays in fomenting the public's anger." Deutsch also hosted Hugh Hewitt, who called MSNBC's Ed Schultz a "hate-monger." The segment appears below.
"I was disappointed because I think I'm on to something really special here that needs to be done," Deutsch told Stelter. "It's time the purple voice is out there," he added, referring to bridging the red-state vs. blue-state partisan divide.
"The segment did not go unnoticed and we're dealing with it internally," MSNBC spokesman Jeremy Gaines said. The network had initially said that Deutsch was taking time off to deal with a personal issue.
Stelter claims that it was "Olbermann's anger" that directly influenced Deutsch's series to be cancelled. Olbermann vehemently denied the claim, both in an email to Stelter and over Twitter.
"Your account is entirely untrue," Olbermann e-mailed Stelter. "Your e-mail is the first I am hearing of any of this. What I know of what happened is this: [MSNBC President] Phil Griffin phoned me yesterday enraged at what was on that show and I didn't disagree with him."
"Sad to say, @BrianStelter was an innovative and hardworking blogger. He's in over his head where he is now," Olbermann tweeted. Stelter launched industry blog TVNewser while still in college before joining the New York Times.
Griffin, whose network has been marked by infighting for years, took a hard line against his talent publicly feuding with one another last month. In a memo to talent and producers, Griffin said:
We have many strong personalities with differing, passionate opinions, but it is important to remember that we are all on the same team. I want to reiterate my long-standing policy: We do not publicly criticize our colleagues. This kind of behavior is unprofessional and will not be tolerated.
The segment's producer, Gresham Striegel — who was formerly a producer for Glenn Beck's Fox News show — was also sent home Wednesday.
Popular in the Community