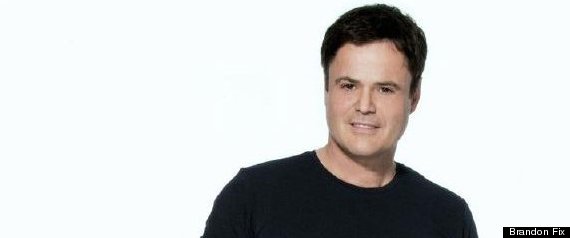 Thank God for Donny Osmond. Sometimes we need wholesome! And, when I say "we," I mean... the immediate world at large.
Not many people can say they have lasted 50 years in a fickle entertainment business. Donny Osmond has done just that, and with that milestone, comes another: his 60th Album -- "Soundtrack Of My Life."
The "Puppy Love" singer recorded 12 songs on his latest album that are reflective of his enchanting storied career. (He meticulously went through over 300 songs to pick the 12 that best represents his life -- so far.) Each track tells a story that traces both high and low points of not only his professional career but his personal life.
Enter Paul McCartney... literally.
When Osmond selected The Beatles "The Long and Winding Road," as one of the 12 songs that played a significant role in the soundtrack of his life, it brought back a memory that he will never forget.
It was circa 1973. The 16-year-old heartthrob was minding his own business in a Paris hotel room, when there was a knock on the door (from a former teen heartthrob). "The door opens up and it's Paul McCartney standing there with his daughter, Mary," laughs Osmond. "I think he was in town doing something. I can't remember; staying at the same hotel, but Mary, his daughter, who apparently was a huge Donny Osmond fan at the time, wanted my autograph. Paul knocks on the door and I'm there. He says, 'Can I get your autograph please?' He hands me a picture of myself and I wrote: 'To Mary, Love Donny Osmond,' and I gave it back to Paul. He says, 'There you go Mary, thank you Donny,' and the door closes. I'm thinking: What just happened? That was Paul McCartney! I should have invited him in for a cup of tea or something.
"Years later, I'm in a studio editing a music video and Paul is in the next studio, and I'm thinking to myself I've got to go verify this story. Maybe I made it up, maybe I was dreaming, maybe I embellished it or something. I walk in, I say, 'Hey Paul... I've got to verify this story,' and I told him the story as I remembered it. I said, 'Did it happen?' He said, 'Donny, not only did it happen, but your autograph is one of the very few autographs I've ever asked for.'"
That's just one 'Story Behind The Song.' Each song represents raw emotions filled with personal memories. Osmond spoke with The Huffington Post to share a few of those memories.
You are celebrating 50 years in show business. You began your career about the tender age of five. When did you know you were in show business for the long haul?
That's a very hard question to answer because there were different times in my life where I recommitted myself to this business because you have to reinvent yourself continually if you want to stay in the business.
Most entertainers are lucky to have three to five to 10 good years in the entertainment business.
You're right. Three to 10 years is the career. That's the typical career. If you want to stay in it a long time, you have to keep reinventing yourself. And I recommitted myself I remember two major places in my life. One when I was 12 and one when I was 21. Twelve was when the whole Donny hysteria thing started to take place. That's an easy time to co commit. (Laughs) And then, at 21, I was told I was a has-been. And so I had to make a decision. Do I want to opt-out, or do I want to recommit myself and that was the major recommitment at 21.
What kept you from being discouraged when someone said that you were a has-been? I would have folded emotionally.
Oh yeah. I wanted to many times. But you have to believe in yourself first of all in this business. You can't walk out on stage and say, "I hope you like what I do." You have to walk out on stage and say, "This is going to be great!" I learned that from Elvis and all those guys when I worked around them. Elvis was a very humble man, but when he hit the stage he was a monster. Michael [Jackson] did the same thing. Very humble guy. He hit the stage as a monster. Both were [monster] talents!
Where were you when you heard your first song on the radio and how did it make you feel... how did you react?

I don't remember the first time I heard "One Bad Apple," but I remember where I was standing, where I was, when I found out it went number one. I was in Los Angeles, in an apartment complex there in Westwood. I remember Casey Kasem announcing the number one record all across America is by the Osmonds. I obviously went crazy. I thought this is so cool. My brother Wayne was screaming, running around the house. He was just so happy. Michael Jackson told me, by the way, that song was written for The Jacksons.
Yeah. Which is kind of ironic, because on this new album, I record "Ben," his number one.
I was going to ask you about that. What a great rendition you did of Michael Jackson's "Ben."
Yes. I listened to all of the cuts on your website. "Ben" was one of my favorite Michael Jackson songs. Your version is incredible. I listened to it about three times right out of the blocks.
Well, [interestingly]"Ben" was written for me.
I didn't know that. Tell me the story behind that song.
Michael and I would talk about this all the time. It's funny, because we eventually ended up laughing at this one. I will never forget, we stayed up to like two in the morning, laughing about the fact that I had a hit about a puppy and he had a hit about a rat. (Laughs)
(Laughs) That's right. Not a lot of people even know that "Ben" is about a rat.
I'd rather sing about a puppy. (Laughs)... But after 40 some-odd years, I finally recorded the song that was written for me.
Why didn't you record the song when it was offered to you?
I was on tour and they had to finish the movie.
So Michael's "Ben" went to number one on the charts. How does that make one feel when you knew that could have been handed to you on a silver platter but someone else cuts it and it goes to number one. Is there a regret factor? Or did you say, "You know what? It wasn't meant to be."
It wasn't meant to be [for me]... Fate's a funny thing.
Tell me why you picked Stevie Wonder's song "My Cherie Amour" for this album.
My musical hero was Stevie Wonder. The very first 45 I ever bought was "My Cherie Amour." I called him up, because I've known him over the years. I've never called in a favor. And I said, "Stevie, would you play harmonica on it?" I told him the story why I put it on the album, the concept of the album. And he said, "Well, send me the MP3." He wasn't just about to commit to anything, right?
The next thing I know, my phone rings. It's his assistant. She says, "Stevie's on the other line and would like to speak with you."
Exactly! Because here's my musical hero I've followed since I was 11. Eleven was when I bought that record. He gets on and I'm thinking, this can either be very good news or very bad news. And he said, "Donny, send me the masters immediately. I love this track. I have to be a part of this album." You can only imagine how that made me feel. That's why it's the first track on the album. That's one high. They're all highs. That's why they're on the album.
"The Soundtrack Of My Life" Tracks:
My Cherie Amour
Ben
Baby Love
I've Got You Under My Skin
Could She Be Mine
Your Song
Peg
The Long and Winding Road
Broken Wings
The Gift of Love
Moon River
Don't Give Up
PHOTO GALLERY
Where Are They Now?
REAL LIFE. REAL NEWS. REAL VOICES.
Help us tell more of the stories that matter from voices that too often remain unheard.