During the 2003-2004 school year, my chemistry teacher told my class that global warming wasn't occurring. I believed her. When I attended New Jersey's Governor's School of International Studies in the summer of 2005, a professor told me the opposite - the evidence for global warming, and for the human contribution to it, was virtually incontrovertible. Confused about what to think, I began to research the issue. I also reached out to some of my other former teachers to ask for their input.
Three things became immediately clear. First, most popular articles about global warming contained more empty rhetoric than useful information. The mainstream media, as it far too frequently does, focused not on the truth but on grandstanding and a false sense of balance. Second, I didn't know enough climate science to look through a given study's results and determine their legitimacy. Third, I didn't have to - a different approach could tell me everything I needed to know about each study's likely veracity.
Global warming research falls into two categories: research by legitimate scientists and "research" funded by big energy interests. Legitimate scientists, who have no economic incentive to lie, conclude that global warming is a manmade crisis deserving our immediate action. The few studies that suggest otherwise are normally sponsored by organizations like Exxon and the American Petroleum Institute, interest groups with billions of dollars invested in the activity responsible for global warming.
As with global warming, knowledge of the individual and organizational incentives behind opposing "sides" of any debate provides us with critical information. This "political lens," though not completely foolproof, reminds us that certain claims deserve a larger dose of skepticism than others. The agendas behind a movement are especially important to consider when we lack in-depth knowledge of a particular issue.
A small group of teachers, parents, and grassroots organizers showed up to protest Brown's appearance on the show. Colbert, responding to the protesters and the Twitter hashtag #questions4campbell, asked Brown about her organization's funding sources. Brown refused to disclose her donors. Amidst the criticism that followed, various stakeholders have rushed to Brown's defense. They continue to argue that a focus on Brown's donors and political affiliations is a "desperate effort to distract from the real conversation" about teacher employment law.
Thus while education law and research is arguably less complicated than the science behind global warming, the political lens is equally important to consider in this debate. It's theoretically possible that the unions who defend teacher employment law do so to protect teachers who call students names and sleep in class. And it's theoretically possible that Campbell Brown and her unnamed donors care more about the lives of low-income kids than do the unionized teachers who work with them every day. It's also theoretically possible that Exxon produces more honest research about global warming than does the entire scientific community. But these theoretical possibilities are all extremely unlikely.
Instead, it's significantly more likely that Campbell Brown's donors, like the people who funded Vergara v. California, actively exacerbate economic inequality. That Wright v. New York and Vergara conveniently allow them to undermine organized labor and distract us from the ways their business and political activities harm the families of the very same low-income students they purport to help. That teachers in unions care deeply about delivering an excellent education to their students, and that their opposition to the lawsuit stems from its negative narrative, erroneous claims and premises, and failure to provide solutions to the actual causes of teacher quality issues. In other words, looking through our political lens reminds us that there are literally billions more "adult interests" in support of Wright v. New York than in its defense.
Educators must continue to clarify facts about teacher employment law and support responsible reforms. Most proponents of challenges to the statutes are well-intentioned, and a focus on agendas alone would not do the issues justice. It is also entirely legitimate, however, to call attention to the profit and political motives behind lawsuits like Wright and Vergara. Knowledge of donors and allies helps us understand why, when unions and Campbell Brown present conflicting information about the law's intent and effects, Campbell Brown's claims warrant significantly more suspicion.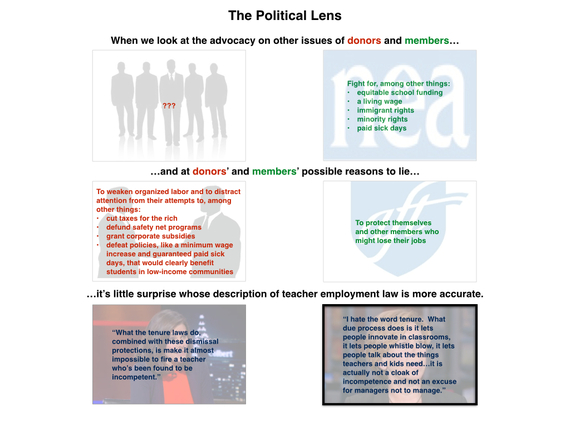 ***While the plaintiffs in Wright, unlike those in Vergara, do not erroneously contend in their complaint that the laws cause inequities between low- and high-income schools, the idea that low-income students are disproportionately impacted by bad teachers was mentioned by Brown in her appearance on The Colbert Report and still surfaces in discussions of the lawsuit.
Note: This post originally appeared on 34justice.
Related
Popular in the Community