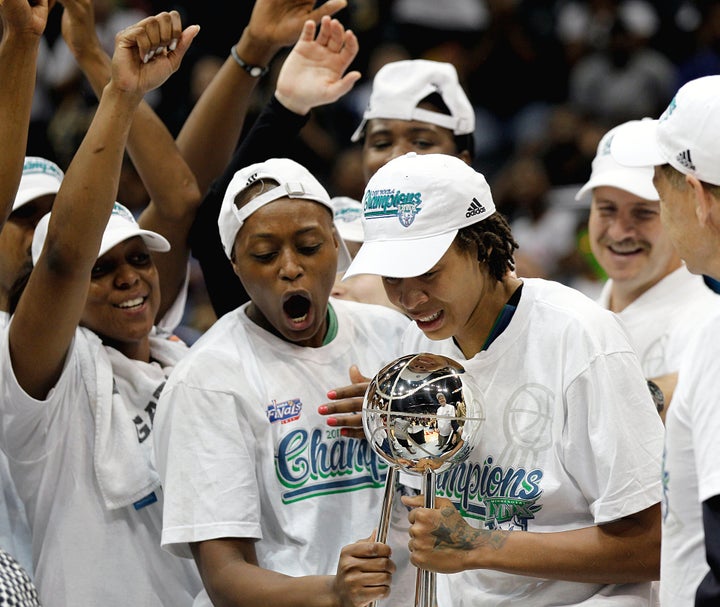 It was 2011 and it was the lowest point in my career; I was a WNBA All-Star, an Olympic gold medalist, but ACL surgery had stolen my body. In the midst of trying to get it back, I was forced to have an emergency hysterectomy. I didn't make the world championship team. My father was diagnosed with MS. We missed the playoffs (again). Mentally and physically, I was struggling.
It was in my exit meeting that my Minnesota Lynx coach, Cheryl Reeves, challenged me: "What do you want your legacy to be?" I answered. Then I committed: I changed my diet. I became a better defender, a better leader. Then, less than a year later, our team won the WNBA title, I was the Finals MVP and last Friday, I was named to the 2012 London Olympic team. Things are good and I am proud and so very thankful. Yet the challenge of "legacy" goes far beyond any athletic accomplishment and it remains to be met.
Thankfully, I am blessed to have resources and a great education and degrees from LSU to fall back on if somehow things hadn't quite worked out, but what about those who don't? I remember being in elementary school back in Baton Rouge and having to share textbooks and sometimes, having no books at all. For many kids, it's even worse today. Budget cuts and a struggling economy have left teachers without the tools to foster dreams and achievement in kids. So naturally, as I think about impact outside the basketball court, I'm drawn to education.
Specifically, I want to give back to the schools in Baton Rouge, where I have memories of teachers who inspired me and who did the best with what they had. So, it was serendipitous when this Christmas my agent gave me a DonorsChoose.org gift card. I logged on and learned about how the nonprofit DonorsChoose.org, posts specific and detailed requests from teachers for classroom needs. Through the site I was able to connect with local teachers, read about their specific needs, and provide the money to fund these projects. I used the card and then in two separate donations, I gave money to Mr. Zweig's seventh-grade classroom at Glasgow Middle School, to help them buy upgraded computers and materials for dissections and I helped Ms. LeBoeuf's students in the same school buy forensics kits for hands-on science experiments.
After I made my donations, I received thank-you notes from the teachers and, in some cases, handwritten letters from the students. "I just wanted to stop and personally thank you on behalf of all our children for your kindness and generosity and making our project dreams a reality," Mr. Zweig wrote to me.
I was addicted and I gave more.
I soon received similar notes from Ms. Williams for helping her first-graders purchase more than 50 new books, from Mrs. Day for helping outfit her eighth-grade classroom with updated audio equipment, and from Ms. Dobbs for buying reading packs that her pre-K students could take home to help them build literacy.
Since I live in Minneapolis during the WNBA season and play overseas in Europe for most of the fall and winter, it's easy to feel disconnected and the pangs of homesickness hit hard. Thankfully, DonorsChoose.org has provided me with a way to feel connected and I hope, make a difference. I invite -- and like my coach did me -- and challenge you to join in and log onto DonorsChoose.org/SeimoneAugustus to see what teacher projects you can help with in Baton Rouge or in whatever city you call home. Even the smallest donation counts and when we all pitch in together, we can ensure that kids get the opportunity to build the legacies they deserve.
Related
Popular in the Community