 The tech industry has redefined the motivating factors for acquisitions with the advent of the "acqui-hire." However, there is a new trend emerging and it aligns perfectly with the current focus on innovation. In an attempt to achieve true innovation, Internet tech companies are shifting from traditional motivations for acquiring businesses to a new concept called "acqui-sourcing."
Brief History of Acquisitions
Headline-worthy acquisitions have always been synonymous with the tech industry. As industry giants like Microsoft, Oracle, IBM and Apple rose to power, they devoured smaller companies, raided their executive teams, claimed their proprietary technology as their own, shuffled their infrastructure and finally discarded of the corporate remains. Some cried foul, as companies like Microsoft demonstrated Napoleon-esque ambition. Yet, acquisitions remain a prominent force in the tech ecosystem and reporters from TechCrunch, PandoDaily and VentureBeat cover the latest acquisition gossip like it's primed for Page 6. Many of the corporations doing the acquiring remain the same, but the most significant shifts have been in the motivation for doing the acquiring itself. Ever since the East India Trading Company merged with a rival trading company in 1708, many mergers and acquisitions occurred with one simple motivation: increase market share. With the invention and subsequent rise in personal computing, tech heavyweights increasingly gobbled up tech start-ups sometimes with the primary initiative of possessing their proprietary technology (reference Oracle).
The Advent of The "Acqui-hire"
The race for the top tech talent has yielded an increasing number of instances where industry giants acquire smaller companies for the primary purpose of retaining their talent first and everything else at a distant second. Take for example, Facebook's acquisition of essentially failed New York start-ups, Hot Potato and Drop.io. Disregard the urge to start mulling over what is and what isn't a massive failure in the Internet tech industry. Hot Potato and Drop.io were deemed flops by the market, yet Facebook still found great value in acquiring both because the real riches for them were in the personnel. The Internet tech industry is focused on the latest and greatest innovations. Achieving innovation, adapting quickly to market needs and resisting the temptation to think or act like similar companies is dependent on a company's ability to recruit and retain the absolute best talent. Thus, acquiring a company as a means for "taking" the top talent off the market and bringing them in-house is quickly becoming a popular option for companies like Facebook, Google and LinkedIn. However, it doesn't stop there. Innovative businesses can also be innovative in their processes. Thus, "acqui-sourcing" has been born from this very need.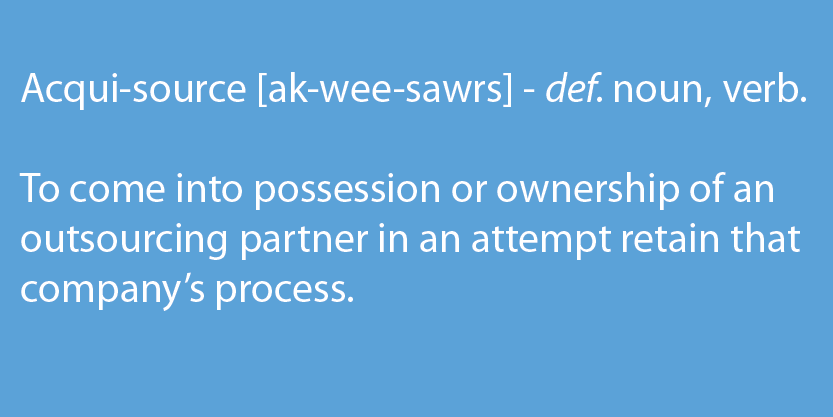 Acqui-sourcing: The Next Logical Step In The Age of Optimized Collaboration
Considering the current trends in labor, "acqui-sourcing" was part of a larger progression towards optimized collaboration. The modern workforce has evolved into a collective of highly specialized in-house departments, experienced contractors and efficient outsourced teams. Alternative workforces such as outsourcing teams, once considered an optional supplement to in-house departments, have become strategic partners as companies scale rapidly. For example: Fab's recent acquisition of Indian outsourcing company True Sparrow. Fab had secured exclusive rights to True Sparrow before, but the next logical step was to acquire True Sparrow for their knowledgeable staff, proprietary process and valuable resources. Fab's CEO, Jason Goldberg, commented on the inspiration behind the acquisition:
"We wanted to make sure that as we make Fab into a long-term sustainable business, the [True Sparrow] team is a part of the company. Ours has been much more of a partnership and collaboration than outsourcing. Now, it is great to bring it together as one company" -- Jason Goldberg in TechCrunch, CEO at Fab
Fab's success and even pivot point had been synonymous with True Sparrow, so the eventual acquisition was completely natural. Often salespeople will refer to new accounts as "partnerships" or stress the importance of collaboration between businesses. In industries like outsourcing, successful and mutually beneficial partnerships are imperative for sustaining growth. True Sparrow's success or failure hinges on the Fab's ability to grow and evolve. This dependency, collaboration and partnership makes a subsequent acquisition that much more likely.
Conclusion: Transitioning Towards Acquiring Processes, Not Individuals or Resources
Outsourcing has changed greatly since its introduction as a common business practice and term in 1989. Where businesses once outsourced for the sole reason of lowering expenses or inadequate manpower, outsourcing has evolved into a viable option for all daily business processes and no solution is too complex or high value to be handled by an outsourced team. Thus, it was a complete natural step in this progression that forward thinking internet tech companies would start deciding to acquire their outsourcing partners. Why renegotiate exclusivity agreements every few years? Why continuously review outsourcing vendors or auditing your existing outsourcing vendor? Bring the highly specialized outsourcing process in-house. Control every aspect of your daily business operations while still capitalizing from all of the benefits of tapping into the best-of-the-best in the global workforce. Acqui-source. You heard that term here first.
Calling all HuffPost superfans!
Sign up for membership to become a founding member and help shape HuffPost's next chapter