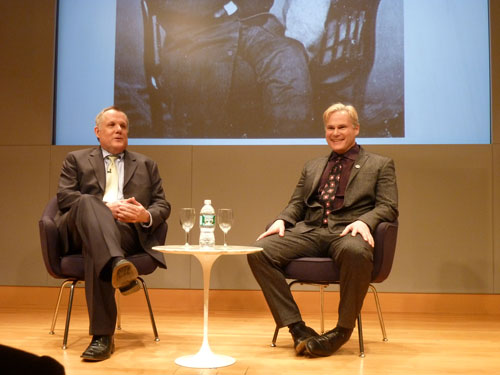 David Ward, National Portrait Gallery historian, left; Jonathan Katz, director of doctoral program in visual studies at the University at Buffalo, right
Now that Congress has eliminated the "Don't Ask, Don't Tell" policy for the military, we should apply it instead to the hot-button exhibition at the National Portrait Gallery --"Hide/Seek: Difference and Desire in American Portraiture."
Politicians who know relatively little about art and museums should adhere to the "don't ask" admonition: They should refrain from asking the NPG to take down works that, in professional curators' judgment, belong in the show.
The show's curators, for their part, need to exercise more restraint in what they tell: They should stop mouthing off recklessly, as they did last Thursday at a public program about "Hide/Seek" presented at the New York Public Library. If they know what's good not only for the Smithsonian (to which the NPG belongs) but for the art world in general, David Ward, the NPG's historian, and Jonathan Katz, an associate professor at the University at Buffalo, need to stick closely to the script of their pioneering exhibition and catalog. They should refrain from making gratuitous public remarks that tell us things that Congressional art critics don't need to know about the curators' ulterior political motives in assembling works by some of America's most celebrated and respected artists -- some gay, others not.
The most destructive thing that the curators can do is engage in the kind of name-calling that we heard at the library on Thursday. "American Taliban" was Katz's publicly stated (and journalist-quoted) smear on the show's critics. This astonishing hyperbole ignored the fact that no artworks or humans were physically harmed by those who successfully (and inappropriately) demanded removal from the show of David Wojnarovicz's tough, provocative video, "A Fire in My Belly."
Potentially even more damaging, though, was another comment at the same New York event by Katz's co-curator. In explaining how he regards the contretemps over the show, Ward stated:
I've been a close observer of politics in America for the last 40 years, and the people on the left side of the aisle are always enforcing ideological purity on each other in ways that allow our enemies to run over us with a tank. I think at some point there has to be an almost pragmatic assessment of how we want to fight back against this. We would love for 'Hide/Seek' to do what it attempts to do, which is to crystalize a presence which becomes basis for an opposition against the politics that we abhor.
Here's my video clip of that remark by Ward and other comments by the curators at the NY Public Library event:
If mounting a controversial exhibition in a federal institution (which has six members of Congress on its governing board) isn't asking for trouble, taking a combative stance against Congressional critics surely is. It's arguable whether political activism is appropriate for an art museum (although such institutions should be free to display all kinds of art, including political work). But it seems inarguable that federal art museums -- those in the Smithsonian -- need to steer clear of partisan politics and resist any temptation to become the "basis for an opposition against politics we abhor."
Here's my video clip of Martin Sullivan, the director of the National Portrait Gallery, defending himself and his institution against the audience members who took him to task for the removal from the show of David Wojnarovicz's video, "A Fire in My Belly":
The hysteria of the critics who excoriate the "vile video" is almost matched by the irrationality of its champions, including the Andy Warhol and Robert Mapplethorpe foundations, which say they will discontinue their support for all Smithsonian exhibitions unless the video is reinstated; and the Calder Foundation, which has announced its withdrawal of a work it had planned to lend to a future NPG exhibition. A group of activists staged a protest march on the Cooper Hewitt National Design Museum in New York on Sunday, merely because it is a constituent of the Smithsonian.
The piece that they and others have so heatedly defended is not even entirely the work of the artist to whom it is ascribed: Katz informed the New York Public Library's audience that he had "edited the film down to about four minutes. It was much longer in its original version." Wojnarovicz's original video was silent, but Katz, with the permission of the artist's estate, used a soundtrack derived from "an Act Up demonstration that David Wojnarovicz himself had taped," according to the curator's public remarks. It seems, then, that the contested video was, in part, a curatorial concoction.
If they don't want the NPG's groundbreaking, gutsy show to be mothballed by a more conservative incoming Congress, the video's supporters should be mindful that the NPG, unlike most of this country's museums, is a federal institution that receives the bulk of its support from money allocated by the Legislature.
The supporters' over-the-top actions make sense only if they want to provoke an equal and opposite reaction, igniting a full-blown Culture War. If that happens, not just the Smithsonian but the arts, artists and art institutions throughout this country will likely suffer. A more sensible, effective tactic would be encouraging other institutions -- those not constricted by direct federal oversight -- to follow the National Portrait Gallery's lead in mounting their own exhibitions, exploring and elaborating on similar themes.
The operating principle should be: "Don't ask. Don't tell. But by all means, do show."
Calling all HuffPost superfans!
Sign up for membership to become a founding member and help shape HuffPost's next chapter