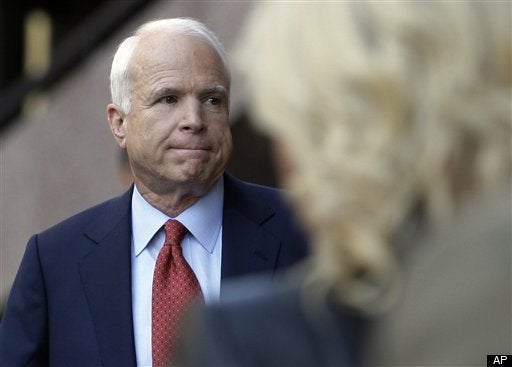 Today, Defense Secretary Robert Gates is "strongly urging" Congress to take up the matter of repealing the military's longstanding "Don't Ask Don't Tell" policy -- a repeal he supports, incidentally -- before the matter gets decided by the courts with a result that he deems to be traumatic and disruptive to uniformed military personnel. Congress has every incentive to get cracking. The vast majority of the American people support the repeal, as do a majority of conservatives. And Gates's comments today come with the news (that we've known about for months, actually) that a Pentagon study found that "70% of armed service members had no problem with including gays in their units."
All of this is naturally leading to a moment where nobody does the right thing and everyone caves, because that's your American Congress! One need only note the comments of Representative Buck McKeon (R-Calif.), reported for posterity in today's Wall Street Journal:
"I'd like to know who these 70% are," said Rep. Buck McKeon of California, the top Republican on the House Armed Services Committee.
Indeed, who is this crazy 70% fringe who do not care if gay soldiers serve in the U.S. Armed Forces, and how can they be ferreted out? (My suggestion: stand in a room full of soldiers and swing a stick.)
There's much more magic in that WSJ story, of course! John McCain says that he is "doing everything I can to defeat" the repeal, which is, by now, what you can expect from a man who wouldn't even allow openly gay soldiers to move his constantly shifting goalposts on the matter. And if you were wondering what any of the Lady Senators of Maine had to say about the matter, wonder no more:
Sen. Susan Collins, a centrist Republican from Maine who says she wants the ban repealed, still plans to vote against the repeal if there is not more time for debate, her spokesman said Monday.
Yes, the tough and independent-minded Susan Collins has been against "Don't Ask Don't Tell" even before the Pentagon study came out. Still! She couldn't possibly cast a vote on the matter until senators who have had all year to talk about "Don't Ask Don't Tell" have the chance to talk about it some more.
Punt formation, everyone!
UPDATE: Senator Collins' office tells me that the Journal has the Senator's position all wrong:
Senator Collins has not said she would oppose cloture if time is not allowed for debate. In fact, she has said she supports repeal of Don't Ask, Don't Tell and she intends to support cloture on the Defense Authorization bill if the Majority Leader allows for a full and fair debate.
So...if there is further "full and fair debate" in the Senate, Collins will support vote in favor of cloture, and, presumably, the repeal. This sort of implies that if there is no further "full and fair debate," then she won't support cloture. Technically, this is not the same thing as casting a vote against repeal -- she's totally for the repeal, remember! However, for all practical purposes, a vote against cloture is a vote against repeal. And that's your confusing hair-split of the day!
Popular in the Community