We are used to commemorating the anniversaries of long-past civil rights milestones. It seems like it's often the 40th anniversary of this great leap forward, or the 30th anniversary of that hard-fought victory. But the struggle for equality and a more perfect union is also happening here and now. Indeed, today is one of those milestones that we'll surely look back on and celebrate in the years to come.
That's because today, September 20th, 2011, finally marks the end of the deeply flawed policy known as "Don't Ask, Don't Tell" -- which for the last 17 years allowed gays and lesbians to serve in the military... as long as they didn't admit they were gay or lesbian. I'm happy to announce it's also the publication day of our second eBook, How We Won: Progressive Lessons from the Repeal of Don't Ask, Don't Tell, Aaron Belkin's compelling exploration of the long road to repealing DADT.
Along with being a HuffPost blogger, Belkin is a Professor of Political Science at San Francisco State University and the founder and director of the Palm Center, which The Advocate called one of the most effective gay and lesbian rights groups in the country.
In How We Won, he examines the victory from all angles. How did it happen? Why did it take 17 years? Which tactics were effective and which ones weren't? What lessons can be learned and carried over to the fights against other injustices?
One key takeaway from the tale is how, in the end, this particular injustice was overturned not by a court but by an act of Congress. What made this possible, Belkin argues, were the many small steps that led to the pubic becoming convinced that allowing gays and lesbians to serve openly would not jeopardize the effectiveness of our military.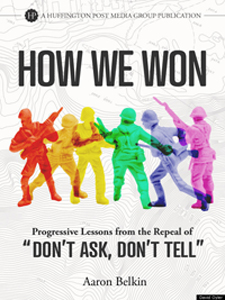 And Belkin should know since he was among those working for over a decade to repeal the misguided policy. His insider perspective gives a unique look at what went right and wrong, and provides a kind of best practices guide for civil rights fights going forward.
Belkin's preferred strategy held that instead of just fighting it out in the courts, advocates of repeal should relentlessly target the lies surrounding gays in the military and counter them with facts and science. Convince the people first, and then press the people to influence Congress. It was about winning hearts and minds.
So if you care about changing America, read How We Won. It often feels like our country is slipping backwards in so many ways, that solutions to our problems are impossible. But, as Belkin shows, this is far from true and that, battle by battle, we can continue to fulfill the promise of America.
Popular in the Community